Finding God:
Hope is a Habit that Grows in the Dark

Written By Inés Velásquez-McBryde
Hope is a habit that grows in the dark.
I have never heard of a hope-filled person who did not have a story of hardship. Hope grew in the hardship. Hope pressed through the concrete floor against the weight of hopeless circumstances. Our prayer is that this devotional guide would plant fruit-bearing seeds and water pre-existing seeds in your own life. May your soul be nourished by the soil of God's steadfast and faithful love from generation to generation. May each word draw you close and bring you near to the living Word. Who else will we run to? Jesus is the only one that has words of eternal life and timely words for your present life.
About the Author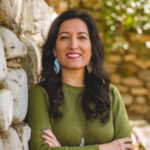 Finding God was written by Inés Velásquez-McBryde. Inés is an ordained pastor, preacher, reconciler, writer, and speaker. In June 2019, Inés received her Master of Divinity degree from the School of Theology at Fuller Theological Seminary where she now serves as a Chaplain. She is originally from Nicaragua, but called Arkansas home since 2001 until moving to southern California in 2016 to earn her MDiv. We are pleased to feature Inés as a regular Life for Leaders writer.
(This is a digital download, not a physical product.)
Product Details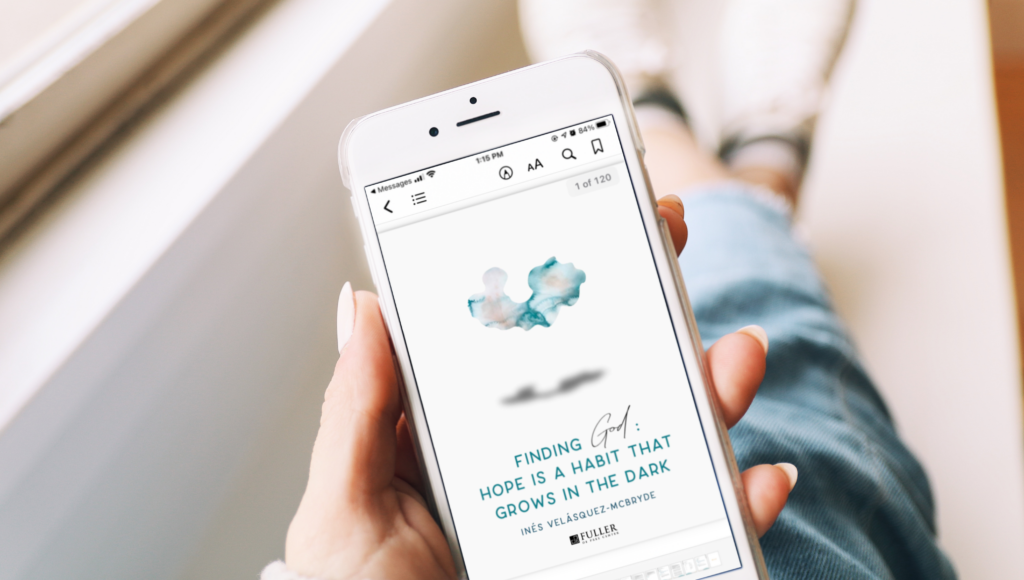 Price
$7.99/devotional guide
*This is a digital product. After purchasing, you'll be emailed a link to download the devotional guide as a downloadable PDF. When you get the PDF, you can read it on your computer, phone, or tablet, or you can print a copy for personal use. 
What's Inside?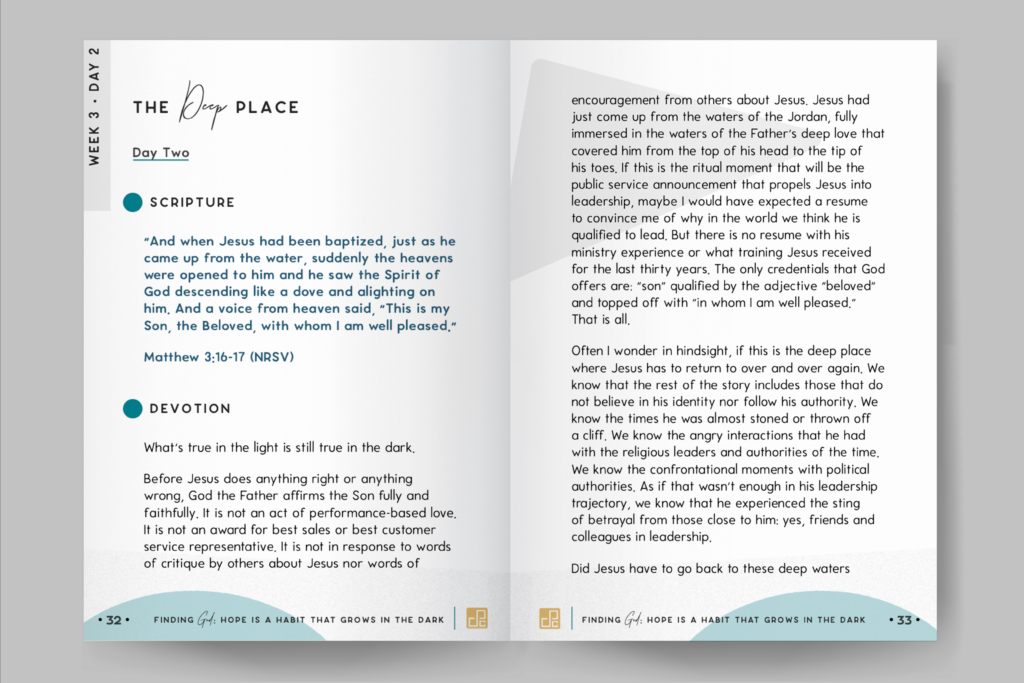 Easily printable format (8.5″x11″ portrait)
10 devotions (divided up to be used across 10 weeks) containing scripture, reflections, action items, and prayers.
This devotional can be used in a variety of ways:
By yourself: Use the devotional five times a week for ten weeks. Go through the devotional more quickly or more than once.
In a group: Go through the guide, one week at a time, with a small group.
Related Products
52 Workday Prayers
A Two-Part Devotional Guide Series by Mark D. Roberts
God has given us the Psalms for many reasons. One of the main ones is to teach us how to pray. From the Psalms we get to know more intimately the God with whom we speak. 
Devotions for Christmas
A Devotional Guide by Mark Roberts
Price: $6.99
Christmas is about the birth of Christ and his coming into the world, taking on human flesh. In this season, we remember God becoming incarnate, embodied.
Calling in the Third Third of Life
A Devotional and Small Group Guide by Mark Roberts
Price: $9.99
This ten-part devotional and small group guide, centered on Genesis 12:1-5, encourages us to guide our lives by the callings we have from God, especially for those in or entering the third third of life.
Leading and Following Together
A Devotional and Small Group Guide by Mark Roberts
Price: Pay what you can
This five-part devotional guide, centered on Ephesians 5:21, encourages us to consider the notion of mutual leadership and followership.
Examine Your Life
A Devotional and Small Group by Mark Roberts
Price: $6.99
This five-part devotional guide, centered on Ephesians 5:15-16, asks us to examine our lives so that we might live more intentionally and fully.