Buy the Leadership Bundle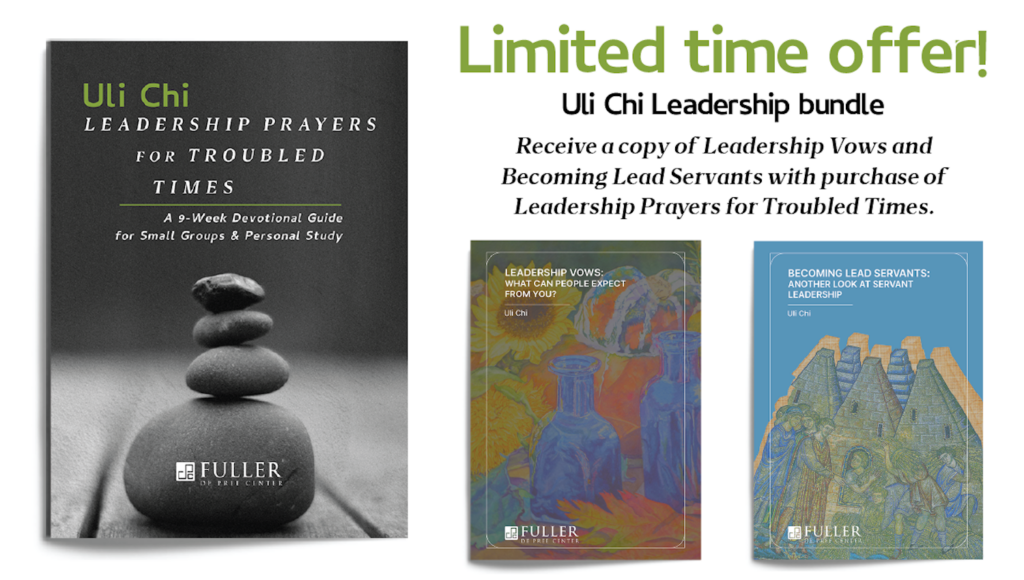 For a limited time only, receive a free copy of Uli Chi's Leadership Vows and Becoming Lead Servants with the purchase of Leadership Prayers for Troubled Times.
Leadership Prayers for Troubled Times

Written By Uli Chi
Prayer is a distinctively human response to the difficulties and joys of life.
But in another sense, prayer is complicated. Learning to pray takes time and effort, much like going to the gym to exercise. As with a regular workout regimen, we need to develop our capacity to engage and converse with the God of the Universe. That's why the book of Psalms is in the Bible.
This study guide focuses on leaders facing troubled times by using Psalms 138 to 145, the last series of psalms associated with ancient Israel's King David. In these psalms, we learn to exercise our imagination and discover vocabulary for facing our most challenging leadership difficulties.
About the Author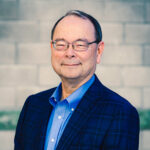 Leadership Prayers was written by Uli Chi.
Dr. Uli Chi has spent his life practicing leadership in the intersection of for profit and non-profit businesses, the theological academy, and the local church. He is an award-winning technological entrepreneur, who founded a software company that develops 3-D virtual reality software that simplifies complex decision making for consumers and businesses. He is a sought-after advisor to senior executives and serves in board governance at multiple non-profits. Uli currently serves as Board Chair of the Virginia Mason Franciscan Health System in the Pacific Northwest, and Vice Chair of the De Pree Center for Leadership at Fuller Seminary in Pasadena. Uli has also served as Chair of Regent College's Board of Governors, and Chair of the Executive Committee for the Center for Integrity in Business at Seattle Pacific University. For the last forty years, he has served leaders in a wide variety of roles in his local Presbyterian congregation.
He is currently a Senior Fellow at the De Pree Center for Leadership and regularly contributes to its Life for Leaders daily devotional blog. He is also part of the teaching faculty for Regent College's Master of Arts in Leadership, Theology and Society.
(This is a digital download, not a physical product.)
Product Details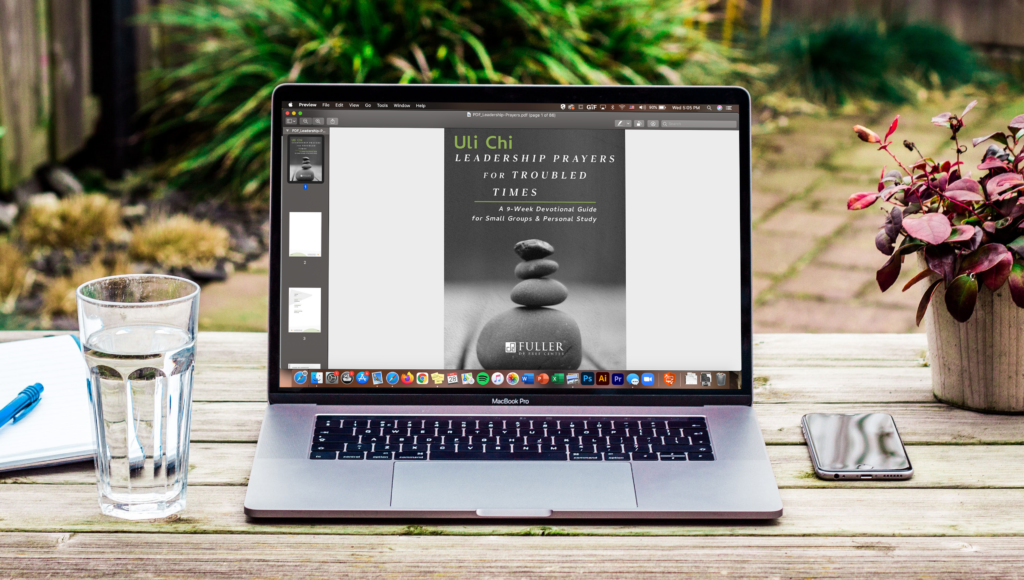 Price
$7.99/devotional guide
*This is a digital product. After purchasing, you'll be emailed a link to download the devotional guide as a downloadable PDF. When you get the PDF, you can read it on your computer, phone, or tablet, or you can print a copy for personal use. 
What's Inside?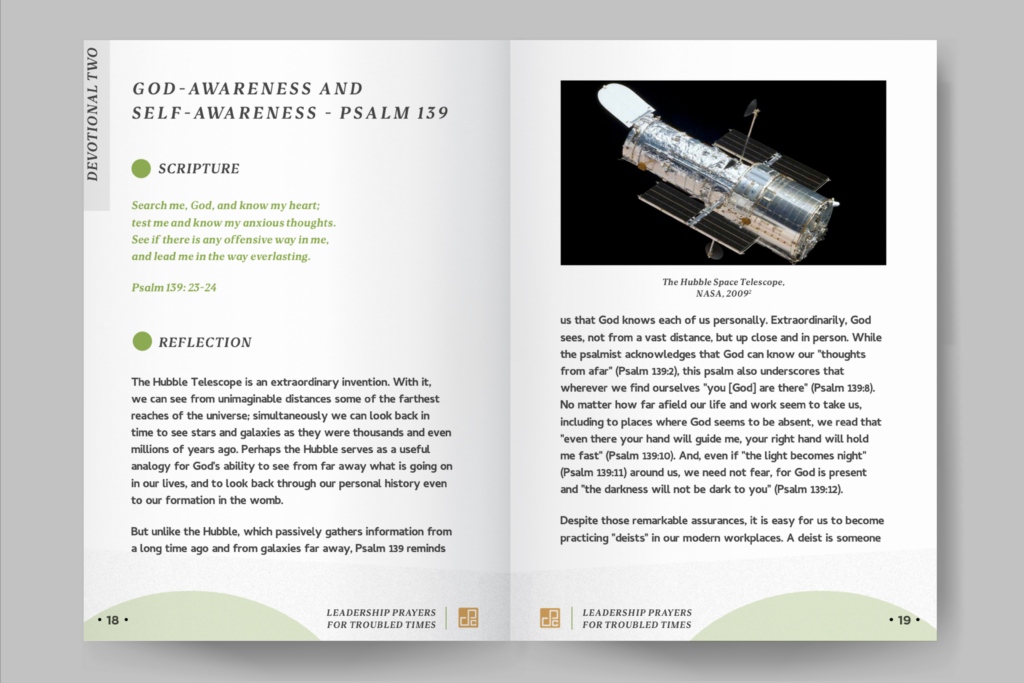 Easily printable format (8.5″x11″ portrait)
9 devotions containing scripture, reflections, discussion questions, and prayers.
This devotional was designed to be used in a small group but can be used in a variety of ways:
In a small group:

Read through the devotion and discuss the questions as a group, one week at a time.

By yourself:

Go through the guide on your own, one week at a time. If you decide to use it by yourself, consider sharing your responses to the questions and your learnings from the practices with someone you trust. Often learning can be enhanced by sharing it with someone else!
Related Products
Finding God: Hope is a Habit that Grows in the Dark
A 10-Week Devotional Guide by Inés Velásquez-McBryde 
Price: $7.99
I have never heard of a hope-filled person who did not have a story of hardship. Hope grew in the hardship. Our prayer is that this devotional guide would plant fruit-bearing seeds and water pre-existing seeds in your own life.
52 Workday Prayers
A Two-Part Devotional Guide Series by Mark D. Roberts
God has given us the Psalms for many reasons. One of the main ones is to teach us how to pray. From the Psalms we get to know more intimately the God with whom we speak. 
Devotions for Christmas
A Devotional Guide by Mark Roberts
Price: $6.99
Christmas is about the birth of Christ and his coming into the world, taking on human flesh. In this season, we remember God becoming incarnate, embodied.
Calling in the Third Third of Life
A Devotional and Small Group Guide by Mark Roberts
Price: $9.99
This ten-part devotional and small group guide, centered on Genesis 12:1-5, encourages us to guide our lives by the callings we have from God, especially for those in or entering the third third of life.
Leading and Following Together
A Devotional and Small Group Guide by Mark Roberts
Price: Pay what you can
This five-part devotional guide, centered on Ephesians 5:21, encourages us to consider the notion of mutual leadership and followership.
Examine Your Life
A Devotional and Small Group by Mark Roberts
Price: $6.99
This five-part devotional guide, centered on Ephesians 5:15-16, asks us to examine our lives so that we might live more intentionally and fully.