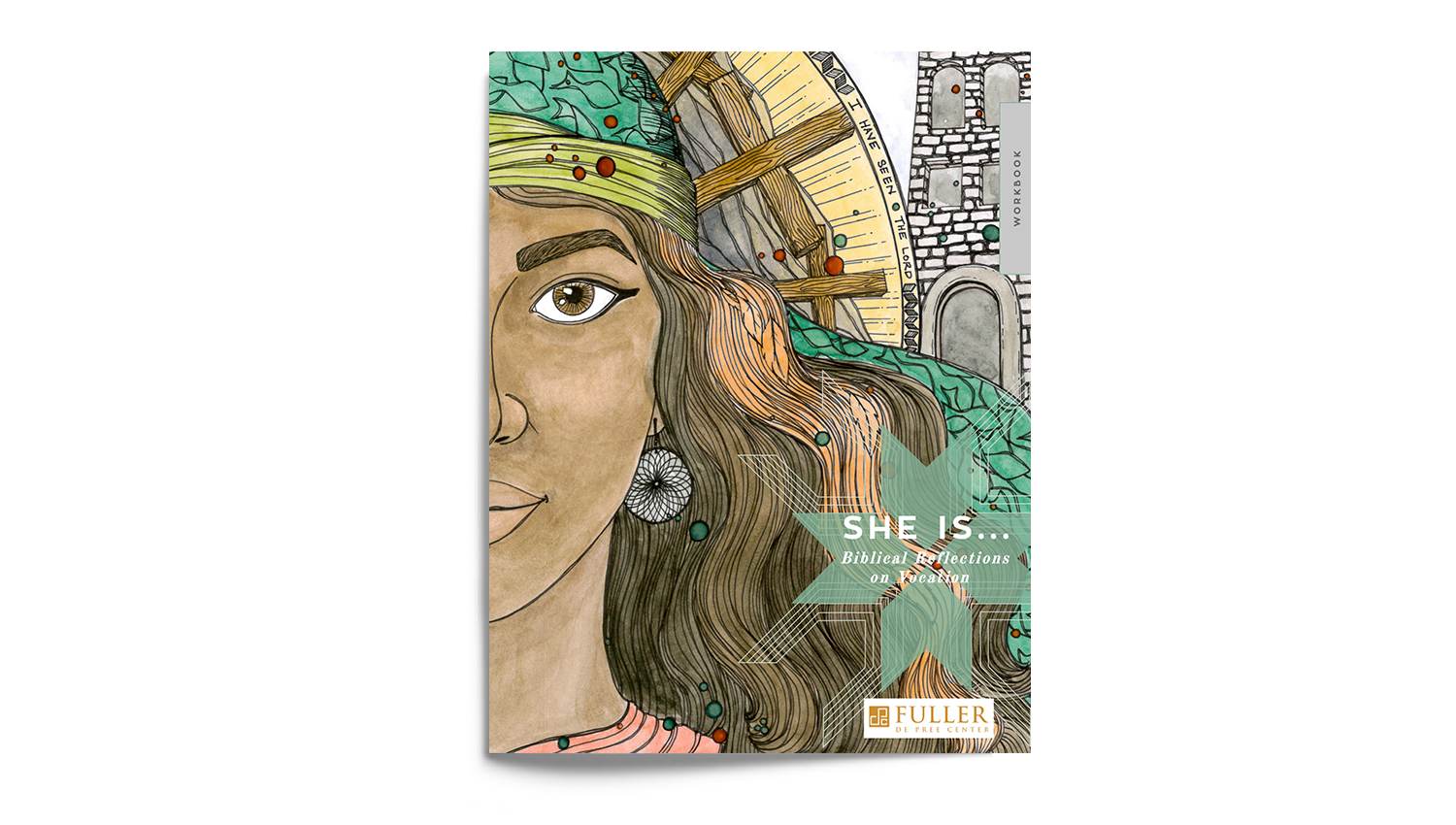 She Is... Biblical Reflections on Vocation
A rich portrait of how women have robustly participated in the work of God.
We at Fuller's De Pree Center are excited to present to you, She Is…, a study guide designed to help people engage questions of vocation through the stories of various biblical women. This collection of diverse perspectives shares the unique lens that each author sees these biblical women in.
As you read, our hope is that each piece in this workbook encourages you to think deeply, ask new questions, and spark your imagination about both our central call to follow Jesus and also the particular ways God is inviting each of us to live and work in the world.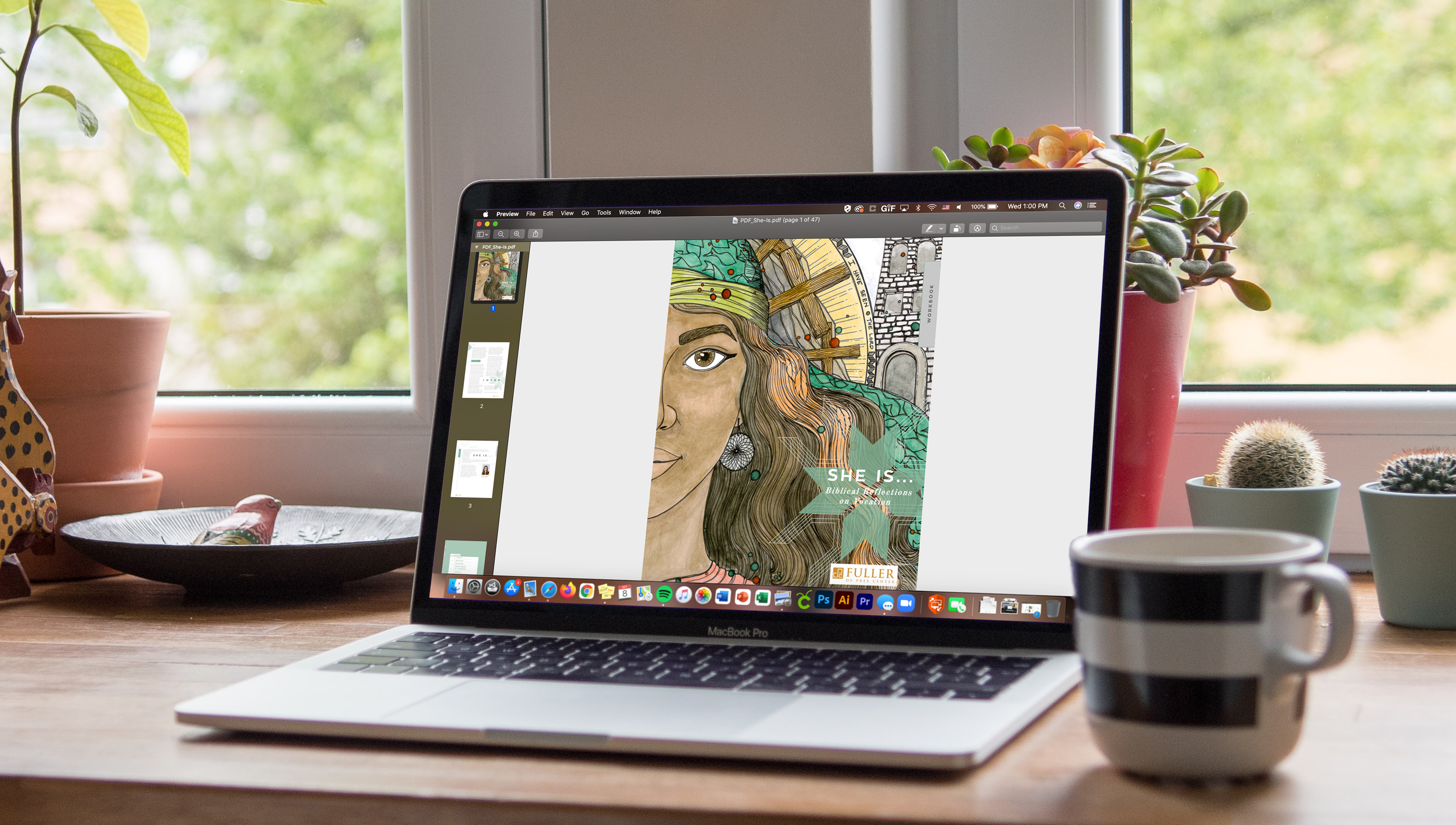 Price
$7.99/study guide 
*This is a digital product. After purchasing, you'll be emailed a link to download the devotional guide as a downloadable PDF. When you get the PDF, you can read it on your computer, phone, or tablet, or you can print a copy for personal use.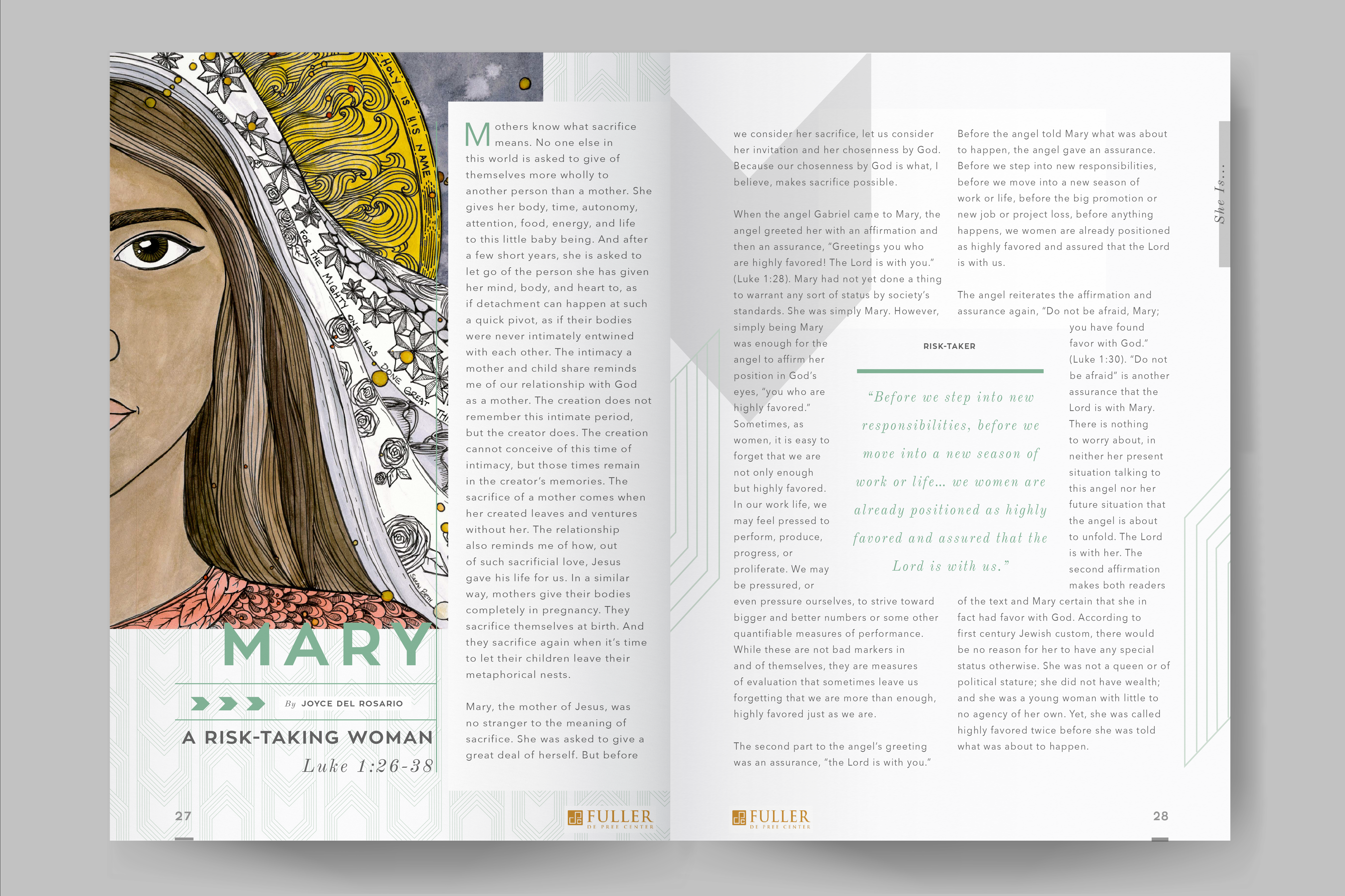 - Easily printable format (8.5″x11″ portrait)
- 9 devotions containing scripture, reflections, discussion questions, and prayers.
This study guide was designed to be used in a small group but can be used in a variety of ways:
- In a small group: Read through the workbook and discuss the questions as a group, one week at a time.
- By yourself: Go through the guide on your own, one week at a time. If you decide to use it by yourself, consider sharing your responses to the questions and your learnings from the practices with someone you trust. Often learning can be enhanced by sharing it with someone else!
A Note from the Editor, About the Authors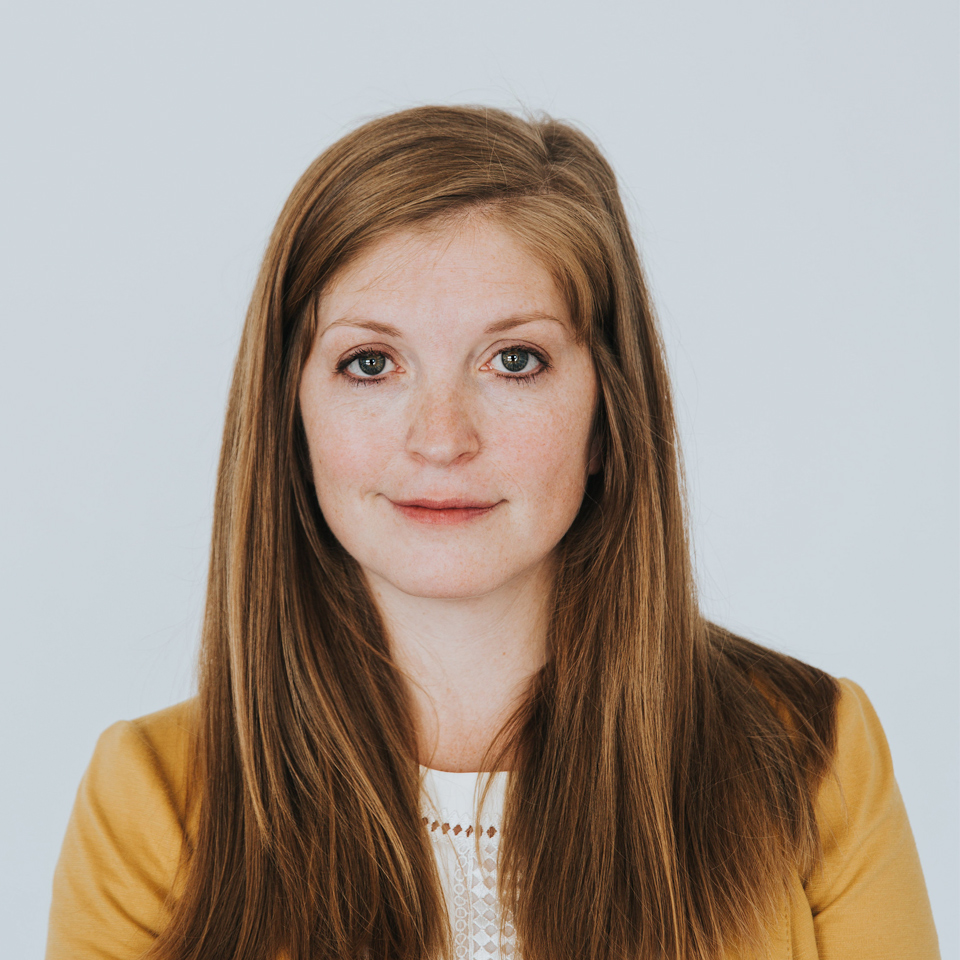 To help us reflect widely and thoughtfully on these nine biblical women, we invited nine different practitioners and theologians to lead us in imagining how the text informs our understandings of vocation. Interestingly, each of the writers' own sense of calling is woven into their reflections in both implicit and explicit ways, helping to create a diverse set of reflections for you to engage with.
I am encouraged by how each author sees scripture in both shared and also unique ways. Their diversity of perspectives helps me envision the complexity of our God and the long history of people who have responded to God's callings in the world.
(For a Limited Time!) Leadership Prayers for Troubled Times Bundle
A Devotional Guide Bundle by Uli Chi 
Price: $9.99
For a limited time only, receive a free copy of Uli Chi's Leadership Vows and Becoming Lead Servants with the purchase of Leadership Prayers for Troubled Times.
Finding God: Hope is a Habit that Grows in the Dark
A 10-Week Devotional Guide by Inés Velásquez-McBryde 
Price: $7.99
I have never heard of a hope-filled person who did not have a story of hardship. Hope grew in the hardship. Our prayer is that this devotional guide would plant fruit-bearing seeds and water pre-existing seeds in your own life.
Stations of the Cross
A Devotional Guide for Lent and Holy Week by Mark D. Roberts
Price: $7.99
This guide helps us reflect with more intensity and emotion the events and meaning of Jesus's death. It invites us to draw near to the Lord in anticipation of Good Friday and Easter.
52 Workday Prayers
A Two-Part Devotional Guide Series by Mark D. Roberts
God has given us the Psalms for many reasons. One of the main ones is to teach us how to pray. From the Psalms we get to know more intimately the God with whom we speak. 
Devotions for Christmas
A Devotional Guide by Mark Roberts
Price: $6.99
Christmas is about the birth of Christ and his coming into the world, taking on human flesh. In this season, we remember God becoming incarnate, embodied.
Calling in the Third Third of Life
A Devotional and Small Group Guide by Mark Roberts
Price: $9.99
This ten-part devotional and small group guide, centered on Genesis 12:1-5, encourages us to guide our lives by the callings we have from God, especially for those in or entering the third third of life.
Leading and Following Together
A Devotional and Small Group Guide by Mark Roberts
Price: Pay what you can
This five-part devotional guide, centered on Ephesians 5:21, encourages us to consider the notion of mutual leadership and followership.
Examine Your Life
A Devotional and Small Group by Mark Roberts
Price: $6.99
This five-part devotional guide, centered on Ephesians 5:15-16, asks us to examine our lives so that we might live more intentionally and fully.