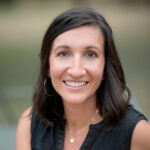 Alexis Busetti is the host of That Makes Total Sense! a weekly podcast dedicated to exploring God's generosity and justice. Whether it is with friends around her dining room table, through a sermon, or in a formal interview, having conversations around faith and justice is one of the places she feels most at home. After more than two decades of serving in lay ministry and preparing to pastor, she now finds herself very intentionally aiming to ask better questions (instead of only looking for the right answers) and encourages the people around her to do the same.
Alexis holds a Bachelor of Liberal Studies and a Master of Human Relations with a concentration in organizational studies and social justice from the University of Oklahoma. She has worked in government casework and personal finance and is currently pursuing her Master of Divinity on the Texas campus of Fuller Theological Seminary where she is a representative on the student council.
When she's not hitting the books, writing papers, or interviewing amazing guests, you can find Alexis at the dojang practicing taekwondo with her family or holding a coffee mug in one hand and a good book in the other. Alexis and her husband, Seth, call Houston home with their four out-of-this-world kids and two incredibly lazy dogs.