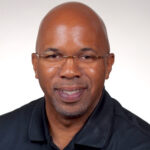 If you ask George what is his greatest joy, he will routinely light up when talking about "seeing others at their best". His passion for teaching and learning is what has undergirded his 28 years of leadership and serving others as a biotech/healthcare senior leader, senior pastor, leadership academy dean, school principal, bible teacher, and trusted friend. His breadth of experience in business and ministry helps him easily connect and create conditions of trust with others who are seeking greater purpose in ordinary moments of life.
George and his wife Chree, who holds a MA in counseling and BS in psychology, find great joy in doing the hard, meaningful work that matters. This has led them to launch a community development initiative in 2022 called "The Soup Exchange," an effort to bring people from diverse political, religious, socio-economic, and ethnic backgrounds together for food fellowship and conversation. In their words, their goal is to "erode the walls that separate people and bring community together one spoon at a time". George and Chree have been married to for nearly 28 years and have three amazing kids (Langhston – 25yrs, Ellis – 23yrs, and Symone – 20yrs).
George's educational background includes a Master of Divinity from Fuller Theological Seminary in Pasadena, CA. He also holds a Master of Business Administration from Southern Illinois University in Edwardsville, IL and a Bachelor of Arts in Economics from Louisiana State University in Baton Rouge, LA.
George is at his best when opportunities for growth and wholeness are present.