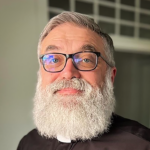 Johnie Wood is the stated supply pastor at First Presbyterian Church in Crockett Texas, a crisis chaplain-at-large, retired military officer, and Presbyterian Church (USA) candidate for ordination. Johnie worked in Counterterrorism and Security Assistance for over 25 years.
After his military career, Johnie was a defense contractor working as the Senior Tactics Analyst and assistant program manager at the 3rd Special Operations Squadron, supporting direct action and special reconnaissance counterterror operations in Afghanistan, Iraq, and other locations. Later he served as the Senior Counterintelligence Analyst for the Department of Energy Office of Counterintelligence Las Vegas Field Office. Before entering fulltime Church ministry, Johnie was the Director of Security for J.B. Hunt Transportation.
Johnie has a lifelong passion for ministering to military, first responders, and others who live and work in emotionally and spiritually demanding environments. He enjoys helping others discern their next big idea, explore concerns, or discover ways to stop and rest.
He received his master's degree in International Relations from Troy State University, International Division, in Geilenkirchen, Germany. In 2020 he earned a Master of Divinity from Fuller Theological Seminary and is currently a Doctor of Ministry student. Johnie is also a graduate of the Defense Language Institute and the Federal Bureau of Investigations Citizens Academy.
His awards include the Defense Meritorious Service Medal, Non-Commissioned Officer of the Year for U.S. European Command, and the Veterans of Foreign Wars Life Saving Award. He is the proud husband of Jennifer Wood, father of five, and grandfather.