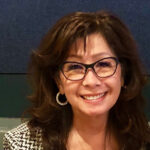 Patti is fulfilling her 2nd calling as a Spiritual Director and Life Coach and considers it an honor to listen with the Holy Spirit while guiding others along their spiritual and vocational journeys. She has counseled and taught college students for the past 25 years and continues to do so on a part-time basis. She holds a Master's degree in Counseling and 2 Certificates, one in the Art & Practice of Spiritual Direction and another in Enneagram Training. Patti also has experience in leading individuals and small groups in the Exercises of St. Ignatius, Crafting the Rule of Life, Spiritual Formation Practices, Myers-Briggs and Strengths Finder. In addition, she is currently pursuing a Certificate in Christian Studies at Fuller Seminary.
All of these experiences have formed and enriched her own spiritual transformation and given her both wisdom and grace to companion others in their search for more passion and purpose in one's life, vocation, and faith. She offers Spiritual Direction and Coaching for all ages and stages, including life goals and transitions, vocational discernment, professional and personal growth and leadership development.
Patti attends a community church and serves on the Adult Discipleship Team and participates in a monthly Lectio Divina Group and a weekly Women's Book Club. She considers herself a lifelong learner, a devoted pilgrim with a creative soul, and one who enjoys sauntering through God's beautiful creation. She also actively engages in social justice, community outreach and special celebrations with friends and family and will always make time for good conversation accompanied by a cup of tea, coffee or glass of wine!