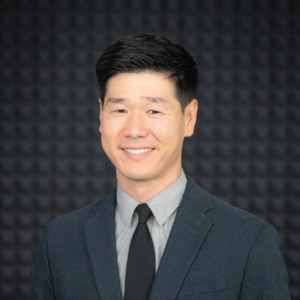 Director of Operations
De Pree Center
Biography
Paul Matsushima joined Fuller Theological Seminary in 2018 as a Project Manager, and more recently as Director of Operations, for the Max De Pree Center for Leadership. He holds an MA in Theology from Fuller Seminary and a BA in Asian American Studies from San Francisco State University.
Before Fuller, Paul was the program manager at Kizuna, a nonprofit organization dedicated to building a future for the Japanese American community through the development of young leaders. He has also served in various capacities in the Asian American faith community, including AAPI Christians for Social Justice and Gardena Valley Baptist Church. Paul and his wife Monica have two kids, Marty and Mika.
You can see more of Paul's work at paulmatsushima.com.
Explore Paul's Resources
Gaining Margin to Give Back: An Interview with Stephanie Smith
Article by Paul Matsushima
Margin – or the idea of having the room, the capacity, the flexibility to be, and do what you desire and feel called to – was the theme of this phase of Stephanie's life, especially as she envisioned her ideal retirement years.
Finding Courage as an Artist: An Interview with Roxanne Fulkerson
Article by Paul Matsushima
Visual artist Roxanne Fulkerson has learned to accept it may take a long while for God's desires to come to fruition in your life. It took her decades to "find the courage."
Bringing Hope and Healing to a Broken World: Rapper Jason Chu's Story
Article by Paul Matsushima
Meet Jason Chu, a Chinese American rapper with a mission statement to bring hope and healing to a broken world.
A Lifestyle of Work-Life Balance: Sarah Magidoff's Story
Article by Paul Matsushima
"My calling is towards a lifestyle of work-life balance," says Sarah Magidoff, who helps others experience rest and freedom from the need to find worth through achievements or status.
Just Getting Started: Nada Jones's Story
Article by Paul Matsushima
"Considering what's possible and pursuing your calling doesn't end at thirty-five, in fact, that's when the need for flexibility and purpose are heightened," says Nada Jones, founder of LIBERTY.
Myths of Vocation, Volumes 1-4
Workbook Series by Michaela O'Donnell Long, Paul Matsushima, and Jerome Blanco
These workbooks explore how we may have dysfunctional beliefs about what work and calling should look like.