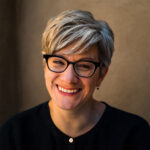 Rebecca has invested 20+ years in directing communications and serving leaders and teams in more than 70 organizations. Today, as founder and principal of Story Solutions, she enjoys collaborating with clients as a brand strategist, writer, coach, and source of executive counsel. She also hosts the Second Journey, an online mentoring community of professional women exploring midlife questions about work, life, and faith.
In her coaching and mentoring, Rebecca is passionate about helping individuals and teams tap into undeveloped potential. She also fosters awareness and practices that equally affirm women and men working in partnership. One of her favorite tools is The Values Deck, a set of 72 conversation cards she created to help teams and families live their values with intention.
Rebecca is a certified facilitator of the Motivational Core (MCORE) assessment of human motivation to help clients explore the 'why' that brings meaning to work and life. Her coaching clients may request this assessment for an additional fee of $50.
Rebecca's professional backstory includes serving in donor development with the Chicago Symphony Orchestra and Lincoln Park Zoo, working as vice president of a creative agency, and leading church communications. She has worked with clients such as Boettcher Foundation, Deaf Bible Society, Denver Seminary, Healing Waters International, and World Vision USA.
An urban pedestrian at heart, Rebecca loves to explore city neighborhoods and has traveled to more than 25 countries. She also enjoys quiet mornings, strong coffee, good data, and everyday life with her husband Nathan in Denver, Colorado.
Get to know Rebecca as a Road Ahead guide: