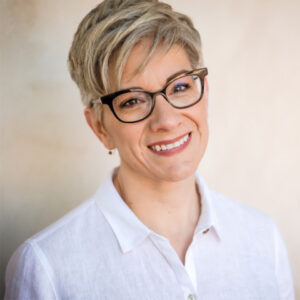 Rebecca has invested 30+ years as a communications expert, brand strategist, and executive coach to serve leaders and teams in more than 75 organizations. Today, as founder and principal of Story Solutions, she is passionate about helping changemakers tap into undeveloped potential, while also fostering inclusive organizational cultures where women and men thrive.
As a Motivation Code™ coach and author of The Values Deck™, Rebecca helps clients understand the 'why' that brings meaning to their work and life. She is certified through the International Coaching Federation and is Dare to Lead™ Trained to guide teams with evidence-based tools from Brené Brown's research on four skill sets of courage. She is also an advisory board member for the Women, Work, & Calling initiative of the Denver Institute for Faith & Work.
Rebecca's professional backstory includes serving in donor development with the Chicago Symphony Orchestra and Lincoln Park Zoo, working as vice president of a creative agency, and leading church communications. She has worked with clients such as Biblica, Compassion International, Deaf Bible Society, Healing Waters International, Women Doing Well, and World Vision USA.
An urban pedestrian at heart, Rebecca loves to explore city neighborhoods and has traveled to more than 25 countries. She also enjoys quiet mornings, strong coffee, good data, and everyday life with her husband Nathan in Denver, Colorado.
Areas of Expertise
Business Acumen, Leadership Development, Nonprofit Management
Get to know Rebecca as a Road Ahead guide: