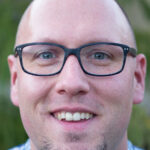 The Rev. Dr. Wesley C. Telyea is a relationally driven strategic thinker, who excels at working with individuals and teams to grow their leadership capacity, navigate transition, gain clarity and alignment in goals, and address conflict. Using a personalized coaching approach, Wes builds a specialized and highly effective program tailored to meet your challenges.
Prior to becoming a full-time leadership and executive coach Wes was involved in church leadership at a variety of levels for over a decade. Since leaving full-time ministry Wes co-founded the Discovery Group, LLC a socially conscious coaching firm. One of the unique features of the Discovery Group, LLC is how for every 10 hours of client and group coaching The Discovery Group, LLC bills, one hour of pro bono coaching work is donated to individuals who are experiencing homelessness, or living in transitional housing or affordable housing and don't have the means to pay for our services.
Wes is a member of the International Coach Federation (ICF), carries a certification from Seattle Coach and ICF accredited program, and his doctoral work focused on culture change and transition.