We often think of finding a purpose in life as something young adults need to do. It's crucial for folks in their late teens and twenties to identify their purpose so that they might live meaningful and productive lives.
Though I certainly agree that young adults need to find a purpose worth living for, I have come to believe that purpose is essential, not only for Millennials and Gen Z folk, but also for those of us in or entering the third third of life. We need a clear purpose so that we might flourish as we get older, experiencing personal wellbeing and making a difference that matters in the world.
As it turns out, purpose not only enriches the third third of life. It also extends it. Older adults who have a purpose live better and longer. That's what serious scholarly research reveals.
For example, a few days ago an article appeared in the Washington Post with this title: "Boosting our sense of meaning in life is an often overlooked longevity ingredient." The writer is Marta Zaraska, a science journalist and author of the recent book, Growing Young: How Friendship, Optimism, and Kindness Can Help You Live to 100. (You can read my review of this book here.)
Zaraska acknowledges that diet and exercise can help you to live longer, but "science shows there is another longevity ingredient we often overlook: finding purpose." For example, "If a 90-year-old with a clear purpose in life develops Alzheimer's disease, that person will probably keep functioning relatively well despite real pathological changes in the brain, one study found. Another meta-analysis of 10 studies involving more than 136,000 people found that having purpose in life can lower your mortality risk by about 17 percent — about as much as following the famed Mediterranean diet." Moreover, writes Zaraska, "Research has shown that people who have high levels of purpose in life spend fewer nights in hospitals, have lower odds of developing diabetes, and over two times lower risk of dying from heart conditions than do others."
Now those are results I would not have expected before I started digging into research on aging and longevity. Perhaps you're a bit surprised, also.
You may wonder why having purpose in life helps a person live longer. "The explanation may lie in part," says Zaraska, "in how having purpose in life affects our stress response. In lab experiments, when volunteers are made anxious (because they are told to give a public speech, for instance), stress markers, such as the hormone cortisol, tend to spike. But those who report high levels of purpose 'calm down more quickly,' says Eric Kim, psychologist at the University of British Columbia." In other words, something that ages your body – your stress response – is moderated considerably if you have purpose.
Zaraska's article confirms what those who study aging have been saying for quite some time. In fact, dozens of researchers have dug deeply into ways in which purpose makes a difference in the lives of older adults. Consider an article published in 2017 in the Journal of the American Medical Association: Psychiatry. "Association Between Purpose in Life and Objective Measures of Physical Function in Older Adults" reports on research done by a team of scholars from the Harvard T.H. Chan School of Public Health. What did they find? "Purpose in life was prospectively associated with a decreased risk of developing weak grip strength and slow walking speed, although the findings were more robust for walking speed than for grip strength. These findings suggest that a sense of purpose in life, a modifiable factor, may play an important role in maintaining physical function among older adults." Even something as crucial, basic, and quantifiable as walking speed is greater among third thirders if you have purpose in life. Dozens of other studies have come up with similar conclusions related to other physical and psychological processes.
Support for the relationship of purpose to successful aging comes from sources other than the academy. Last September the De Pree Center hosted a webinar with Richard and Leona Bergstrom, leaders of Re-Ignite, a Christian ministry that serves third third folk who want to live abundantly as they serve God and make a difference in the world. The topic of the webinar was: "The Power of Purpose in a Pandemic." The Bergstroms, drawing from their vast experience working with older adults, as well as academic research and biblical wisdom, showed how purpose enables us to live full and productive lives, even in extremely challenging times.
The Bergstroms also introduced our webinar audience to a recently released, in-depth study produced by Edward Jones (financial advisors) and Age Wave (which legitimately claims to be "The world's leader in understanding the effects of an aging population on the marketplace, the workplace and our lives"). These two organizations teamed up on a "comprehensive five-generation study including a survey of 9,000 adults in the U.S. and Canada." In this study they sought "to more deeply understand the retirement-related hopes, dreams and fears of our clients, their families and our communities." Edward Jones and Age Wave published the results of their study in a popular form in a document called "The Four Pillars of the New Retirement." People who flourish after they retire will have built their lives on these four pillars. What are they? Health. Family. Purpose. Finances.
Edward Jones and Age Wave sum up their research findings having to do with purpose by referring to "The Sustaining Power of Purpose." They write: "Purpose is inextricably linked with the other pillars, especially family and health. Retirees with a strong sense of purpose are happier and healthier, more active and more socially engaged, and they live longer. They have positive attitudes toward their own aging and life itself. They reject the ageist myth that retirement means a life in decline, instead making retirement the most meaningful and fulfilling time of their lives. They want to feel useful more than youthful." They add a quotation from one of the leading thinkers on aging, Marc Freedman of Encore.org, who says, "Purpose is feeling like the world needs you as much as you need it, that you have something to contribute and that you still matter."
Before I started doing research on older adulthood, I would have said that we need purpose in order to live meaningful and productive lives in our third third. I still believe this, without question. In many ways we are in a life transition not unlike what we experienced in our twenties. But I have come to believe that purpose is even more essential in this season of life than I would have imagined. Reams of data reveal that those who have a clear purpose live healthier and longer lives, not to mention lives that are more fulfilling and fruitful.
When I reflect on what I have learned about purpose from a Christian perspective, I'm struck by how utterly relevant Christian faith is to third third flourishing. After all, our faith gives us a clear and compelling purpose for living. As it says in Ephesians, we exist for the praise of God's glory (Eph 1:11-14). Or, as the Westminster Shorter Catechism puts it, our "chief end" is "to glorify God, and to enjoy him forever." We glorify God, not just in our devotions and corporate worship, but in every part of life as we walk in the good works God has prepared for each one of us (Eph 2:10). In this way, we play a small but significant part in the redemption, restoration, and fruitfulness of the world. We get to express through our purposeful living the love, justice, and grace of God. We are blessed to see God at work in us and through us as we offer all that we are to him and his purpose (Rom 12:1-2). In the end, you see, our purpose is really not ours. Rather, it is God's purpose to which we are called through God's grace in Jesus Christ. And that's a purpose worth living for!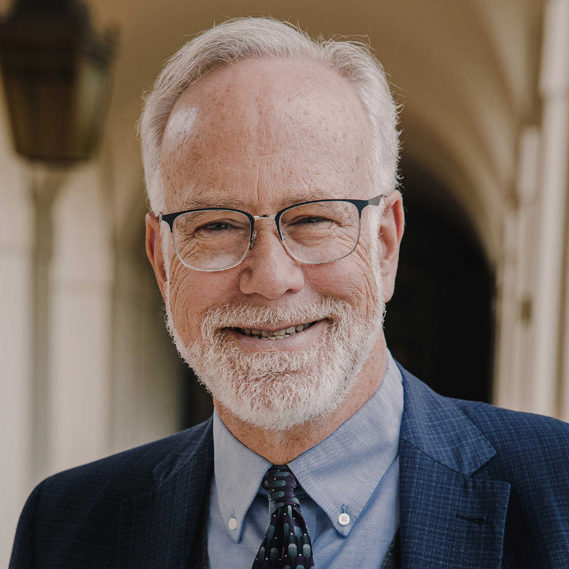 Dr. Mark D. Roberts is a Senior Strategist for Fuller's Max De Pree Center for Leadership, where he focuses on the spiritual development and thriving of leaders. He is the principal writer of the daily devotional, Life for Leaders, and the founder of the De Pree Center's Flourishing in the Third Third of Life Initiative. Previously, Mark was the Executive Director of the De Pree Center, the lead pastor of a church in Southern California, and the Senior Director of Laity Lodge in Texas. He has written eight books, dozens of articles, and over 2,500 devotions that help people discover the difference God makes in their daily life and leadership. With a Ph.D. in New Testament from Harvard, Mark teaches at Fuller Seminary, most recently in his D.Min. cohort on "Faith, Work, Economics, and Vocation." Mark is married to Linda, a marriage and family counselor, spiritual director, and executive coach. Their two grown children are educators on the high school and college level.