It is not enemies who taunt me—
    I could bear that;
it is not adversaries who deal insolently with me—
    I could hide from them.
But it is you, my equal,
    my companion, my familiar friend,
with whom I kept pleasant company;
    we walked in the house of God with the throng.
Focus
Though it's true that if we want to experience the best life has to offer we can't do it alone, this doesn't mean sharing life and leadership with others is easy. Relationships with other people can foster some of the greatest joy in life and some of the greatest pain. Recognizing this reality encourages us to reach out to God for help. Through God's grace in Christ, we are able to be patient with each other, to put up with and forgive those with whom we are "doing" the Christian life.
Today's devotion is part of the Life for Leaders series: Can't Do It Alone.
Devotion
My first full-time job in a church was as the Director of College Ministries for the First Presbyterian Church of Hollywood. In that role, I not only shepherded a group of college students but also collaborated with a team of volunteer adult leaders. For the most part, this group of leaders did great work and enjoyed sharing in our work together. But every now and then we experienced conflict.
One time we were strongly divided about a certain issue. Our conversation got quite heated as we expressed our divergent opinions. Finally, one of my leaders said with painful exasperation, "Why are we having this argument? Why are we so upset with each other? I thought we were supposed to be a family!" I responded to her lament in a way I now view as rather unpastoral. But my point was valid. I said, "That's just the problem. We are a family! And which family doesn't experience conflict? If we're a family, then we should expect to have disagreement and discord sometimes."
I was right about that, even if my response wasn't especially empathetic. My leaders and I believed that when it came to college ministry, we couldn't do it alone. As a team, indeed, a family in Christ, we were doing ministry together, not by ourselves. While this togetherness was usually pleasant and productive, sometimes it wasn't.
Some of my most difficult and painful experiences in life have happened in the context of sharing life and leadership with others. For example, I love my family dearly and am deeply grateful for them. But there have been times in which we have said and done things that were hurtful to each other. This has also happened in the relationships of my work life, especially with those with whom I have been particularly close. There were times when I could echo the words of Psalm 55: "It is not enemies who taunt me—I could bear that; it is not adversaries who deal insolently with me—I could hide from them. But it is you, my equal, my companion, my familiar friend, with whom I kept pleasant company; we walked in the house of God with the throng" (55:12-14). And, to be fair, I expect others could have uttered the same lament about me!
In this devotion, I want to acknowledge that no matter how true it is that you can't do it alone, sometimes doing it with others is difficult and distressful. Sometimes the people with whom we gladly share life and leadership are the very people who make our lives so hard. That's one reason why I love a passage from Paul's letter to the Colossians. He writes, "As God's chosen ones, holy and beloved, clothe yourselves with compassion, kindness, humility, meekness, and patience. Bear with one another and, if anyone has a complaint against another, forgive each other; just as the Lord has forgiven you, so you also must forgive" (Colossians 3:12-13). This is not looking at the Christian life through rose-colored glasses. Paul is assuming that when we seek to do the Christian life together, we'll need plenty of patience. We'll have to put up with each other, and, at times, forgive each other. Sometimes it will take extra effort just to get along.
The Bible is full of examples of people not getting along with each other. It starts early. In Genesis 4, right after sin enters the world in Genesis 3, a brother kills his own brother out of envy and resentment. The Old Testament is full of things like this. Then, in the New Testament, even after the first Christians had experienced the reconciling grace of God in Christ, they had a devil of a time getting along. (Okay, yes, pun intended!) The New Testament overflows with the challenges and disappointments of conflictual relationships among brothers and sisters in Christ.
Now, lest you become discouraged and begin to doubt that doing life and leadership with others is worth trying, Scripture gives us the hope we need to keep on going. Some of the most moving stories in the Bible describe the wonders and joys of reconciliation. Take, for example, Jacob and Esau, Joseph and his brothers, or Jesus's parable of the prodigal son. Moreover, Scripture teaches us how to get along with others and what we should do when we experience conflict and injury. Most of my dearest partners in life – in work, family, and friendship – are people with whom I've experienced the most heartache and pain. Yet the grace of Christ has been truly healing, helping us grow through pain into deeper and more loving relationships.
I don't mean to imply that this is easy or even that it always works out in this life. There are times when not doing it alone leads to unresolved pain on this side of the age to come. So, I want to be clear in this devotional series called "Can't Do It Alone" that doing it with others can at times be difficult and hurtful. That's not what God intended for us, but it is what sin has done to us. Nevertheless, through the grace of God in Christ we can experience forgiveness, healing, reconciliation, and hope. Moreover, we can learn to live in the mode of Colossians 3, being patient with each other, putting up with each other, and forgiving each other. As we do, we'll learn to clothe ourselves with love, "which binds everything together in perfect harmony" (Colossians 3:14).
Reflect
Are you experiencing – or have you experienced in the past – something similar to what the psalm writer laments in Psalm 55?
As you think back on your life, can you remember times of conflict with someone that led to a deeper and better relationship with that person? Why did things turn out this way?
What would you say helps relationships to be healthy and growing, even in the midst of occasional conflict?
Act
If you are in a painful relationship right now, spend some time telling God about it. Don't hold back. Let the Lord know what you truly think and feel.
Pray
Gracious God, thank you for the honesty of the psalm writer. Thank you for his lament over the antagonism of a dear friend. When I read this in Scripture I am encouraged to share with you my own relational disappointments, conflicts, and hurts.
God, I know that what you intended for human relationships was badly disrupted when human beings chose to sin. Thank you for not abandoning us to the wages of our sin. Thank you for reaching out to us in grace, sending Christ to bring reconciliation with you and among human beings. Help me, I pray, to live in this grace, to receive it, and to share it with others.
If I am in a particularly difficult relationship right now, give me your wisdom, Lord. Help me to see the person with whom I struggle through your eyes. Give me your patience and compassion. I pray that you will bring restoration, that our relationship will be made right by your grace.
All praise be to you, O God, for all of your goodness to us. Amen.
Banner image by Charl Folscher on Unsplash.
Find all Life for Leaders devotions here. Explore what the Bible has to say about work at the unique website of our partners, the Theology of Work Project. Reflection on today's Life for Leaders theme can be found here: Conflict at Work (Devotional).
---
Subscribe to Life for Leaders
Sign up to receive a Life for Leaders devotional each day in your inbox. It's free to subscribe and you can unsubscribe at any time.
---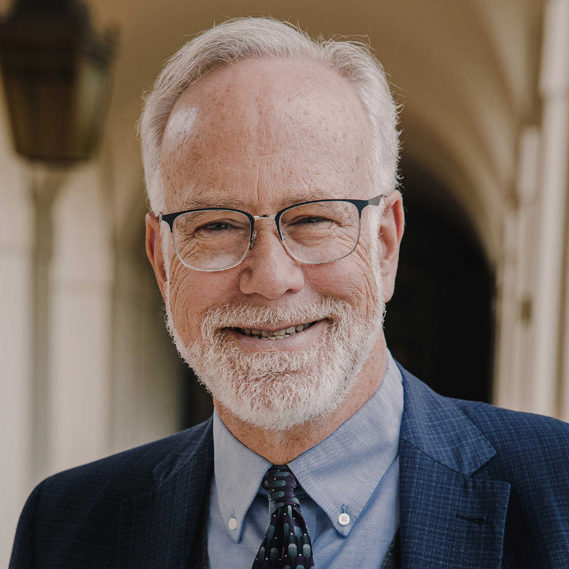 Dr. Mark D. Roberts is a Senior Strategist for Fuller's Max De Pree Center for Leadership, where he focuses on the spiritual development and thriving of leaders. He is the principal writer of the daily devotional, Life for Leaders, and the founder of the De Pree Center's Flourishing in the Third Third of Life Initiative. Previously, Mark was the Executive Director of the De Pree Center, the lead pastor of a church in Southern California, and the Senior Director of Laity Lodge in Texas. He has written eight books, dozens of articles, and over 2,500 devotions that help people discover the difference God makes in their daily life and leadership. With a Ph.D. in New Testament from Harvard, Mark teaches at Fuller Seminary, most recently in his D.Min. cohort on "Faith, Work, Economics, and Vocation." Mark is married to Linda, a marriage and family counselor, spiritual director, and executive coach. Their two grown children are educators on the high school and college level.