Search me, O God, and know my heart;
    test me and know my thoughts.
See if there is any wicked way in me,
    and lead me in the way everlasting.
Focus
An article in Harvard Business Review recommends self-reflection for leaders who seek to excel in their work. What they recommend is curiously similar to the centuries-old Prayer of Examen, a Christian practice of daily, prayerful self-reflection. If you'd like to become more self-reflective, perhaps you'll find the Prayer of Examen to be helpful.
This devotion is part of the series: A Biblical Guide to Reflection
Devotion
Self-reflection isn't just a discipline for spiritual growth. It can help us thrive in many parts of life, including our leadership. A recent article in Harvard Business Review had this intriguing title, "Don't Underestimate the Power of Self-Reflection." According to the authors, James R. Bailey and Scheherazade Rehman, "one competency that is often less talked about is reflection. Research shows the habit of reflection can separate extraordinary professionals from mediocre ones."
What do they mean by self-reflection? Bailey and Rehman, who are professors at the School of Business of George Washington University, explain:
The practice [of self-reflection] itself is all about learning, looking back on the day (without bias or regret) to contemplate your behavior and its consequences. It requires sitting with yourself, taking an honest moment to think about what transpired, what worked, what didn't, what can be done, and what can't. Reflection requires courage. It's thoughtful and deliberate. Being at the "top of your game" only comes when you extract from your past how to engage the future.
When I read that description I was amazed because it sounds so very much like an ancient Christian practice known as the Prayer of Examen. This prayer is based on the work of St. Ignatius of Loyola, the founder of the Jesuit order. In the 16th century, Ignatius designed a variety of spiritual exercises to help Christians grow deeper in their faith, including the Prayer of Examen. There isn't one set version of this prayer, though all authentic versions lead us into prayerful self-reflection. The Jesuit website offers this basic version of the examen:
1. Place yourself in God's presence. Give thanks for God's great love for you.
2. Pray for the grace to understand how God is acting in your life.
3. Review your day — recall specific moments and your feelings at the time.
4. Reflect on what you did, said, or thought in those instances. Were you drawing closer to God, or further away?
5. Look toward tomorrow — think of how you might collaborate more effectively with God's plan. Be specific, and conclude with the "Our Father."
There are many similarities between the description of self-reflection in Harvard Business Review and the description of the Examen provided by the Jesuits. The main difference, of course, is obvious. While reflection requires "sitting by yourself" and contemplating your day, the Examen is something we do in conversation with God. We begin by recognizing God's presence and love for us and then reflect upon the day with God's gracious help. In this effort, we might echo the prayer of the writer of Psalm 139:
Search me, O God, and know my heart;
    test me and know my thoughts.
See if there is any wicked way in me,
    and lead me in the way everlasting.
If you're wondering how to grow in prayerful self-reflection, the Prayer of Examen is a time-tested practice you may wish to explore. The outline above from the Jesuit website will get you started. So will this webpage from IgnatianSpirituality.com. If you own a copy of Working in the Presence of God by Denise Daniels and Shannon Vandewarker—which I highly recommend, by the way—check out chapter 10, "Prayer of Examen for Work."
One of the main advantages of using the Prayer of Examen for regular reflection is that it helps to keep us from unhealthy rumination. Our time of reflection is bathed in the grace and love of God. At the same time, the Examen invites us to consider where we have fallen short. It urges us to reflect on experiences that have drawn us away from God in addition to those that have drawn us nearer to God.
My wife regularly uses the Prayer of Examen to give structure to her evening prayers. She can do this quietly, with her eyes closed. I find that my wandering mind needs a little more help. Journaling my Prayers of Examen helps me to stay focused. Plus, as I shared in the devotion from October 29, I find that a week-based Prayer of Examen during my sabbath is particularly effective. So, again, there aren't hard and fast rules for how you must use the Examen. I'd encourage you to discover what works for you, using the wisdom of Ignatius as a trustworthy guide.
Reflect
What makes it difficult for you to reflect?
What helps you to reflect on your life, your work, your actions, and your dreams for the future?
Act
Try using the Prayer of Examen for one week. It's usually best to choose a time of day that works well for you. For some people, this is the morning. They reflect on the previous day. For others, the evening is best. Still, for others, midday prayer is the optimal time for the Examen. Find out what works best for you.
Pray
Gracious God, with the psalmist I invite you to search me and know me. As you do, I pray that you help me to see what you're seeing. May I see myself in truth, neither ignoring what is wrong and focusing on only what is right, nor ruminating on what is wrong and ignoring what is right.
As I reflect along with you, may I be attentive to your presence and reminded of your loving grace. Help me to know myself, Lord, so that I might give more of myself to you and so that I might grow in relationship with you each day. Amen.
Find all Life for Leaders devotions here. Explore what the Bible has to say about work at the unique website of our partners, the Theology of Work Project. Reflection on today's Life for Leaders theme can be found here: Practicing The Examen (Devotional).
---
Subscribe to Life for Leaders
Sign up to receive a Life for Leaders devotional each day in your inbox. It's free to subscribe and you can unsubscribe at any time.
---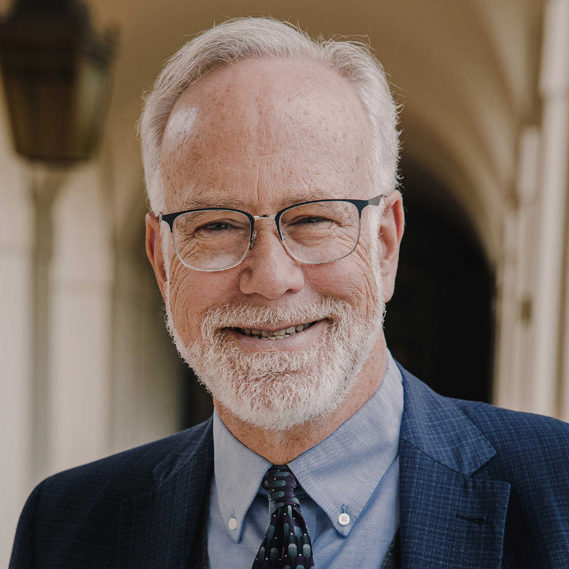 Dr. Mark D. Roberts is a Senior Strategist for Fuller's Max De Pree Center for Leadership, where he focuses on the spiritual development and thriving of leaders. He is the principal writer of the daily devotional, Life for Leaders, and the founder of the De Pree Center's Flourishing in the Third Third of Life Initiative. Previously, Mark was the Executive Director of the De Pree Center, the lead pastor of a church in Southern California, and the Senior Director of Laity Lodge in Texas. He has written eight books, dozens of articles, and over 2,500 devotions that help people discover the difference God makes in their daily life and leadership. With a Ph.D. in New Testament from Harvard, Mark teaches at Fuller Seminary, most recently in his D.Min. cohort on "Faith, Work, Economics, and Vocation." Mark is married to Linda, a marriage and family counselor, spiritual director, and executive coach. Their two grown children are educators on the high school and college level.