*This post is part of De Pree Center's Finding Our Bearings in a Crashing Economy series. 
Today's dialogue is with Dr. Denise Daniels and Dr. Elaine Howard Ecklund. The two are currently running a large empirical study on how people integrate their faith at work. It is my belief that their project will shape how Christians leaders in America think about faith at work for decades to come. So, imagine my delight when they agreed to offer wisdom for a few scenarios in light of their data!
---
Michaela: Denise and Elaine, I've talked with a lot of people in the last few weeks who are reeling. I've tried to capture all that I've heard into some different scenarios. Below are two of them (find the others here). Will y'all help us get our bearings while the world feels upside down?
Scenario One: I'm a business owner. I can read the writing on the wall.  It's possible that we're not going to have the cash to pay our vendors or our people. We could have to do layoffs. We could lose the business. What wisdom do you have for me? How does our faith inform this moment and my decisions?
Scenario Two: I'm a manager at a company. I think I'll survive the economic fallout of the pandemic, but I'm sure I'll have to let people on my team go. I might even have to let them go over video or phone call. What wisdom do you have for me? How does our faith inform this moment and my decisions?
Denise and Elaine: For the past two years we have been collecting survey data and interviewing people about how they think about faith in the workplace as well as how churches and pastors think about and talk about faith at work. Our findings reveal some things that might be useful as we respond to COVID19.
Our workforce consists of people in a wide variety of jobs and from a range of educational backgrounds; of those who are part of the paid workforce, about a third have a high school diploma or less, while one in five have a master's degree or higher. A much higher proportion of those who are at the top of their organization believe their work is a spiritual calling compared to those at the bottom of their organization, and these numbers are higher for those who identify as Christians.[i]
All this to say that in the time of COVID19 those of us who are at the top of our organization, who are Christians and who generally have more resources will have incredible power and responsibility to those who are at the bottom of their organization. This does not mean that things will not be challenging. It is likely that we will see some significant economic difficulty in the near future. Many business owners and managers will need to make hard choices, and some may face the loss of their businesses and jobs. Even so, there are a number of principles that should guide our decisions in these days.
We should honor people's humanity, recognizing that every employee is made in the image of God. This may mean providing sick leave to hourly workers, or the flexibility for people to take care of their families during this time.
We should give sacrificially as much as is possible. Some will have more resources than others, but it is important to consider how each of us can be generous in this time of need.
When layoffs are necessary, we should communicate with people in as relational a way as is feasible during this time. It may not be possible to meet face to face when telling an employee you do not have work for them. But that doesn't mean there shouldn't be an effort made to engage each person directly and with kindness.
During this time of uncertainty, it is especially important to engage in spiritual disciplines that connect us with God and help us to recognize God's presence in the midst of our difficulties. Reading scripture and praying are obvious practices, but others could include expressing gratitude, engaging in the prayer of examen, lamenting our losses and difficulties, and for some, reimagining this unexpected time at home as an opportunity for Sabbath. There are many resources available here, including the Life for Leaders devotionals available daily from the DePree Center. We might also suggest the practices outlined in Working in the Presence of God: Spiritual Practices for Everyday Work(Daniels and Vandewarker).
When this crisis is past – and it will pass – those of us who have financial and relational resources will have additional responsibilities to support those who have lost much. Humans were created by God to work, and many of us will have the opportunity to create jobs for those who will need them.
Michaela: I find it really helpful how the two of you shine a light on stewarding power. You don't brush past the fact that people at the top of organizations face uncertainty and risk. But, you rightly remind us that people at the bottom face much more. And, your data suggests that people at the top—especially Christians—see their work as a spiritual calling. So, what's the thing God's calling us to do? Steward power well.
Your wisdom reminds me of Jesus' parable of the goats and sheep (Matt 25:31-46). This is the one where Jesus talks about who is prioritized in God's Kingdom. He invites the people to imagine the King sorting people in judgment. The people sorted into eternal life are the sheep. Jesus says they get in because they fed him when he was hungry, gave him something to drink when he was thirsty, clothed him when he needed it, and welcomed him as a stranger. Confused, the people listening were like, um, we never did any of that for you. Jesus reveals that any time they did these things for the "least of these brothers and sisters of mine, you did for me."
Importantly, Jesus isn't saying, "Hey, I'm secretly watching you all the time. Make sure you behave."  Instead, he's saying, "These people who need things, these are my people. This is who I'm for. If you're on their side, you're on my side. And, if you're on my side, you got to be on their side. In other words, if you have power, you've got to prioritize who Jesus prioritizes. You've got to steward power well.   
Thanks, Denise and Elaine for your wisdom. 
---
Want to learn more about their study? Watch this presentation that Elaine and Denise did in conjunction with Rice's Religion and Public Life Program.
[1] 32% of respondents in Faith at Work: An Empirical Study have a high school, 21% have a graduate degree or higher. 26% of people at the top of their organization believe their work is a spiritual calling compared the bottom where only 16% of people believe their work is a spiritual calling.
---
Denise Daniels is a Professor of Management and Executive Producer of the Faith & Co film series (www.faithand.co) at Seattle Pacific University; she recently coauthored Working in the Presence of God: Spiritual Practices for Everyday Work (Daniels & Vandewarker).
Click HERE to read her bio.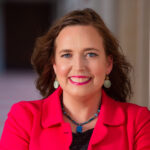 Elaine Howard Ecklund is Herbert S. Autrey Chair in Social Sciences and Director of the Religion and Public Life Program at Rice University; her forthcoming book (in May) is Why Science and Faith need Each Other: Eight Shared Values that Move Us Beyond Fear.
---
Click on button(s) below to find other articles like this one: