[The LORD] established a decree in Jacob,
     and appointed a law in Israel,
which he commanded our ancestors
     to teach to their children;
that the next generation might know them,
     the children yet unborn,
and rise up and tell them to their children,
     so that they should set their hope in God,
and not forget the works of God,
     but keep his commandments.
Focus
These days, people of all ages struggle to have hope. A recent study from the CDC showed that young people, in particular, are plagued with hopelessness. Psalm 78 encourages those of us who are older to help the next generations develop hope in God. We do this by reminding them of God's works and by living in community with them, thus sharing our lives as well as our convictions.
Today's devotion is part of the series: Advent in the Psalms.
Devotion
Last year the Brookings Institution issued a report with this disturbing title: "America's crisis of despair." In this report they observe, "The problem [in our country] is a crisis of despair and associated premature death among significant parts of our population. Our challenge is how to reduce despair in places and populations where hope has been lost."
One of the places and populations where hope has been lost is in American youth. In April of this year the Centers for Disease Control published the results of research focused on high school students in the U.S. between January and June 2021. This research found that 37.1% percent of those studied experienced "poor mental health" during this period of time. Additionally, the CDC study found that "during the 12 months before the survey, 44.2% experienced persistent feelings of sadness or hopelessness." Given that the COVID-19 pandemic began in the U.S. in March 2020, this surely explains in part why so many young people were feeling sad or hopeless. You didn't have to be young to feel that way!
But Dr. Kathleen Ethier, Director of the CDC's Division of Adolescent and School Health, the group responsible for the report on student mental health, observed in an interview, "We've known for a while that mental health among young people was going in the wrong direction. Prior to the pandemic, we were seeing increases in persistent feelings of sadness and hopelessness" (emphasis added). So, though the pandemic made things worse, teenagers were already in a downward spiral when it comes to feelings of sadness and hopelessness.
When I consider the tragic lack of hope among so many young people in the U.S., I wonder what we might do to address this problem. In Advent, a season in which hope is central, I feel a particular urgency to discover how we who have hope in God might instill this hope in others, especially those who are young. I expect you share this urgent feeling with me.
Psalm 78 supports our urgency. We learn in verses 5 through 7 that God "appointed a law in Israel" that required those who were older to teach their children, who would teach their children, "so that they should set their hope in God." God's intention that adults teach children so that they might have hope remains true today. We can't simply stand back and lament the hopelessness of our youth. We need to get involved in helping young people know how they might have hope even in a time when hope is elusive, especially for their generation.
Psalm 78 helps us to do this by revealing some essential truths about passing hope from generation to generation. First of all, the hope we pass on is "hope in God" (78:7). We're not talking here about generic hope. Nor are we talking about hope that things will get better in our country or the world. Rather, Psalm 78 reminds us that the hope that matters most, the hope that is resilient even in hard times is hope in God. It's confidence in God's character and activity. It's believing that God is at work for good in our lives and in the world, even if we have a hard time seeing what God is doing. Christian hope is always pointed toward the future, to the time when God's kingdom comes in all of its fullness, bringing "endless peace," "justice," and "righteousness" for the whole earth (Isaiah 9:7).
Second, Psalm 78 shows us that we can help younger people to have hope in God, not by exhorting them to be hopeful, but by helping them to "not forget the works of God" (78:7). As we have seen previously in this series, Advent in the Psalms, our hope in God is based upon how God has been revealed to us, both in words and especially in deeds (see, for example, Psalm 146:5-7). Therefore, we can inspire hope in the young by sharing with them what God has done in history and in our own lives.
Third, Psalm 78 envisions a community of people in which older people are in meaningful relationships with younger people. In the context of these relationships, those who are more mature in age are able to teach those who are less mature. Yet, as it turns out, hope grows in young people not only when they are taught, but also when they are in community with others. The CDC study I mentioned earlier found that high schoolers who "felt close to persons at school" had significantly less hopelessness than those who lacked such closeness (35.4% vs. 52.9%). Moreover, the study showed: "The same pattern was observed among students who were virtually connected to others during the pandemic (i.e., with family, friends, or other groups by using a computer, telephone, or other device) versus those who were not." Even virtual connections with other people made a significant difference in the mental health of high school students who were otherwise isolated because of the pandemic.
The impact of community on the hopefulness of the young suggests to those of us who are older that we can instill hope in younger people, not only by teaching them but also by being in community with them. Intergenerational relationships – in families, churches, schools, and neighborhoods – can help folks from the rising generations to "set their hope on God." They will be inspired, not only by our words, but also by our lives, by our example of living with resilient hope in the Lord.
Reflect
Are you hopeful these days? Or do you wrestle with hopelessness?
If you are beyond your teenage years, are you in relationship with younger people whom you might help to hope in God?
In the next month, will you be in situations where intergenerational conversation is possible? If so, where? When? What might you do?
Act
If your answer to the last question was positive, think about how you might be able to build an intergenerational relationship that encourages mutual hope.
Pray
Gracious God, thank you for making it so clear that those who are older have the responsibility of passing on faith – including hope in you – to those who are younger.
If I fall into the younger group, help me to be open to what I might learn from those who are older than I am.
If I am part of the older generation, show me how I can build relationships with those who are younger. Help me to listen well, to ask good questions, and to show by my actions as well as my words how much I have hope in you. Amen.
Find all Life for Leaders devotions here. Explore what the Bible has to say about work at the High Calling archive, hosted by the unique website of our partners, the Theology of Work Project. Reflection on today's Life for Leaders theme can be found here: Telling the Next Generation.
---
Subscribe to Life for Leaders
Sign up to receive a Life for Leaders devotional each day in your inbox. It's free to subscribe and you can unsubscribe at any time.
---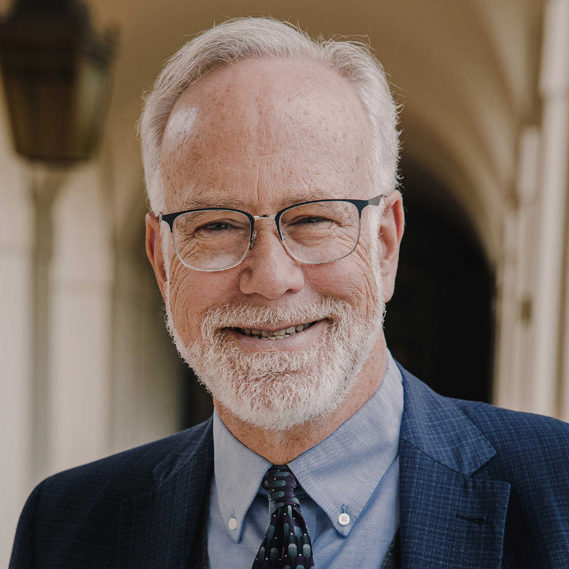 Dr. Mark D. Roberts is a Senior Strategist for Fuller's Max De Pree Center for Leadership, where he focuses on the spiritual development and thriving of leaders. He is the principal writer of the daily devotional, Life for Leaders, and the founder of the De Pree Center's Flourishing in the Third Third of Life Initiative. Previously, Mark was the Executive Director of the De Pree Center, the lead pastor of a church in Southern California, and the Senior Director of Laity Lodge in Texas. He has written eight books, dozens of articles, and over 2,500 devotions that help people discover the difference God makes in their daily life and leadership. With a Ph.D. in New Testament from Harvard, Mark teaches at Fuller Seminary, most recently in his D.Min. cohort on "Faith, Work, Economics, and Vocation." Mark is married to Linda, a marriage and family counselor, spiritual director, and executive coach. Their two grown children are educators on the high school and college level.