In our prayers for you we always thank God, the Father of our Lord Jesus Christ.
Focus
In ten days, we will celebrate Thanksgiving Day. But, for many of us, that holiday is so full that we hardly have a moment to express thanks to God. So, let's set apart the next ten days as Thanksgiving Preseason, a time to get our "gratitude muscles" ready to be fully and joyfully grateful, not just on one day, but throughout the year.
This devotion is part of the series: Thanksgiving Preseason.
Devotion
Today is Monday, November 14th. In ten days we will celebrate Thanksgiving Day in the United States. Now, I think it's fine that our country sets aside a day for giving thanks to God. But I also think that most people actually have a difficult time giving thanks to God on Thanksgiving Day. It's not that we're not thankful. Rather, it's that we're too darn busy on the actual holiday: preparing for the big meal, watching football, traveling to grandma's house, and hanging out with relatives and friends.
So, I'd like to propose that we create Thanksgiving Preseason. If you follow sports at all, you're probably familiar with the notion of preseason (or spring training, as it's called in Major League Baseball). Preseason is a time to get ready, get in shape, and prepare for the coming season. So, I'm suggesting that you and I should establish Thanksgiving Preseason, setting apart several days before Thanksgiving Day to get our gratitude in gear so that by the fourth Thursday in November we are overflowing with thanks to God.
Why do I think gratitude is so important for every one of us, such that we need Thanksgiving Preseason? I have many reasons for thinking this way. One is based on Scripture and the display of gratitude we find in so many biblical books. In his letters to various churches, for example, the Apostle Paul regularly expresses gratitude to God for those to whom he writes. Colossians 1:3 serves as a typical example: "In our prayers for you we always thank God, the Father of our Lord Jesus Christ." By giving thanks, Paul highlights God's sovereignty, presence, and care. Thanking God frames all of human life in the context of God's will and activity. Thanking God points to God's grace and goodness. Thanking God is foundational for the Christian life. It's a practice that Paul models for those who would read his letters, including us.
Another reason to be grateful has to do with how it benefits us personally. Recent psychological research underscores the value of gratitude. One of the world's leading experts on gratitude is Dr. Robert A. Emmons, a professor of psychology at the University of California, Davis. For years, Emmons has done extensive research on gratitude and its influence on our lives. He has written several books, dozens of peer-reviewed journal articles, and many more popular pieces on this subject. He is also a Christian who, in certain contexts, has much to say about the relationships of gratitude to our faith. See, for example, the excellent conversation curated by my colleagues at FULLER STUDIO.
In his fascinating article, "Why Gratitude is Good," Emmons cites research that shows that people who practice gratitude experience the following benefits: stronger immune systems, lower blood pressure, better sleep, more joy and pleasure, more compassion, and less loneliness. Harvard Health Publishing, reporting on Emmons's research, notes that people in one of his studies who wrote down things for which they were grateful "were more optimistic and felt better about their lives. Surprisingly, they also exercised more and had fewer visits to physicians than those who focused on sources of aggravation."
Of course, there are many more reasons to be grateful, whether to God or other people. In a moment you'll have a chance to come up with some of your own. I expect you to sense intuitively that gratitude is a good thing. So, I'd like to invite you to join me in Thanksgiving Preseason. Starting today, let's use the days before Thanksgiving Day to think about and practice gratitude. Let's get our "thanks-giving" muscles in shape so that we might abound in gratitude, not just on one day, but regularly throughout the year.
Reflect
Why do you think it's a good thing to be grateful?
What helps you to feel and express gratitude to God?
What helps you to feel and express gratitude to others?
Act
If it seems good to you, set aside the next ten days as Thanksgiving Preseason. You can begin today by starting a gratitude journal. Before you go to bed tonight, jot down three things for which you are thankful today. Then tell the Lord about them. I'll have more to say about the gratitude journal tomorrow.
Pray
Gracious God, we have so much to thank you for! Right this moment we thank you for being present with us, and for your consistent grace and mercy. We thank you for Scripture, which teaches and encourages us. We thank you for the example of Paul and his consistent gratitude. We thank you for the invitation to grow in our thankfulness each day.
Lord, I would like to be a more thankful person. I would like to pay closer attention to all the ways you bless me. I would like to see the good that others do and acknowledge both to them and to you. So help me, I pray, to grow in gratitude. May this Thanksgiving Preseason be a time for my heart to be enlarged and my joy expanded. May I live with greater gratitude for your grace and for the goodness of those around me. May I learn to say "Thanks" again and again. Amen.
Find all Life for Leaders devotions here. Explore what the Bible has to say about work at the High Calling archive, hosted by the unique website of our partners, the Theology of Work Project. Reflection on today's Life for Leaders theme can be found here: The Rewards of Gratitude, Part 1–An Enlarged Heart.
---
Subscribe to Life for Leaders
Sign up to receive a Life for Leaders devotional each day in your inbox. It's free to subscribe and you can unsubscribe at any time.
---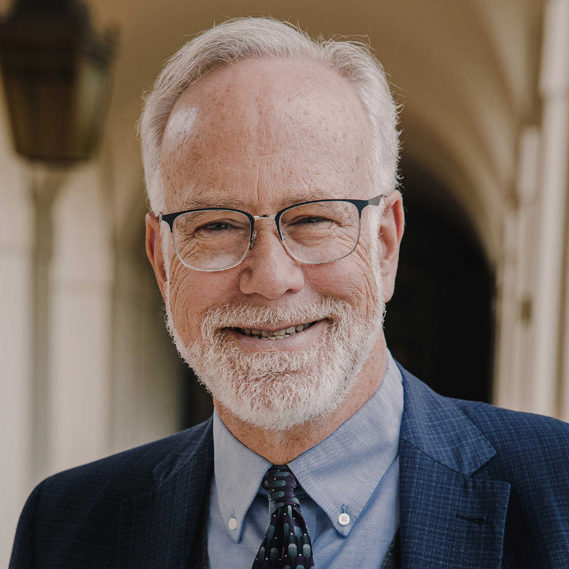 Dr. Mark D. Roberts is a Senior Strategist for Fuller's Max De Pree Center for Leadership, where he focuses on the spiritual development and thriving of leaders. He is the principal writer of the daily devotional, Life for Leaders, and the founder of the De Pree Center's Flourishing in the Third Third of Life Initiative. Previously, Mark was the Executive Director of the De Pree Center, the lead pastor of a church in Southern California, and the Senior Director of Laity Lodge in Texas. He has written eight books, dozens of articles, and over 2,500 devotions that help people discover the difference God makes in their daily life and leadership. With a Ph.D. in New Testament from Harvard, Mark teaches at Fuller Seminary, most recently in his D.Min. cohort on "Faith, Work, Economics, and Vocation." Mark is married to Linda, a marriage and family counselor, spiritual director, and executive coach. Their two grown children are educators on the high school and college level.