Although I am less than the least of all the Lord's people, this grace was given me: to preach to the Gentiles the boundless riches of Christ…
Earlier this year, a headline caught my eye: "Jeff Bezos unseats Bill Gates on Forbes 2018 richest billionaires list." The USA Today story explained that Jeff Bezos, founder of Amazon, had become the richest person on earth, surpassing the former champ, Bill Gates. Based on the research of Forbes, Bezos is worth $112 billion, compared to the measly $90 billion of Gates.
I find it hard to comprehend such riches. I wonder sometimes what I would do if I had that much money. But, this I know for sure, I don't. Though I am blessed to live quite comfortably, I don't think I'll make the Forbes billionaire list anytime soon.
But I am personally connected to the greatest wealth of all. And so are you, if you're a follower of Christ. Ephesians 3:8 refers to "the boundless riches of Christ." The original Greek adjective translated here as "boundless" is an unusual word (anexichniastos). It means, literally, that which cannot be measured, counted, or comprehended. It suggests that, no matter how deep we go in our understanding of Christ's riches, we will never get to the bottom. Christ has more riches than could ever be counted.
But what kind of riches are we talking about here? Earlier in Ephesians, we are forgiven "in accordance with the riches of God's grace that he lavished on us" (1:7-8; see also 2:18). In 2:4, God is "rich in mercy." Then, in 2:7, God raised us with Christ "in order that he might show the incomparable riches of his grace." Ephesians uses the language of vast wealth to convey the scope and size of God's grace and mercy. The limitless, incomprehensible grace and mercy of God are made available to us through Jesus Christ, through his death and resurrection, through his presence among us by the Holy Spirit.
Because Christ is rich beyond comprehension or measurement, we can have confidence that he has more than enough grace for us. No matter what we have done or left undone, no matter where we have failed or come up short, when we turn to Christ, he is always there for us, always merciful, always gracious, always forgiving. We can never exhaust the riches of Christ given to us.
Something to Think About:
How do you envision the riches of Christ?
How have you experienced these riches in your own life?
What difference would it make in your life today if you truly believed that Christ's grace and mercy are rich beyond measure?
Something to Do:
As you think about how you have experienced the riches of Christ, take time to thank the Lord for his bounty. Be specific in thanking him for ways you have received his grace and mercy.
Prayer:
He giveth more grace as our burdens grow greater,
He sendeth more strength as our labors increase;
To added afflictions He addeth His mercy,
To multiplied trials He multiplies peace.
When we have exhausted our store of endurance,
When our strength has failed ere the day is half done,
When we reach the end of our hoarded resources
Our Father's full giving is only begun.
Fear not that thy need shall exceed His provision,
Our God ever yearns His resources to share;
Lean hard on the arm everlasting, availing;
The Father both thee and thy load will upbear.
Refrain:
His love has no limits, His grace has no measure,
His power no boundary known unto men;
For out of His infinite riches in Jesus
He giveth, and giveth, and giveth again. Amen.
"He Giveth More Grace" by Annie Johnson Flint. Public domain.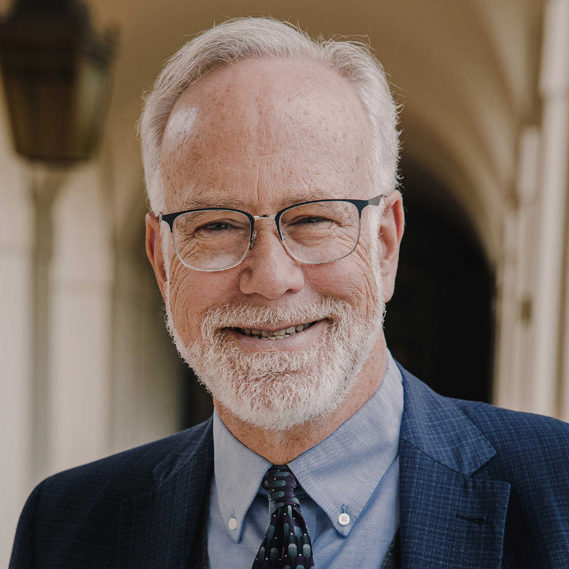 Dr. Mark D. Roberts is a Senior Strategist for Fuller's Max De Pree Center for Leadership, where he focuses on the spiritual development and thriving of leaders. He is the principal writer of the daily devotional, Life for Leaders, and the founder of the De Pree Center's Flourishing in the Third Third of Life Initiative. Previously, Mark was the Executive Director of the De Pree Center, the lead pastor of a church in Southern California, and the Senior Director of Laity Lodge in Texas. He has written eight books, dozens of articles, and over 2,500 devotions that help people discover the difference God makes in their daily life and leadership. With a Ph.D. in New Testament from Harvard, Mark teaches at Fuller Seminary, most recently in his D.Min. cohort on "Faith, Work, Economics, and Vocation." Mark is married to Linda, a marriage and family counselor, spiritual director, and executive coach. Their two grown children are educators on the high school and college level.