"Whenever you are arrested and brought to trial, do not worry beforehand about what to say. Just say whatever is given you at the time, for it is not you speaking, but the Holy Spirit."
Mark 13 is sometimes called "The Olivet Discourse" because Jesus delivered it on the Mount of Olives (13:3). Others call this chapter Jesus's "Apocalyptic Discourse" or "Little Apocalypse" because it reveals what will happen in the end times. (The word "apocalyptic" comes from a Greek word that means, "uncovered" or "revealed.")
In those times, followers of Jesus will be persecuted. They will be beaten and tried in legal courts. Jesus told his follows what they should do to prepare for the trials that are coming: "Whenever you are arrested and brought to trial, do not worry beforehand about what to say. Just say whatever is given you at the time, for it is not you speaking, but the Holy Spirit" (13:11). What a strong word of reassurance!
Today, millions upon millions of Christians live in countries that limit the free exercise of their faith. Every year, thousands of followers of Jesus experience the very sort of thing he talked about in Mark 13. In the midst of persecution and legal trials, they are empowered by the Spirit to speak with truth and power. This does not mean, however, that their words always lead to their exoneration and release. In today's world, Christians suffer martyrdom every year because of their witness to Jesus. Nevertheless, in death as in life, they glorify God through their faithful witness.
Jesus promised that the Holy Spirit would help those who were being tried because of their faith in him. This is also true for those of us who face lesser challenges. When people ask us why we are Christians, or when they criticize us for our faith, the Spirit helps us to speak truthfully and graciously. This good news gives us confidence to be open about our faith, even in environments that are hostile to Christianity. When we risk telling people about Jesus, his Spirit helps us to speak with truth and power.
The Holy Spirit can also help us in the ordinary settings and challenges of our lives, including what we face in our daily work. If we seek God's help, he will teach us, inspire us, and lead us. So, whether you're heading into an interview, an important meeting with your boss, or just a regular staff meeting, know that the Holy Spirit is with you and will help you.
QUESTIONS TO CONSIDER:
Can you think of a time when the Holy Spirit helped you to speak truthfully and effectively?
Do you seek and rely on the Spirit's guidance as you do your daily work? Why or why not?
When has the Holy Spirit helped you to communicate your faith?
Are there contexts in your life where you are especially aware of needing the Spirit's help as you seek to talk about your faith?
PRAYER:
Gracious God, thank you for helping us know that the life of faith is not an easy one. Thank you for warning us in advance that persecutions and trials are coming. You have prepared us to be faithful to you even in the face of difficulties and threats.
Thank you, dear Lord, for the promise of the Spirit. How grateful we are that you have not left us alone, but have given us divine resources. Even if we never go on trial for our faith, we can be confident that your Spirit will help us as we speak in all kinds of settings. What blessed assurance this is!
Today, we are reminded to pray for our brothers and sisters who are experiencing the kind of persecution you described in Mark 13. May your Spirit help those who are on trial for their faith. Give them confidence, boldness, and the ability to speak the truth. Encourage them, reassure them, give them and their families your peace that passes all understanding. Amen.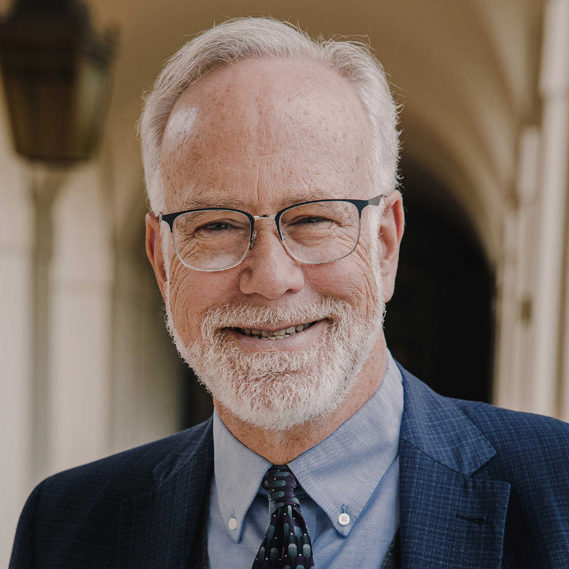 Dr. Mark D. Roberts is a Senior Strategist for Fuller's Max De Pree Center for Leadership, where he focuses on the spiritual development and thriving of leaders. He is the principal writer of the daily devotional, Life for Leaders, and the founder of the De Pree Center's Flourishing in the Third Third of Life Initiative. Previously, Mark was the Executive Director of the De Pree Center, the lead pastor of a church in Southern California, and the Senior Director of Laity Lodge in Texas. He has written eight books, dozens of articles, and over 2,500 devotions that help people discover the difference God makes in their daily life and leadership. With a Ph.D. in New Testament from Harvard, Mark teaches at Fuller Seminary, most recently in his D.Min. cohort on "Faith, Work, Economics, and Vocation." Mark is married to Linda, a marriage and family counselor, spiritual director, and executive coach. Their two grown children are educators on the high school and college level.