And I heard a loud voice from the throne saying, "Look! God's dwelling place is now among the people, and he will dwell with them. They will be his people, and God himself will be with them and be their God."
For the most part, today's English translations of Scripture do a wonderful job rendering the ancient languages of the Bible into readable English. But translators do not agree on some of the details. For example, when you read Revelation 21:3 in the NIV, you find the phrase, "They will be his people." The ESV concurs, though adding a footnote: "Some manuscripts peoples." The NRSV and the CEB prefer the plural, "[T]hey will be his peoples." So we have a curious inconsistency. In Revelation 21:3, does the voice from the throne say "They will be his people" or "They will be his peoples"?
The problem for the translator lies in the variations found in the ancient manuscripts of Revelation. Some have laos (people) while others have laoi (peoples). The best textual scholars have a slight preference for the plural, laoi, based on the strength of the ancient manuscript evidence. But this usage seems odd. Usually, biblical texts looking to the future speak of God's people in the singular, not peoples in the plural.
Take Zechariah 2:10-11 for example: "'Shout and be glad, Daughter Zion. For I am coming, and I will live among you,' declares the LORD. 'Many nations will be joined with the LORD in that day and will become my people.'" "People" in this verse is singular. But notice that God's one people will be composed, not only of Israel, but also of "many nations." It may be that John, describing his vision of the future, used the plural "peoples" to convey something similar to Zechariah's prophecy, though it had "people." When God comes to live among his chosen people, many nations outside of Israel will be included in this people, or, as John puts it, peoples.
Why is this important for us today? Because we need to be reminded of the diversity of the people of God, or, if you prefer, the peoples of God. The new heaven and the new earth will not be filled simply with "my kind of people"—Anglo, upper-middle class, Presbyterian, Americans. God's people includes all races and ethnicities, all classes and cultures, all sorts of denominations and non-denominations, people from all nations, tribes, and families. I expect that when we finally see who's in our eternal family, we may be surprised by who is included. And they may be surprised by the fact that we're included.
When we take seriously the inclusiveness of God's future family in Christ, we will be challenged to take seriously our own practices, programs, prejudices, and preferences. Though recognizing that we cannot make the new heaven and new earth out of our good intentions, we will strive to have our Christian communities look more like the diverse unity of God's future. We will seek to make our workplaces more just and inclusive. Some of us are in positions of influence where we can address systemic divisions and problems. Others of us do not have such opportunities. But all of us can strive to treat all human beings with justice and grace. All of us can seek to build relationships with those who aren't like us in earthly ways. They will be our neighbors in God's future because they are our sisters and brothers now in the family of God.
Something to Think About:
When you think of the diversity of God's future family, what comes to mind? What images? What ideas? What feelings?
How can you begin today to live in light of this future vision?
Are there specific ways you can build relationships with people who are different from you?
Are there things you can do to help your workplace be more just and inclusive?
Prayer:
Gracious God, it's a grand thing to envision the future when all sorts of peoples are gathered together as one. We have such trouble with this sort of thing today. Forgive us for all the ways we divide, judge, condemn, and wrong others. Forgive us for systemic injustices we perpetuate, often without even seeing what we're doing. Forgive us for failing to love our neighbors, our real neighbors, the ones who live nearby or work in the next office.
As we look forward to the grand reunion of the future, help us, Lord, to be people who reach beyond the differences and divisions of our age. May we be people of grace, love, and reconciliation. May we uphold your justice in all of our relationships. May we use the power you have entrusted to us to see your justice and grace embodied in our organizations and institutions. May we begin to live in your future now.
All praise be to you, O God. Amen.
This post was originally published on April 13, 2016.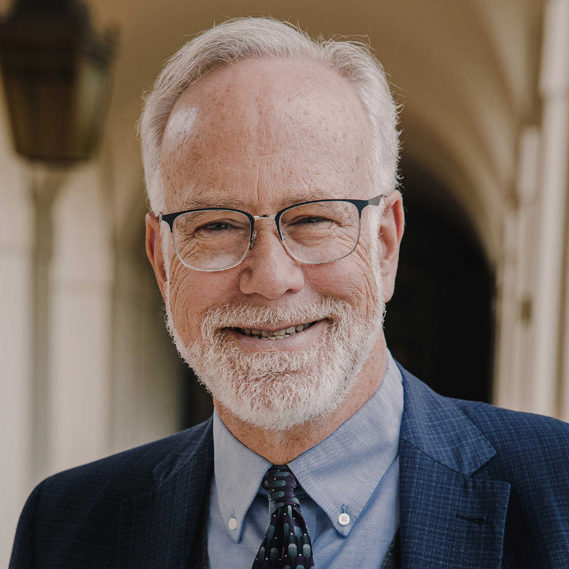 Dr. Mark D. Roberts is a Senior Strategist for Fuller's Max De Pree Center for Leadership, where he focuses on the spiritual development and thriving of leaders. He is the principal writer of the daily devotional, Life for Leaders, and the founder of the De Pree Center's Flourishing in the Third Third of Life Initiative. Previously, Mark was the Executive Director of the De Pree Center, the lead pastor of a church in Southern California, and the Senior Director of Laity Lodge in Texas. He has written eight books, dozens of articles, and over 2,500 devotions that help people discover the difference God makes in their daily life and leadership. With a Ph.D. in New Testament from Harvard, Mark teaches at Fuller Seminary, most recently in his D.Min. cohort on "Faith, Work, Economics, and Vocation." Mark is married to Linda, a marriage and family counselor, spiritual director, and executive coach. Their two grown children are educators on the high school and college level.