For this slight momentary affliction is preparing us for an eternal weight of glory beyond all measure. . . .
Focus
2 Corinthians 4:17 presents a striking contrast between the affliction of mortal life and the glory we will experience in God's future. In comparison to the weightiness of our future glory, our current suffering is light. It is also temporary, whereas the glory of the future will never end. The hope of glory does not cause us to be unduly focused upon ourselves, however, because we will see our neighbors as people of glory. Thus we'll be committed even more to treat them with justice and love.
This devotion is part of the series: Treasure in Clay Jars.
Devotion
I cannot read 2 Corinthians 4:17 without thinking of C.S. Lewis and his classic essay, "The Weight of Glory." Written as a sermon, it was originally published in 1941. Since then, it has been read millions of times and quoted thousands of times by theologians, preachers, and authors. I'll join this throng of quoters later in today's devotion.
Paul begins 2 Corinthians 4:17 by speaking of "this slight momentary affliction." The context shows that he is referring to the wasting away of his outer, physical nature, which is a result chiefly of the rigors and persecutions associated with his apostolic ministry. Paul often mentions his experiences of "affliction," including several times in 2 Corinthians (1:4, 8; 6:4; 7:4).
Yet Paul does not over-emphasize the reality and pain of his struggles. Rather, in verse 17, he offers a striking contrast between his affliction and his future glory. First, his affliction is "slight," whereas the coming glory has "weight." The contrast is even stronger in the Greek, since the word translated as "slight" literally means "light in weight" or "light to carry." The difficulties Paul experiences in the present time are relatively light in comparison to the heaviness of the glory that is to come. That glory will be heavy "beyond all measure."
Second, affliction is "momentary" whereas glory will be "eternal." In the moment, suffering can feel as if it will go on forever, but in fact it will come to an end. The glory of God's future, however, will never end. For Paul, the reality of eternal glory enables him to experience his present suffering as temporary. He can be resilient because he knows a better future is coming.
We may wonder about the nature of the glory we will experience in the age to come. Romans 8 gives us some clues. Verse 18 reads, "I consider that the sufferings of this present time are not worth comparing with the glory about to be revealed to us." In time, we will see clearly the matchless glory of God. But that's not all. Verse 17 explains that, as "joint heirs with Christ," we "suffer with him so that we may also be glorified with him." In some mysterious way, we will share in the very glory of Christ.
Earlier in 2 Corinthians we learned that this process of our glorification has already begun: "And all of us, with unveiled faces, seeing the glory of the Lord as though reflected in a mirror, are being transformed into the same image from one degree of glory to another; for this comes from the Lord, the Spirit" (3:18). Even now, we see the glory of the Lord, not just in heaven, but in a mirror. We are "being transformed into the same image from one degree of glory to another; for this comes from the Lord, the Spirit" (2 Corinthians 3:18). In the age to come, the process of our glorification will be completed. But now, through presence of the Holy Spirit, it has already begun.
Does focusing on our own future glory lead us to be preoccupied with ourselves? Might it cause us to be less committed to the things of this present age? Might we be less concerned about justice and loving our neighbor? In his essay "The Weight of Glory," C.S. Lewis answers these questions in a striking if not surprising way. Here are some excerpts from the last paragraph in "The Weight of Glory":
It may be possible for each to think too much of his own potential glory hereafter; it is hardly possible for him to think too often or too deeply about that of his neighbour. The load, or weight, or burden of my neighbour's glory should be laid daily on my back, a load so heavy that only humility can carry it, and the backs of the proud will be broken. It is a serious thing to live in a society of possible gods and goddesses, to remember that the dullest and most uninteresting person you talk to may one day be a creature which, if you saw it now, you would be strongly tempted to worship, or else a horror and a corruption such as you now meet, if at all, only in a nightmare. . . . There are no ordinary people. You have never talked to a mere mortal. Nations, cultures, arts, civilization—these are mortal, and their life is to ours as the life of a gnat. But it is immortals whom we joke with, work with, marry, snub, and exploit— immortal horrors or everlasting splendours. This does not mean that we are to be perpetually solemn. . . . Next to the Blessed Sacrament itself, your neighbour is the holiest object presented to your senses.
If we take seriously the fact that "there are no ordinary people," we won't be less inclined to care about their wellbeing. We won't be so focused on ourselves that we neglect justice and love for others. On the contrary, we'll be even more committed to seeking what's best for others. The heaviness of their future glory motivates us now to see that they are treated with dignity, honor, justice, and love.
Reflect
When you think about the life of the age to come, what we often call Heaven, what comes to mind? What images? What feelings?
What do you think of the idea that you one day you will share in the glory of Christ?
How might "the weight of glory" make a difference in the way you work today?
Act
As you interact with people in your work today, remember that they are beings who will one day share in God's glory.
Pray
Gracious God, I must confess that sometimes my "afflictions" don't feel very momentary. I can get so wrapped up in the moment and my struggles that I forget the big picture. I forget where my life is heading and the glory that lies ahead.
Help me, dear Lord, to see my life from a heavenly perspective. Give me the grace to see my current struggles as temporary as I look to your future and the glory that is coming.
I also pray, Lord, that you will enable me to see people in my life as bearers of your image and glory. May I treat them with the utmost respect and love. May I seek their best in all parts of life. Amen.
Banner image by Joshua Hogan on Unsplash.
Find all Life for Leaders devotions here. Explore what the Bible has to say about work at the High Calling archive, hosted by the unique website of our partners, the Theology of Work Project. Reflection on today's Life for Leaders theme can be found here: No Ordinary People.
---
Subscribe to Life for Leaders
Sign up to receive a Life for Leaders devotional each day in your inbox. It's free to subscribe and you can unsubscribe at any time.
---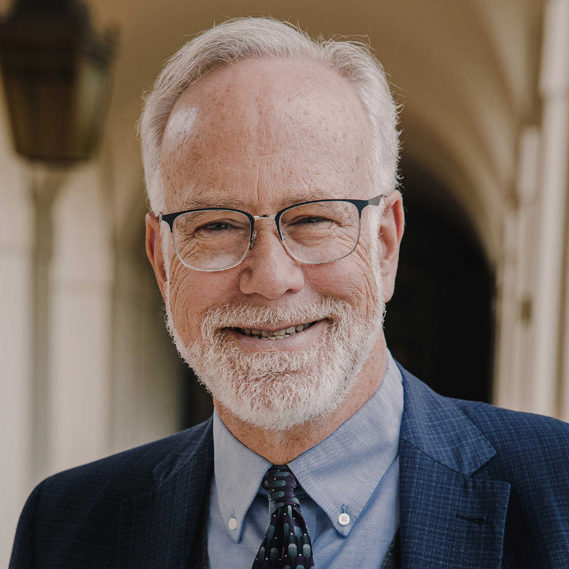 Dr. Mark D. Roberts is a Senior Strategist for Fuller's Max De Pree Center for Leadership, where he focuses on the spiritual development and thriving of leaders. He is the principal writer of the daily devotional, Life for Leaders, and the founder of the De Pree Center's Flourishing in the Third Third of Life Initiative. Previously, Mark was the Executive Director of the De Pree Center, the lead pastor of a church in Southern California, and the Senior Director of Laity Lodge in Texas. He has written eight books, dozens of articles, and over 2,500 devotions that help people discover the difference God makes in their daily life and leadership. With a Ph.D. in New Testament from Harvard, Mark teaches at Fuller Seminary, most recently in his D.Min. cohort on "Faith, Work, Economics, and Vocation." Mark is married to Linda, a marriage and family counselor, spiritual director, and executive coach. Their two grown children are educators on the high school and college level.