I remember when I made my first batch of lotion. My hands made their own creative sound. I was excited and amazed at myself and my creativity. It was at that moment that I experienced a unique inner power for the first time. Not a superhero kind of power but a power that went beyond self-confidence. It was a certain kind of knowledge of myself: a deep sense of self-awareness. It had always been tucked away in an inconspicuous spot within my self, until I created with my hands. It was a power that introduced me to Candace—the real Candace. At that point, I knew creating with my hands was my power—my business.
I started making lotion three months before I began my program at Fuller Theological Seminary. I'd met a lot of people on campus in the weeks leading up to classes, and I proposed to my new friends that I would throw a spa party. It was a success, and then classes began. Life in seminary was grueling but rewarding. During my time at Fuller, I had little time to dedicate to making products. Most of the time, I mixed different types of oils, like watermelon seed, almond, hemp seed, evening primrose, to moisturize and hydrate my skin.
After my time at Fuller, I started creating and mixing even more. And I felt reintroduced to my power. I was saving money, and helping the health of my family, by not buying store-bought products. I made thick lotions, mixing oils for my body and face to impart moisture, creating natural deodorants with simple ingredients, to making facial masks. I started to become more conscious about certain ingredients and really began to make a conscious effort to make my own simple concoctions for my daughter and family. I had fun. There were many failed attempts, but I continued and created.
There were many failed attempts, but I continued and created.
Born and raised in Southern California, I had no intentions of uprooting myself from my place of comfort and support until I married my husband and followed him to Ohio State University for his PhD. It was then that things drastically shifted in my life.
What seemed to be easy in California was hard in Ohio. From making new friends to joining a mothers group—it was a failing task. People were rude and resistant toward me, or they were very flakey and not receptive to friendship. I felt alone, even with family and church. I couldn't connect with anyone. I was convinced that I was in a strange wilderness experience—called Columbus, Ohio. Indeed, I was in exile. I felt lost and lonely, especially during the winter months, as I diagnosed myself with winter depression. I felt like my life was going down-hill, and I had no control over it. For the first time in my life, I felt like I was not thriving. I had no community. Not even the church for support. I asked myself several times, "Why am I here?" I tried to think of many reasonable ways I could do a long-distance relationship with my husband while my daughter and I were in California. He could come back to California after completing his comprehensive exams. But it wasn't going to work. My environment and people were not going to change. I had to accept my time and place in Ohio.
After wrestling and agonizing over my place and purpose in the wilderness of Ohio, I told myself I needed to find an oasis. I couldn't live like this. My husband told me that I needed to find joy and seize it. I ended up finding it—and I was awakened—when I created body care products for my family. It was in this wilderness experience that I decided to start my business. I found joy in creating with my hands. And I was re-introduced to that power I experienced the first time I made my first batch of lotion. The external and internal challenges did not go away, but the joy of creating handcrafted body care products sustain and propelled me to continue. I was on fire.
My second year in Ohio, I started Carise's Joy. It was a lot of work! Before the launch of Carise's Joy, I started a focus group of professional women that gave me feedback. I worked and reworked formulas, going back and forth with our product design and marketing, while at the same time taking care of my three-year-old, being a wife, and finding balance. It was a lot, to say the least.
When Carise's Joy launched on Januray 19, 2018, it was explosive. I felt like I found an oasis in the wilderness. I was in a rhythm. I went to vending events around Ohio and in Detroit, and the business did well. I was busy traveling and making products. It was exhausting but fulfilling all at the same time.
Sometimes you may not find an oasis in the wilderness; you just have to create it. You have to make it happen. Sometimes you have to create joy.
But once business started to slow down, and some mistakes were made along the way, I found myself at a familiar space. Everybody tells you how much time and effort you have to put into your business as an entrepreneur. They also tell you that it's not going to be easy because of the initial instability of starting a business. But nobody tells you how to sustain yourself as an entrepreneur; how to manage yourself while managing a business. Although I can't fix a lot of what went wrong in my business—and I know there is not one solution for everything—I will continue to see what lies on the other side of my work and creativity.
What I am learning as an entrepreneur is that everything is not going to go your way. Through external and internal conflicts, I have to continue and creatively work in being in the tension of conflict and reconciliation, joy and sorrow, delay and promise. Sometimes you may not find an oasis in the wilderness; you just have to create it. You have to make it happen. Sometimes you have to create joy. When I was growing up, my father was always the cook in our house. He made the most delicious and creative meals, especially when money was tight. It was in those times of scarcity my father could take the noodles of Top Ramen and cook them creating his own broth, adding seasoning and different meats and vegetables. He created his own flavor, and the food just had to sit in the broth in order for the flavors to blend. My father created a poor man's decadence—when folks tasted his delicious food, in that space and moment, no one could discern whether we were rich or poor; they just enjoyed the creative flavors.
Despite our poverty, my father, out of survival, was forced to create something good. Just as my father, out of necessity, had to create in order to feed his family, I too, in a place of emotional and social poverty, had to create an oasis of joy and find that it was good. This does not eliminate the external challenges. But I know I can go back to that place of joy in the midst of the tension outside and realize that joy is found in creating and saying it is good.
---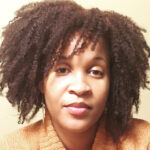 Candace Gaiters is the creator of Carise's Joy, a new handcrafted body care line that uses simple and sustainable products made with joy. She found power when she began to create with her hands and tries to spread the joy of creating in simplicity no matter what season in one's life.