Even the sparrow has found a home,

and

the swallow a nest for herself,


where

she may have her young—
a place near your altar,


LORD

Almighty, my King and my God.
Blessed are those who dwell in your house;


they

are ever praising you.
As you may recall, my mother died last December. This meant, among other things, that my siblings and I had to go through everything in her home as we got ready to sell it.
In a closet in my mom's bedroom, I found a box full of letters I had sent from college. Reading through that stack of correspondence, I remembered things about my life that I had long since forgotten. One thing I discovered was just how homesick I was during my freshman year. I missed my family terribly and ached to be home. But because I was on the East Coast, and they lived on the West Coast, I was only able to make the trip over the Christmas holiday.
Letters or no letters, I will never forget how it felt to come home for Christmas vacation that year. There was nothing like hugging my dog, sleeping in my own bed, and, most of all, being with my family. Truly, there is no place like home. (Credit is due to Dorothy Gale for burning that phrase into my head!)
That's how the writer of Psalm 84 felt about the temple in Jerusalem. He celebrated the beauty of God's "dwelling place" (84:1). He longed to enter the temple courts (84:2). In fact, he claimed that "one day" in God's courts is better "than a thousand elsewhere" (84:10). Thus, he exclaimed, "Blessed are those who dwell in your house; they are ever praising you" (84:4).
So where does that leave us today? The temple in Jerusalem was destroyed by the Romans in A.D. 70. In its place stands the Dome of the Rock, one of Islam's holiest places. It's unlikely that we will ever be able to sing God's praises in his temple or its surrounding courts.
Are we simply out of luck? Is God's house unavailable to us? Not at all. Remember what Jesus said in John 14:2-3: "My Father's house has many rooms; if that were not so, would I have told you that I am going there to prepare a place for you? And if I go and prepare a place for you, I will come back and take you to be with me that you also may be where I am." We hold tightly the promise of living in God's house in the age to come.
This promise is not only about our heavenly lodging, however. The word translated in John 14:2 as "home" or "house" refers, not only to a building in which to live, but also to the family that dwells in this building. Jesus invites us into the house and household of God, the family of God. We can accept this invitation now, even as we await a greater fullness of family life in the future. You and I have the opportunity to be brothers and sisters in the family of God, beloved children of our heavenly Father. In this sense, we can be at home with the Lord today.
As my siblings and I sell my mother's home, we have such mixed feelings. It will be strange not to be able to go to our childhood home any more. Yet we have each other and each other's families. As much as I loved the house I grew up in, I'd rather be at home with my family than alone in that house. And this is exactly what we have in Christ—not just a home in heaven, but a home in the family of faith. Indeed, there is no place like home!
QUESTIONS TO CONSIDER:
When in your life have you felt truly at home? Why? How did this feel?
Have you ever felt at home in God? In the family of God?
PRAYER:
Gracious God, our Heavenly Father, how grateful I am for the invitation to join your family, to be at home in you. Thank you for the promise of one day knowing this reality fully. Thank you for the fact that I can begin to live as a member of your family today. Help me, Lord, to experience life as one of your children, deeply engaged with my brothers and sisters.
Indeed, Lord, there is no place like home with you. Thank you for receiving me into your family. Thank you for accepting me in spite of my faults and foibles. Thank you for loving me with a love that will never let me go. How good you are to me! Amen.
Image Credit: The childhood home of Mark D. Roberts. © Jacqueline Lennon/Realty One Group.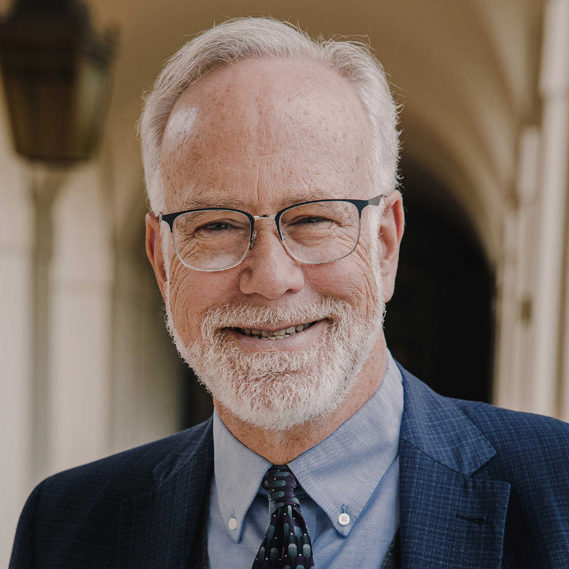 Dr. Mark D. Roberts is a Senior Strategist for Fuller's Max De Pree Center for Leadership, where he focuses on the spiritual development and thriving of leaders. He is the principal writer of the daily devotional, Life for Leaders, and the founder of the De Pree Center's Flourishing in the Third Third of Life Initiative. Previously, Mark was the Executive Director of the De Pree Center, the lead pastor of a church in Southern California, and the Senior Director of Laity Lodge in Texas. He has written eight books, dozens of articles, and over 2,500 devotions that help people discover the difference God makes in their daily life and leadership. With a Ph.D. in New Testament from Harvard, Mark teaches at Fuller Seminary, most recently in his D.Min. cohort on "Faith, Work, Economics, and Vocation." Mark is married to Linda, a marriage and family counselor, spiritual director, and executive coach. Their two grown children are educators on the high school and college level.