For our struggle is not against flesh and blood, but against the rulers, against the authorities, against the powers of this dark world and against the spiritual forces of evil in the heavenly realms. Therefore put on the full armor of God, so that when the day of evil comes, you may be able to stand your ground, and after you have done everything, to stand. Stand firm then, with the belt of truth buckled around your waist, with the breastplate of righteousness in place, and with your feet fitted with the readiness that comes from the gospel of peace. In addition to all this, take up the shield of faith, with which you can extinguish all the flaming arrows of the evil one. Take the helmet of salvation and the sword of the Spirit, which is the word of God.
In yesterday's Life for Leaders devotion we began reflecting on the doubly emphasized command in Ephesians 6: "Put on the full armor of God" (Ephesians 6:11, 6:13). The armor of God in Ephesians 6 and in other biblical texts is used for essential elements of God's work and our response to that work (Isaiah 59:17; 1 Thessalonians 5:8).  We see this in Ephesians 6, where the armor of God consists of truth, righteousness, peace, faith, salvation, and the word of God. This is what God gives us so we can fight his battle with his strength and in his way. This is where we should focus our efforts in order to prevail against "the spiritual forces of evil" (Ephesians 6:12).
For many of us, the notion of spiritual warfare feels foreign. We're not apt to think in these terms or experience life in this way. In some segments of the church, however, believers easily—even eagerly—recognize the demonic dimension of our battle. They boldly go on the offensive against evil. Some focus on exorcism and deliverance, casting out demons as a centerpiece of their ministries. Others practice an unusual sort of prayer that concentrates on rebuking the devil and his demonic minions, taking authority over these powers in the name of Christ. I have "prayed" with some people who spent more time talking to the principalities and powers than they did talking to the Lord.
Now, the practices I have just described may be godly and wise, at least when practiced by godly and wise people. The example of Jesus and the early church shows that there are times when demons need to be cast out of people. But this is not the point of Ephesians 6:10-20. Plus, there is nothing in this particular text to support a battle plan that revolves around rebuking or claiming authority over the spiritual forces of evil. Yes, we are to engage in the struggle against the dark powers, but in ways that seem much more mundane than we might expect.
According to Ephesians, we are to fight principally by putting on God's full armor. We are to put on truth, righteousness, peace, faith, salvation, and the word of God. If we are to fight God's battle in God's way, these are the majors in which we need to major, both as individuals and as God's people together. These pieces of God's armor are certainly less exciting than engaging in verbal conflict with demonic powers. Yet they are precisely what Ephesians emphasizes in teaching us to do spiritual warfare.
Consider for a moment some of the implications of this teaching. If you were to say, "I'm going to do spiritual warfare at work today," your colleagues, even your Christian brothers and sisters, might be a bit concerned. But if you said: I'm going to be committed to truthfulness; I'm going to make sure my relationships are right; I'm going to help make peace where there is conflict, I'm going to trust God more; I'm going to be gracious in how I relate to others; and I'm going to let God's truth guide my actions – I doubt that even your secular colleagues would be put off. As we'll see in the next few days, this hypothetical list of "I'm going to" commitments fleshes out in detail practical ways to do spiritual warfare in your workplace.
So, the bottom line is this. If you want to fight in God's way, if you want to put on God's armor, then major in the majors. Be committed to truth, righteousness, peace, faith, salvation, and the word of God. Let these guide and form your life.
Something to Think About:
When you hear the phrase "spiritual warfare" what comes to mind?
What do you think of this "major in the majors" interpretation of Ephesians 6?
Can you think of ways you might "major in the majors" in your daily work?
Something to Do:
Choose one way to "major in the majors" today. Ask the Lord for grace to follow through on this.
Prayer:
Gracious God, once again we thank you for your strength. Thank you for the offer, indeed, the imperative to put on your full armor. Thanks for giving us what we need to fight the spiritual battle in which we find ourselves.
Help us, Lord, to put on your armor. Help us to "major in the majors" as we live our lives. May we wear your armor in our workplaces, with our clients, among our friends, with our families, and in our churches. As we do, may we stand against the forces of evil and share in the presence of your kingdom on earth. Amen.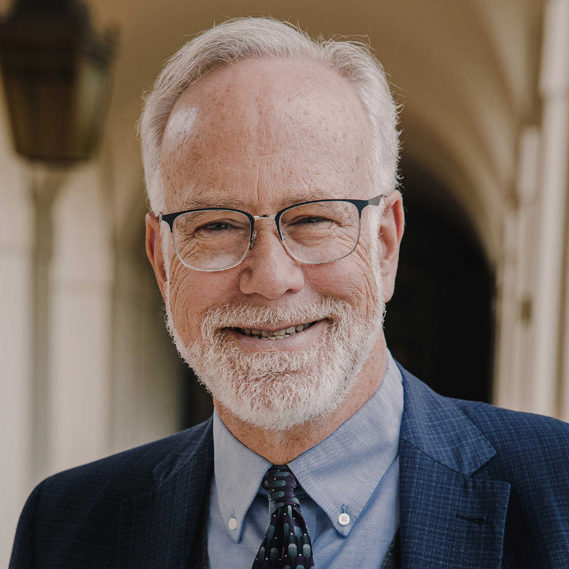 Dr. Mark D. Roberts is a Senior Strategist for Fuller's Max De Pree Center for Leadership, where he focuses on the spiritual development and thriving of leaders. He is the principal writer of the daily devotional, Life for Leaders, and the founder of the De Pree Center's Flourishing in the Third Third of Life Initiative. Previously, Mark was the Executive Director of the De Pree Center, the lead pastor of a church in Southern California, and the Senior Director of Laity Lodge in Texas. He has written eight books, dozens of articles, and over 2,500 devotions that help people discover the difference God makes in their daily life and leadership. With a Ph.D. in New Testament from Harvard, Mark teaches at Fuller Seminary, most recently in his D.Min. cohort on "Faith, Work, Economics, and Vocation." Mark is married to Linda, a marriage and family counselor, spiritual director, and executive coach. Their two grown children are educators on the high school and college level.