May 20, 2020 • Webinar
Watch the Webinar Now:
This webinar was presented by Fuller's De Pree Center and recorded on Thursday, May 27, 2020 at 10:00AM (PSD) via Zoom. You can watch the YouTube recording now.
Webinar Description
Based on his new book, Designing Your Work Life, New York Times bestselling author, Stanford Life Design Lab Cofounder, and Fuller advisor and collaborator, Dave Evans will talk about our life and work design in light of the pandemic. Come hear a few ideas and engage in a conversation where Dave will respond to your questions.
Webinar Attachments:
Christian Companion to Designing Your Life by Dave Evans
About Our Speaker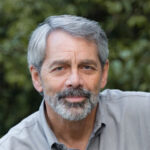 Dave Evans has a long history in innovation. He was part of Apple in the early days, where he led the first mouse team and introduced laser printing to the masses.  Next, he was a co-founder of Electronic Arts and became the company's first VP of Talent. After fifteen successful years as a tech executive, Dave went out on his own as a management consultant assisting both startups and multi-nationals in strategy, marketing, and corporate culture formation.  Along the way, Dave discovered his real passion is to help people discern and build the life they really want.  That led Dave to co-found the Stanford Life Design Lab with Bill Burnett in 2007 with the mission of applying the innovation principles of design thinking to the wicked problem of designing your life.  The Life Design Lab has enjoyed great success at Stanford and is now expanding broadly across higher education.  Bill and Dave's 2016 book, Designing Your Life, How to Build a Well-Lived and Joyful Life, is a NY Times #1 bestseller, available in 23 languages worldwide.