Husbands, love your wives, just as Christ loved the church and gave himself up for her to make her holy, cleansing her by the washing with water through the word, and to present her to himself as a radiant church, without stain or wrinkle or any other blemish, but holy and blameless.
This week, we've been reflecting on the fact that Christ loves the church, even with all of her flaws and failures. We've considered the fact that if Christ loves the church, then so should we. This points to an obvious question: What can I do to love the flawed church?
First, we can't love the Church with a capital "C" apart from loving a particular, local church with a lower case "c." This is obvious, but often problematic. I can love the church as a universal body, as a big idea. The problem comes in loving the real people in a real church. And, of course, they have the problem of loving me. But we can't love the Church of Jesus Christ if we're not engaged with a local church.
Perhaps one of the first steps in loving the church is to acknowledge that, according to Ephesians, we are part of the church. Christian critics of the church sometimes talk as if they stand apart from the church. But Ephesians makes it clear that you and I are members of the church by virtue of Christ's work on the cross and our response of faith. Moreover, let's be honest. You and I are part of the reason the church is messed up. In fact, the things that bother us most about the church are often the things that bother us most about ourselves. If we acknowledge this, then we recognize how much we need God's grace if we're to love the church.
Now, let me be very specific. One way to love the church is to be careful with criticism. I've been on the receiving end of church criticism and I can tell you it hurts, big time. Sometimes criticism is deserved, of course. I'm not saying we should sit back and ignore real problems and shortcomings. There is a time and place for critique. And there is a way to do it. When we point out what we perceive to be wrong with our church, we should do so in a way that is consistent with Ephesians 4:15, where we are called to speak the truth in love.
I'd encourage you to avoid jumping on the church criticism bandwagon. If members of your church are complaining about the preaching or the music or the budget, don't add to the negativity in an impulsive way. If you feel strongly the need to communicate your concerns, do it intentionally, respectfully, and with love. Don't just start carping away.
Positively, if you want to love your church, choose to be a peacemaker. Take seriously the counsel of Ephesians 4:2-3: "Be completely humble and gentle; be patient, bearing with one another in love. Make every effort to keep the unity of the Spirit through the bond of peace." And don't forget Ephesians 4:31-5:2: "Get rid of all bitterness, rage and anger, brawling and slander, along with every form of malice. Be kind and compassionate to one another, forgiving each other, just as in Christ God forgave you. Follow God's example, therefore, as dearly loved children and walk in the way of love, just as Christ loved us and gave himself up for us as a fragrant offering and sacrifice to God." If you follow the directives of these verses, especially in your relationship with the leaders of your church, then you will be actively loving the church beloved by Christ himself.
Again, I am not saying that genuine flaws and failures in the church should be swept under the rug. One of the biggest problems we face in the church today is our history of failing to address our biggest problems. We need to hold our leaders and ourselves accountable for our behavior. Yet, as we do this, we must embody the mercy as well as the justice of God. Our life together as the body of Christ should be a reflection of the gospel.
Something to Think About:
What do you find most difficult about loving the church?
In what ways are you loving your church these days?
Are there some things you should do that you are not doing now?
Are there some things you should not be doing that you are doing now?
Something to Do:
Today, I want to double down on yesterday's suggestion. Prayerfully consider how you might actually love your church. Then, do whatever the Holy Spirit puts on your heart.
Prayer:
Lord Jesus Christ, when I consider how much you love your church, even when we are so flawed, I am encouraged to love your church as well. Sometimes this isn't easy, as you know, Lord. Yet your desire for me to love the church is clear.
Help me, I pray, to love your church, not just in abstract or in general, but in very specific ways. May I love well the local church that I call home, including its leaders and its members, its neighbors and its mission. When something concerns me about my church, may I express my concern in a truthful and loving way. And, by your grace, may I actively love the people of my church, those members of your body to which I have been joined through your Spirit. Amen.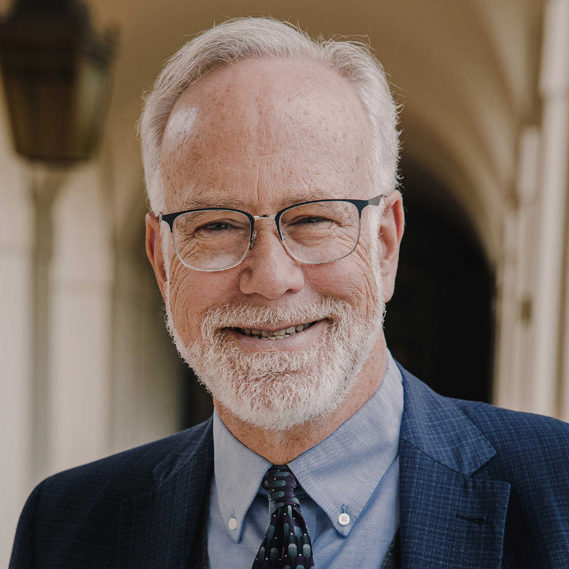 Dr. Mark D. Roberts is a Senior Strategist for Fuller's Max De Pree Center for Leadership, where he focuses on the spiritual development and thriving of leaders. He is the principal writer of the daily devotional, Life for Leaders, and the founder of the De Pree Center's Flourishing in the Third Third of Life Initiative. Previously, Mark was the Executive Director of the De Pree Center, the lead pastor of a church in Southern California, and the Senior Director of Laity Lodge in Texas. He has written eight books, dozens of articles, and over 2,500 devotions that help people discover the difference God makes in their daily life and leadership. With a Ph.D. in New Testament from Harvard, Mark teaches at Fuller Seminary, most recently in his D.Min. cohort on "Faith, Work, Economics, and Vocation." Mark is married to Linda, a marriage and family counselor, spiritual director, and executive coach. Their two grown children are educators on the high school and college level.