At once the Spirit sent him out into the wilderness, and he was in the wilderness forty days, being tempted by Satan. He was with the wild animals, and angels attended him.
If you haven't experienced it yourself, you probably know someone who has. You get a new job and are excited about what lies ahead. You sense that God is in the process of your job transition and you're thankful for his gracious guidance. But, almost from the start, things in your new situation don't go as you had hoped. Perhaps you run into conflict with colleagues or a lack of support from your boss. Or, maybe there is a huge gap between what you thought your job would be and reality. Quickly, your sense of excitement disappears and you begin to feel confused. Discouragement and despair aren't far away. You wonder where God is, whether you completely missed his guidance, and whether he will rescue you from the quicksand that seems to be swallowing you up.
Mark 1:12-13 won't answer all the questions we ask in times when our work situation is not going well. But it does provide an intriguing perspective as we seek God's presence, wisdom, and comfort.
Remember what happened in Mark's narrative immediately before 1:12-13. Jesus was baptized in the Jordan by John. As this happened, the Spirit descended on Jesus "like a dove" (Mark 1:10). A voice from heaven said, "You are my Son, whom I love; with you I am well pleased" (Mark 1:11). This may very well have been the emotional highlight of Jesus' life. Moreover, Jesus understood rightly that this was a call into a new kind of ministry, no longer the ministry of the workshop, but now the messianic ministry of the kingdom of God.
If we weren't familiar with the gospels, we might very well expect Jesus to start doing amazing things right away: preaching in an astonishing way, healing the sick, casting out demons, and so forth. These actions will come soon. But what happens first in Mark's account is rather shocking: "At once the Spirit sent him out into the wilderness, and he was in the wilderness forty days, being tempted by Satan. He was with the wild animals, and angels attended him" (1:12-13). The Spirit sent Jesus out into the wilderness, the place where prophets often received their call, the place where Israel struggled with God's will. Jesus, according to Mark, also faced challenges in the wilderness, where he was "tempted by Satan" and vulnerable to "the wild animals." Yet he received supernatural assistance from the "angels" who "attended him."
From the gospels of Matthew and Luke, we know more about what happened during Jesus' temptation. Mark's account is brief. Yet, he clearly implies that the Spirit of God sent Jesus out into the wilderness in order to be tempted by Satan. This temptation was not some accident or a surprise that God did not anticipate. Rather, God's hand was upon Jesus even as he faced the dangers and temptations of the wilderness. God's own Spirit sent Jesus to experience these very thing.
I don't mean to suggest that every time our new job takes a sharp turn for the worse God is the driving force behind what's happening. The mess in our workplace may very well be of human origin. But, Mark 1:12-13 offers the reassuring news that God is present in the midst of our mess. Just because things are hard, it doesn't mean God has disappeared or removed his blessing from us. Moreover, as we struggle with our own temptations and difficulties, God will attend to us, perhaps through his angels, and certainly through the ministrations of his Spirit. Trying times lead us to rely more fully on God, seeking his wisdom, guidance, and comfort. They realign our hearts and strengthen us so that we might serve the Lord more fully and fruitfully, in his time.
Something to Think About:
Have you ever experienced a job situation like the one I describe in the first paragraph above? If so, how did you sense God's presence during that time? As you look back, can you see what God was doing in your life?
Are you experiencing difficulties or frustrations in your work right now? How is God present with you? In what ways do you need God's help?
Can you see ways in which God is using the challenges of your work life to mold and shape you?
Prayer:
Gracious God, thank you for being with us always, in times of triumph and times of loss, in times of rejoicing and times of temptation, in good times and bad times.
Lord, it's hard, sometimes, to sense your presence or know what you're doing when our life doesn't go as we had hoped. We can feel discouraged and confused. We can wonder what you're doing, or even where you are.
As we walk through these times, Lord, help us to trust you, to seek you, to sense your presence. May we be attentive to what you are doing in our lives, to what you are saying to us.
Thank you, Lord, for working all things together for good. Amen.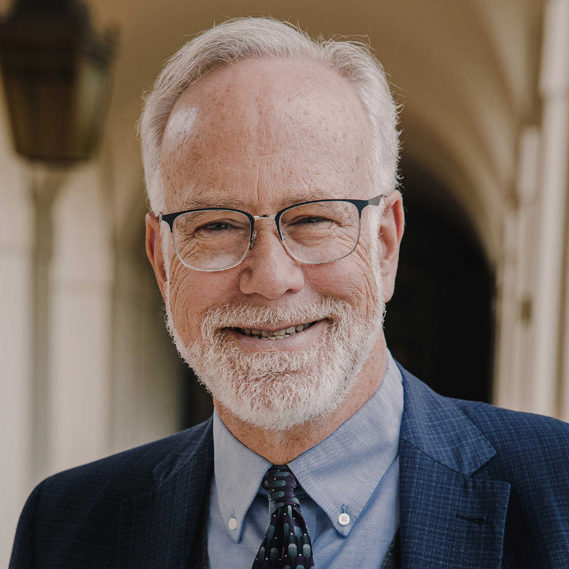 Dr. Mark D. Roberts is a Senior Strategist for Fuller's Max De Pree Center for Leadership, where he focuses on the spiritual development and thriving of leaders. He is the principal writer of the daily devotional, Life for Leaders, and the founder of the De Pree Center's Flourishing in the Third Third of Life Initiative. Previously, Mark was the Executive Director of the De Pree Center, the lead pastor of a church in Southern California, and the Senior Director of Laity Lodge in Texas. He has written eight books, dozens of articles, and over 2,500 devotions that help people discover the difference God makes in their daily life and leadership. With a Ph.D. in New Testament from Harvard, Mark teaches at Fuller Seminary, most recently in his D.Min. cohort on "Faith, Work, Economics, and Vocation." Mark is married to Linda, a marriage and family counselor, spiritual director, and executive coach. Their two grown children are educators on the high school and college level.