So Christ himself gave the apostles, the prophets, the evangelists, the pastors and teachers, to equip his people for works of service, so that the body of Christ may be built up.
Through our examination of Ephesians 4:11-12, we have seen that all of Christ's people are "in the ministry." We don't all serve as paid church leaders, of course. But Ephesians makes it clear that these leaders are to equip all of God's people for the "work of ministry," to translate Ephesians 4:11 more accurately. Thus, if you belong to Jesus Christ, then you are one of his ministers. You are "in the ministry."
But, you might wonder, where is your ministry?
One common answer to this question is: in the church. Pastors and other paid church leaders aren't the only ones who do ministry in and through the church. So-called "lay people" are also needed if churches are going to thrive. So, your ministry might be teaching Sunday school, singing in the band or choir, ushering in worship services, or leading mission trips. These and dozens of other actions within the corporate life of the church are part of your ministry.
But is this all there is to your ministry? Does it happen mainly or even exclusively in church programs?
No, not at all! This "churchified" limitation of ministry misses the broader calling of God upon our lives. We mustn't fall into the trap of believing that all ministry is "church work," narrowly defined. Remember what we have learned from earlier passages in Ephesians. God's plan is to unite all things in Christ, things in heaven and things on earth (1:10). We who receive God's grace through faith are newly created in Christ for good works, the good works of sharing in God's restoration of all things (2:10). We'll see later in Ephesians that our good works clearly extend out to the world (4:28; 5:8-14). Thus, our ministry is not just what we do in church programs, no matter how important they may be. Rather, our ministry, rightly understood, includes our whole lives as we live them for God's purposes.
Where is your ministry? Well, that really depends on where you are in life. If you work in an office, that's where a substantial part of your ministry is. If you create beautiful things in a studio, that's where a substantial part of your ministry is. If you teach in a classroom, there's your ministry. If you are a parent, your ministry is wherever you are caring for your children. If your ministry is to live for the praise of God's glory in all you do (1:11-14), then your ministry is wherever you are.
Where is your ministry? It's where you are, right now. And it's where you will be throughout the day today, tomorrow, and each day of your life as you live for the praise of God's glory each moment, walking in all of the good works God has prepared for you.
Something to Think About:
How do you understand your ministry as a follower of Jesus Christ?
In what ways do you contribute to the health and growth of your church?
How might you live differently if you were to see everything you do as part of your ministry?
Something to Do:
Today, as you work, whether in your paid job or in volunteer work or in caring for your family or whatever else, be intentional about offering your work to God. If you're working on a spreadsheet, pray, "Lord, I'm doing this spreadsheet for you." If you're tutoring a child, tutor that child for Christ. If you're baking bread, let this be a way for you to honor God.
Prayer:
Gracious God, thank you for calling us into your ministry. Thank you for the ways we can help build up your church. Thank you for the privilege of serving you in the world. Thank you for the opportunities you give us to serve others in your name in our daily lives.
Help us, dear Lord, to live each moment as your ministers. Help us to serve you, whether we're cooking a meal for our families, balancing a budget, closing a deal, or preaching a sermon. Give us fresh vision to see our whole lives as ministry. To you be all the glory. Amen.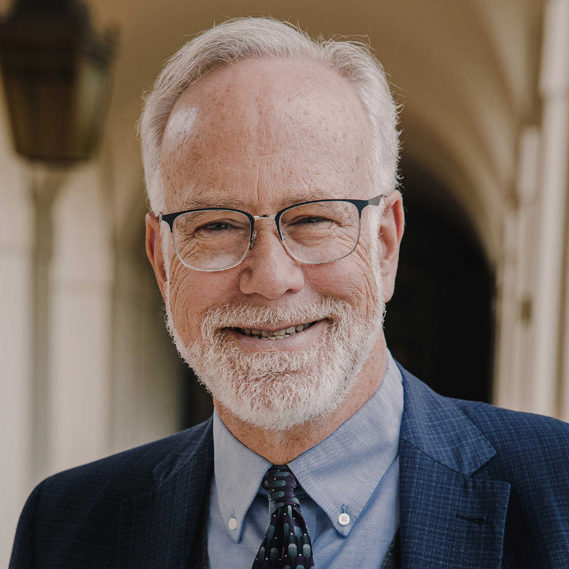 Dr. Mark D. Roberts is a Senior Strategist for Fuller's Max De Pree Center for Leadership, where he focuses on the spiritual development and thriving of leaders. He is the principal writer of the daily devotional, Life for Leaders, and the founder of the De Pree Center's Flourishing in the Third Third of Life Initiative. Previously, Mark was the Executive Director of the De Pree Center, the lead pastor of a church in Southern California, and the Senior Director of Laity Lodge in Texas. He has written eight books, dozens of articles, and over 2,500 devotions that help people discover the difference God makes in their daily life and leadership. With a Ph.D. in New Testament from Harvard, Mark teaches at Fuller Seminary, most recently in his D.Min. cohort on "Faith, Work, Economics, and Vocation." Mark is married to Linda, a marriage and family counselor, spiritual director, and executive coach. Their two grown children are educators on the high school and college level.