And you became imitators of us and of the Lord, for in spite of persecution you received the word with joy inspired by the Holy Spirit.
Focus
From our earliest days, we imitate the people around us. This is one of the main ways we learn how to live. Followers of Jesus learn by Bible-based teaching, of course. But we also learn through imitation as we model ourselves on those more mature in faith than we are. This encourages us to choose good models! And it also motivates us to thank God for those who have taught us to live well through their example.
Today's devotion is part of the series Encouragement from 1 Thessalonians.
Devotion
All of us learn by imitation. That's true from the earliest days of our lives. I remember, for example, when I was a young boy, going into my dad's closet and putting on his clothes and shoes, then stumbling around the house trying to sound just like him. When my own son, Nathan, was a three-month-old baby, I read that infants would imitate adults if they stuck out their tongue. So I tried it, getting near to Nathan and sticking out my tongue at him. He did it right back. I repeated the action. He repeated his. We went back and forth for several minutes in what was probably our first mutual communication. There was my little boy, imitating me. It was quite something. (And, for the record, Nathan had no idea that, in general, it's not nice to stick out your tongue at someone. He and I no longer engage in this practice together.)
Learning by imitation is central to the Christian life. Yes, we learn through the passing on of content in teaching and preaching. But who we are as Christians has so much to do with the people we have observed and imitated in our lives. We imitate our parents, pastors, Sunday School teachers, Young Life leaders, camp counselors, friends, and so many others.
We see a clear example of the importance of imitation in 1 Thessalonians. Paul and his church-planting colleagues write to their converts in Thessalonica: "And you became imitators of us and of the Lord, for in spite of persecution you received the word with joy inspired by the Holy Spirit" (1 Thessalonians 1:6). This sentence comes right after Paul and Co. pointed out that their converts "know what kind of persons we proved to be among you for your sake" (1:5). Their way of living pointed to the truthfulness of the gospel and also served as an example for the Thessalonians to imitate.
One facet of Thessalonian imitation had to do with their reception of the gospel "in spite of persecution" (1 Thessalonians 1:6). As Paul and his team spread the good news around the Roman world, they often experienced persecution, something we see repeatedly in the Book of Acts. Yet they continued to be committed to their calling and even joyful in their expression of faith. In fact, right before coming to Thessalonica, Paul and his colleagues had "already suffered and been shamefully mistreated at Philippi," an experience with which the Thessalonians were familiar (2:2). So, when these new converts were harassed by their unhappy neighbors, they were experiencing something very much like their leaders. No doubt the Thessalonian believers were able to persevere, in part, because they intentionally imitated the fortitude and courage of Paul and his associates.
But the Thessalonians were also inspired and taught by the example of Christ. As Paul and Co. write, "[Y]ou became imitators of us and of the Lord" (1 Thessalonians 1:6). Paul and his colleagues are not the primary examples to be imitated. Christ is the exemplar par excellence. Paul makes this abundantly clear in 1 Corinthians 11:1 when he says, "Be imitators of me, as I am of Christ." To the extent that Paul lives and serves like Christ, he is worthy of imitation.
So, let me ask you: Whom do you imitate? Who are the people in your life, past as well as present, who serve as examples for you? Perhaps your parents or grandparents? Your first boss or even your current one? Maybe an influential teacher or political leader?
I have been shaped by many different people throughout my life. Perhaps one of the most influential was Dr. Lloyd Ogilvie. He became my pastor when I was fourteen years old. His teaching instructed me and his kindness to people like me inspired me. When I was twenty-seven, I joined the church staff, which meant Pastor Ogilvie became my boss. I watched him preach. I watched him lead meetings. I watched him care for people in the congregation. I tried to be like him in many ways. I remember, for example, the first time I ever officiated at a wedding. I asked Lloyd if he would let me use his order of service, which he was glad to do. (I still use it!) But, perhaps even more importantly, as I prepared for the wedding, I asked myself time and again, "What would Lloyd do here? What would Lloyd say here?"
I would encourage you to think about the people whom you imitate for several reasons. For one thing, it's good to be sure that those you imitate are people you want to be like. Sometimes we end up imitating people we really ought not to model our lives on. But, more commonly, when we think of those whom we imitate, it's an occasion for gratitude. I am so thankful for Lloyd Ogilvie and others whose example has shaped my professional and personal life. I am also thankful for my dad, whose clothes I once tried so unsuccessfully to wear. I learned many things from how he lived. Most of all, I learned the priority of God, church, and family. My dad taught me through his life more than through his words to devote myself to the things and the people that matter most. For this and so much more, I am eternally grateful.
Reflect
Whom do you imitate? You might be able to answer this question quickly and easily. Or it might take time for you to remember those whose example has influenced your life.
Can you remember a time in your life when you imitated someone whose example wasn't a positive one? How did you learn to stop imitating that person's behavior?
What does it mean to you to imitate Christ? Can you think of times when, quite intentionally, you seek to act like Jesus?
Act
As you think of the positive exemplars in your life, give thanks to God for each one. If possible, you may even want to thank them personally for the impact they have had one you.
Pray
Gracious God, thank you for putting people in our lives who are worthy of imitation. Thank you for those who have taught us, not just by their words, but also by their deeds. Thank you, most of all, for giving us in Jesus someone who is always worthy of imitation.
Help me, God, to imitate Jesus in every sector of life. Help me to be a servant, as Jesus was a servant. Help me to persevere, as he persevered. Help me to love not only my neighbor but also my enemy, just like Jesus did. Give me a passion for your justice and compassion for those in need, like Jesus. May I be centered in your truth and grounded in your love, just like Jesus. Amen.
Find all Life for Leaders devotions here. Explore what the Bible has to say about work at the unique website of our partners, the High Calling archive, hosted by the Theology of Work Project. Reflection on today's Life for Leaders theme can be found here: What Joy Meant Then

---
Subscribe to Life for Leaders
Sign up to receive a Life for Leaders devotional each day in your inbox. It's free to subscribe and you can unsubscribe at any time.
---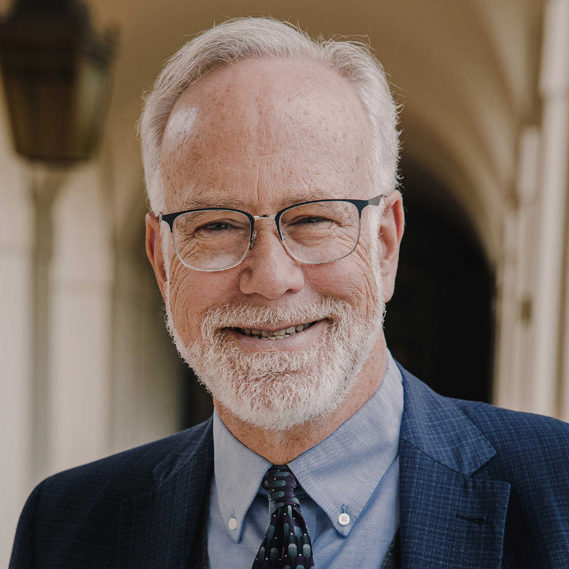 Dr. Mark D. Roberts is a Senior Strategist for Fuller's Max De Pree Center for Leadership, where he focuses on the spiritual development and thriving of leaders. He is the principal writer of the daily devotional, Life for Leaders, and the founder of the De Pree Center's Flourishing in the Third Third of Life Initiative. Previously, Mark was the Executive Director of the De Pree Center, the lead pastor of a church in Southern California, and the Senior Director of Laity Lodge in Texas. He has written eight books, dozens of articles, and over 2,500 devotions that help people discover the difference God makes in their daily life and leadership. With a Ph.D. in New Testament from Harvard, Mark teaches at Fuller Seminary, most recently in his D.Min. cohort on "Faith, Work, Economics, and Vocation." Mark is married to Linda, a marriage and family counselor, spiritual director, and executive coach. Their two grown children are educators on the high school and college level.