I waited patiently for the LORD;
     he inclined to me and heard my cry.
He drew me up from the desolate pit,
       out of the miry bog,
and set my feet upon a rock,
     making my steps secure.
He put a new song in my mouth,
     a song of praise to our God.
Many will see and fear,
     and put their trust in the LORD.
Happy are those who make
     the LORD their trust,
who do not turn to the proud,
     to those who go astray after false gods.
You have multiplied, O LORD my God,
     your wondrous deeds and your thoughts toward us;
     none can compare with you.
Were I to proclaim and tell of them,
     they would be more than can be counted.
Focus
It can be hard to wait on the Lord. When God doesn't act quickly, we can worry that God isn't even there for us. So how can we wait with hope? Why have hope at all? One reason for hope is God's faithfulness in the past. When we remember how God has rescued us, when we consider how God has cared for the people of God throughout history, we can be reassured. Hope is possible. We can wait with hope because of who God is and what God has done.
This devotion is part of the series: Advent in the Psalms.
Devotion
When I read the first few verses of Psalm 40, I am catapulted back in time. I am four years old, before I learned to swim. I went with my friend and his mom to a park in which there was a mossy, slimy pond. While standing on a wall along the edge of the pond, all of a sudden I slipped, falling into the water that was several feet deeper than I was tall. I vividly remember what that green, dirty water looked like as I began to sink into it. I can also remember the feeling of utter panic as I realized where I was and that I could not save myself. That, I must say, was a horrible feeling, one of the worst feelings of my life.
Then came a wonderful feeling. I felt a strong hand grabbing my arm. This hand and the arm to which it was attached lifted me out of water and sat me down safely on the shore. The hand belonged to my friend's mother, Jane, who in that moment saved my life. If I had known Psalm 40 when I was four years old, I might have said, "[She] drew me up from the desolate pit, out of the miry bog, and set my feet upon a rock" (40:2).
Now, just to be clear, I didn't imitate the psalm writer by waiting patiently. For one thing, I didn't have time to practice patience. For another, I needed to get out of that water right away or I would have drowned. So, I can't say I experienced anything like the psalm writer when he says, "I waited patiently for the Lord; he inclined to me and heard my cry" (Psalm 40:1). Jane did indeed incline to me, though she didn't hear my cry because I was completely under water.
The psalm writer's situation was surely different from mine. His miry bog wasn't literal like mine, but rather a poetic representation of some desperate situation in which he found himself. His situation didn't resolve itself quickly. Rather, it continued on for a while, long enough for the writer to wait patiently for the LORD.
Sometimes it is hard to wait for the Lord to act. Sometimes patience feels unreachable. We feel as if we need God's help right now. We feel as if we have fallen into a miry bog and are drowning. In such a situation, waiting can be excruciating. We can even begin to fear that God will not act, that waiting on God is nothing more than make-believe wishful thinking.
So, I wonder, why should we wait on God? Why have hope in Advent, or in any other time of year?
Psalm 40 answers this question by pointing to what God has done in the past. The psalm writer celebrates the fact that God drew him up from the pit and rescued him from the miry bog. Not only that, God made his steps secure and put a new song of praise in his mouth (Psalm 40:2-3). The memory of what God did in the past gives the writer confidence in the present. He says, "Happy are those who make the LORD their trust" (40:4).
At this point, the Psalm moves from the individual to the corporate: "You have multiplied, O LORD my God, your wondrous deeds and your thoughts toward us" (Psalm 40:5). We know God's goodness and care, not only from our own personal experience of God, but also from what God has done for our community, not to mention for God's people throughout history.
When we're in the desolate pit, when we're stuck in the miry bog, it can be hard to wait for God. Hope doesn't come easily in such a time. But if we remember what God has done in the past, in our lives and in the lives of others, then we can begin to find elusive hope. Most of all, if we remember how God once came among us in Jesus and what he did while he was here on earth, we can be encouraged to wait, with patience given through the Holy Spirit (Galatians 5:22).
Reflect
Have you ever had an experience where you feared for your life? What happened? How did you feel?
Can you think of a time in your life when God saved you from a "miry bog"? What happened? What was that like for you?
When you think of how God has been faithful in your life, what comes to mind? What reassures you of God's presence and grace in your life?
Act
Talk with a good friend or with your small group about how you have experienced God's saving grace.
Pray
Gracious God, thank you for all the ways you have saved us. Of course we thank you most of all for eternal salvation through Jesus Christ. But your goodness to us comes generously, again and again. Thank you!
When I struggle to wait upon you, when I feel as if my hope is disappearing, help me to remember your goodness in the past. Help me to trust you in the moment, to have hope, to wait upon you with confidence. Amen.
Banner image by Christian Palmer on Unsplash.
Find all Life for Leaders devotions here. Explore what the Bible has to say about work at the High Calling archive, hosted by the unique website of our partners, the Theology of Work Project. Reflection on today's Life for Leaders theme can be found here: Waiting Patiently for God?.
---
Subscribe to Life for Leaders
Sign up to receive a Life for Leaders devotional each day in your inbox. It's free to subscribe and you can unsubscribe at any time.
---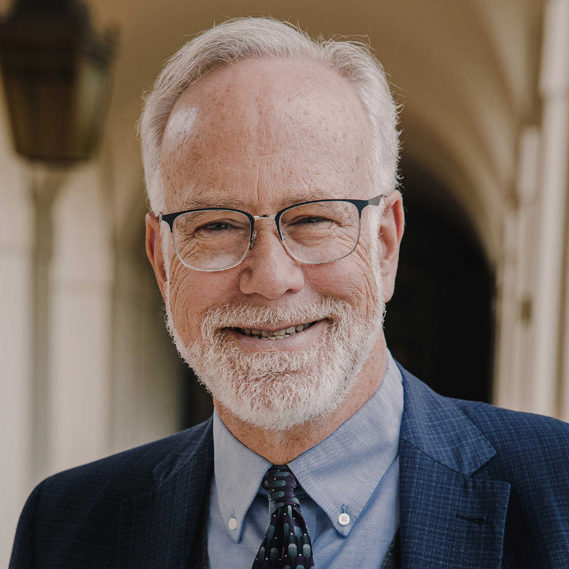 Dr. Mark D. Roberts is a Senior Strategist for Fuller's Max De Pree Center for Leadership, where he focuses on the spiritual development and thriving of leaders. He is the principal writer of the daily devotional, Life for Leaders, and the founder of the De Pree Center's Flourishing in the Third Third of Life Initiative. Previously, Mark was the Executive Director of the De Pree Center, the lead pastor of a church in Southern California, and the Senior Director of Laity Lodge in Texas. He has written eight books, dozens of articles, and over 2,500 devotions that help people discover the difference God makes in their daily life and leadership. With a Ph.D. in New Testament from Harvard, Mark teaches at Fuller Seminary, most recently in his D.Min. cohort on "Faith, Work, Economics, and Vocation." Mark is married to Linda, a marriage and family counselor, spiritual director, and executive coach. Their two grown children are educators on the high school and college level.