For it is by grace you have been saved, through faith—and this is not from yourselves, it is the gift of God—not by works, so that no one can boast. For we are God's handiwork, created in Christ Jesus to do good works, which God prepared in advance for us to do.
Today, we get into one of the most significant debates among Christians: the debate over faith and works. This issue has perplexed followers of Jesus for centuries, since the very first decades of the church's existence (see Galatians and James, for example). Disagreements about faith and works contributed to the division of the church during the Protestant Reformation. And, to this day, you'll still find lots of confusion about how faith is related to works and how both are related to salvation.
If we pay close attention to Ephesians 2, we'll clear up much of that confusion. We'll see clearly the right relationship between faith and works. We'll see how much works matter to God and therefore to us, but also what they cannot accomplish.
As we have noted in the past several devotions on Ephesians 2, Paul is exceedingly clear that salvation comes to us by God's grace, which we receive through faith (trust). The latter part of verse 8 adds, just in case we missed the point, "and this is not from yourselves, it is the gift of God."
But then Paul adds, "not by works, so that no one can boast" (2:9). This seems like an odd inclusion, given that Paul is writing Ephesians primarily to Gentiles who would not have been troubled by the issue of salvation by works of the Jewish law (2:11; 3:1). This was a major problem in his letters to the Galatians and the Romans, where Paul confronts those who claimed that salvation (justification) comes through works. But we have no reason to believe that the recipients of Ephesians were dealing with this particular problem.
Notice that Paul says "not by works," leaving off the characteristic end of this phrase, "of the law" (Romans 3:20, 28; Galatians 2:16; 3:2, 5, 10). It's clear that he is not dealing with the Jewish (or Judaizing) tendency to see salvation as a reward for keeping the Torah. Rather, the use of "works" here casts a broad net, snagging any of us who might think that we can earn our way into God's good favor through what we do. One of the common features of most (all?) religions in the Greco-Roman world of the first century A.D. was an assumption that you can enter into fellowship with the gods by doing things to please them. Gentiles, as well as Jews, would be inclined to see salvation as a result of their own efforts, their personal works. But this, Paul says, is not true.
As we'll see very soon, our works do matter to God. But we must never think of them as a means to earn what God freely gives: grace, mercy, love, salvation, new life. Good works come as a response to the activity of grace in our lives. Yet, for now, we are reflecting on the fact that our salvation does not come by our works. This means, among other things, that you don't have to get it all right to be in a relationship with God. You don't have to be perfect, or even close. You don't have to have perfect, unfaltering faith. You don't have to have perfect theology, as if this were even possible. Rather, you need only to receive God's grace in faith and allow it to transform your life.
Something to Think About:
Are you ever tempted to think that you can do things to make God love you more?
Are you ever tempted to think that you can or must earn your salvation by what you do?
How do you think God's grace leads us to do good works?
Something to Do:
Take an honest inventory of your own heart. Do you trust fully in God's grace? Or do you believe, at least in part, that you must earn God's favor through your good works? Talk to God about what you find to be true about yourself.
Prayer:
Gracious God, how I thank you that my salvation does not depend on my works. If this were true, I'd be lost. Thank you for saving me by your matchless grace.
Yet, I also thank you that when I receive your grace by faith, you begin to work within me, endeavoring to accomplish your good purpose in and through me. Yes, I am able to do good works by your power and for your glory. But, dear Lord, may I never be so arrogant as to think that my works deserve the blessings you give to me, including salvation. May I realize, again and again, that every good gift in my life comes from you. Amen.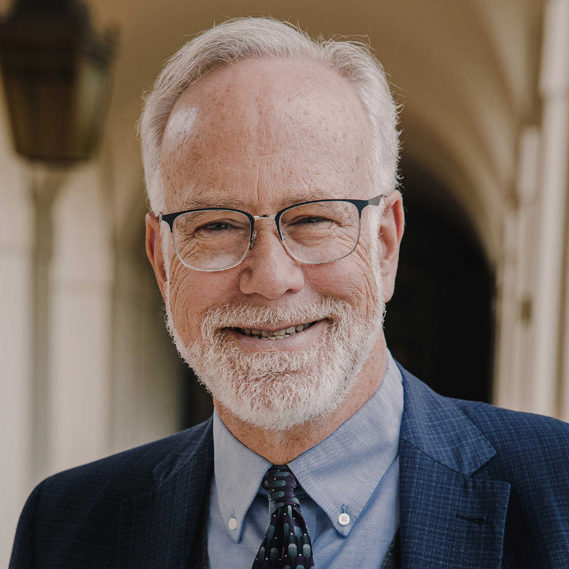 Dr. Mark D. Roberts is a Senior Strategist for Fuller's Max De Pree Center for Leadership, where he focuses on the spiritual development and thriving of leaders. He is the principal writer of the daily devotional, Life for Leaders, and the founder of the De Pree Center's Flourishing in the Third Third of Life Initiative. Previously, Mark was the Executive Director of the De Pree Center, the lead pastor of a church in Southern California, and the Senior Director of Laity Lodge in Texas. He has written eight books, dozens of articles, and over 2,500 devotions that help people discover the difference God makes in their daily life and leadership. With a Ph.D. in New Testament from Harvard, Mark teaches at Fuller Seminary, most recently in his D.Min. cohort on "Faith, Work, Economics, and Vocation." Mark is married to Linda, a marriage and family counselor, spiritual director, and executive coach. Their two grown children are educators on the high school and college level.