Paul, Silvanus, and Timothy,
To the church of the Thessalonians in God the Father and the Lord Jesus Christ:
Grace to you and peace.
Focus
Shared leadership is sometimes frowned upon. It can surely be more complicated than one-person leadership. But it can also be more fruitful, at least in many situations. The New Testament letter known as 1 Thessalonians models shared leadership to a striking degree. It encourages us to consider how our own leadership might be better if we were intentionally collaborative.
Today's devotion is part of the series Encouragement from 1 Thessalonians.
Devotion
My wife and I had lunch with a good friend yesterday (whom I'll call Jane). In part, we were celebrating Jane's new job at a new company, a real milestone in her career. I asked her why she left her previous company where she had been doing excellent work. "Well," Jane said, "they promoted someone to an executive director role over me, even though he had much less experience than I have and really needed my partnership. I asked to be made a co-executive director with him. But the boss said no. 'Shared leadership just doesn't work,' he told me." So I was open to moving and now it's happening."
I understand Jane's boss's perspective. It's still pretty common in many organizations. Though, increasingly, business leaders are seeing the potential of shared leadership, even at the top of companies. (See, for example, these two articles in Harvard Business Review: "How to Co-Lead a Team" and "Is CEO a Two-Person Job?") Nevertheless, shared leadership brings challenges that solo leaders don't have to worry about, and it may bring distinctive benefits as well.
The letter we know as 1 Thessalonians models shared leadership right from the start. The first verse identifies the letter's authors as "Paul, Silvanus, and Timothy" (1 Thessalonians 1:1). Nevertheless, almost every commentator and preacher on 1 Thessalonians talks about it as a letter from Paul, not Paul, Silvanus, and Timothy. This surely reflects the major role played by the Apostle Paul both in early Christianity and in the writings we know as the New Testament. In most of the letters attributed to Paul and others, it's clear that Paul is the main writer, the primary leader. But 1 Thessalonians is curiously different. With three exceptions, every reference to the letter writers is plural (the exceptions are 1 Thessalonians 2:18; 3:5; and 5:27). So even if Paul was the main writer of the letter, he intentionally wrote in a way that underscored the leadership he shared with his colleagues Silvanus and Timothy. The letter known as 1 Thessalonians was truly a letter from Paul, Silvanus, and Timothy.
It's important to see the shared leadership in 1 Thessalonians, not only because of what it says about Paul and his co-workers, but also because of what it implies about what it means to be a Christian, what it means to be part of the church, and what it means to serve God in the world. As we'll see in our devotional study of 1 Thessalonians, the letter consistently shows that the Christians in Thessalonica are not only recipients of the ministry of Paul, Silvanus, and Timothy, but also participants in that ministry. Christian ministry is shared ministry. Christian leadership, therefore, is shared leadership. (Consider the Trinity, for example!)
Most of us have experienced shared leadership of various kinds. We see it demonstrated in our political systems. Even in hierarchical workplaces, leadership is often shared among bosses and subordinates. Churches usually feature collaborative leadership by pastors, elders, and congregants. (And when they don't, things can go very poorly.) Shared leadership is common in families, even if one member has culturally-ascribed authority (as in patriarchal households).
If you've been in a relationship where leadership is shared, then you surely know how complicated it can be. But it's likely that you also know how fruitful it can be. I think, for example, of my work as senior pastor of Irvine Presbyterian Church. I had clear authority over several things, but found that collaboration, however complex it might be, generally led to better results, even in matters where I could simply make the call. Yes, there were occasions when I needed to exercise my official authority, but 99% of the time our church was stronger because of leadership shared among pastors, staff members, elders, and congregants.
I'm not suggesting that shared leadership is the best in all circumstances, or that there is only one way for leadership to be shared. But I do believe that what we see in 1 Thessalonians encourages us to think critically and creatively about ways in which we lead, whether in businesses, schools, service organizations, churches, government organizations, or families. Even if we have the authority to speak and lead as a solitary "Paul," it may be better for us to learn to speak, lead, and live as "Paul, Silvanus, and Timothy."
Reflect
When in your life have you experienced shared leadership? How did it go? What was good about it? What was not so good?
What do you think are the strengths of shared leadership?
What are the weaknesses of shared leadership?
Act
Think about where in your life you are exercising leadership these days. It might be official, as in a job setting. Or it might be unofficial, as in a neighborhood or friendship group. Is there something you can to do strengthen the way in which leadership is shared?
Pray
Gracious God, thank you for the example of Paul, Silvanus, and Timothy. Thank you for the ways they worked as a team to serve the Thessalonians. Thank you for how their model teaches and encourages us.
Help us, Lord, to learn how to lead well together. Show us what shared leadership might look like in our distinctive settings. Give us wisdom and vision.
Finally, God, though you are uniquely the Sovereign of the universe, you have chosen to share so much with human beings. Thank you for honoring us in this way. Help us, Lord, to be faithful stewards of what you've entrusted to us. May we learn to lead and live together in harmony with you and for your purposes. Amen.
Find all Life for Leaders devotions here. Explore what the Bible has to say about work at the unique website of our partners, the Theology of Work Project. Commentary on today's Life for Leaders theme can be found here: Working Faith, Finishing Up, and Keeping the Faith (1 Thess. 1:1–4:8; 4:13–5:28; 2 Thess. 1:1-2:17)

---
Subscribe to Life for Leaders
Sign up to receive a Life for Leaders devotional each day in your inbox. It's free to subscribe and you can unsubscribe at any time.
---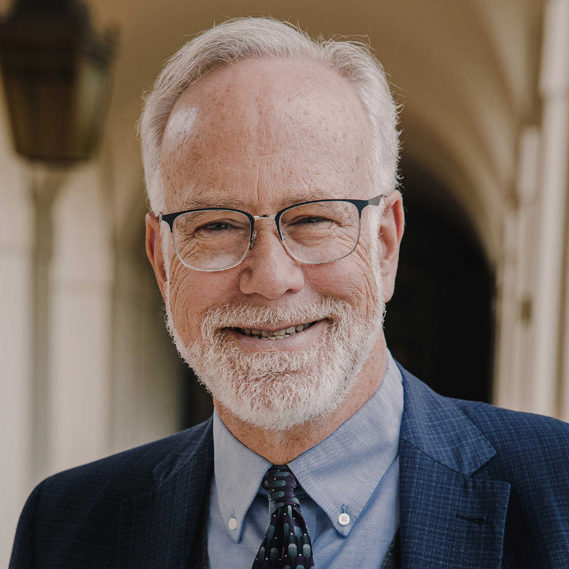 Dr. Mark D. Roberts is a Senior Strategist for Fuller's Max De Pree Center for Leadership, where he focuses on the spiritual development and thriving of leaders. He is the principal writer of the daily devotional, Life for Leaders, and the founder of the De Pree Center's Flourishing in the Third Third of Life Initiative. Previously, Mark was the Executive Director of the De Pree Center, the lead pastor of a church in Southern California, and the Senior Director of Laity Lodge in Texas. He has written eight books, dozens of articles, and over 2,500 devotions that help people discover the difference God makes in their daily life and leadership. With a Ph.D. in New Testament from Harvard, Mark teaches at Fuller Seminary, most recently in his D.Min. cohort on "Faith, Work, Economics, and Vocation." Mark is married to Linda, a marriage and family counselor, spiritual director, and executive coach. Their two grown children are educators on the high school and college level.