[A]nd we sent Timothy, our brother and co-worker for God in proclaiming the gospel of Christ, to strengthen and encourage you for the sake of your faith, so that no one would be shaken by these persecutions. Indeed, you yourselves know that this is what we are destined for. In fact, when we were with you, we told you beforehand that we were to suffer persecution; so it turned out, as you know.
Focus
Being a Christian does not deliver us from life's difficulties. But knowing Christ does give us access to comfort and meaning. It also equips us to be present to others as they struggle. We can comfort those who are suffering. We can become advocates for victims of injustice. We can pray for God's presence and comfort for those in need. And we can embody the love of Christ that bears us up amid life's difficulties.
Devotion
One of the high points of my young Christian experience happened at winter camp when I was in eighth grade. I had invited my good friend Danny to camp. Though Danny was religious, he did not know Christ personally. I hoped and prayed that Danny might come to know Jesus as his Lord and Savior at camp.
I remember distinctly what happened on Saturday evening. The camp speaker laid out the basic Christian gospel. He was not melodramatic or manipulative. In a basic way, he described the love of God in Christ and the need for each of us to accept that love by faith. Then the speaker invited all of us to close our eyes and bow our heads. When we had done this, he invited people who wanted to say "Yes" to Christ to raise their hands. At that moment, I prayed as fervently as I ever had in my life that Danny would respond to this invitation. Though I wanted to peek and see if he raised his hand, I feared that somehow that might mess things up. So, with my eyes tightly closed, I prayed and hoped.
While walking back to the cabin after the meeting, I was tapped on the shoulder by my counselor, Stan. He took me aside and in a quiet voice said, "Do you know that Danny raised his hand tonight?" "No," I said. "I didn't peek." Stan explained to me that the counselors were supposed to "peek" at the people in their cabins and that Danny had clearly raised his hand. I was ecstatic and so grateful to God.
Later that evening Stan led the boys in my cabin in a conversation. He invited people to share their responses to the evening message. Much to my surprise, Danny spoke up. He said that he gave his life to Jesus. He mentioned how happy he was. And then he added: "And now I know that I won't have any problems in life." When I heard that, I was aghast. Even as an eighth grader I knew that faith in Jesus didn't guarantee the absence of life's problems. I was afraid that once Danny faced a problem he would lose his faith.
After that cabin conversation, I told Stan I needed to talk to him. I explained my fear that Danny might give up on Jesus when problems came his way. Stan told me not to worry. "God will take care of that," he said. Then he added, "Mark, part of your job now is to help Danny grow in his faith. When hard times come, you can help him to remain strong through them."
Stan spoke the truth I needed to hear. Indeed, it is part of the job of more mature Christians to help those who are new in faith to grow. This includes dealing in constructive ways with the difficulties of life. We see an example of this in 1 Thessalonians. The Apostle Paul and his colleagues were concerned that their new converts in Thessalonica might be "shaken" by the difficulties they were experiencing. (The NRSV speaks of "persecutions," but this over-translates the Greek word thlipsis, which means "difficulty, trouble, or affliction.") In expressing their concern, Paul and Co. write: "Indeed, you yourselves know that this is what we are destined for" (1 Thessalonians 3:3). How do they know that the Thessalonians are aware of the inevitability of difficulties? Surely it's because the church planters told them so. Part of their instruction of their new converts was preparing them for the challenges that were sure to come.
In fact, according to 1 Thessalonians, it's not just that difficulties are inevitable. The letter writers say "this is what we are destined for" (3:3). Part of our destiny as Christians is the suffering that comes in a world that is not yet fully redeemed. Moreover, Scripture teaches that brokenness will become even more acute in the final days before God fully establishes the kingdom.
This passage in 1 Thessalonians reminds us of two foundational truths of the Christian life. The first is that we will encounter difficulties and problems. Suffering is an inevitable part of living in this broken world. When it comes, we can be understandably distressed, but we shouldn't be surprised.
The second truth is that we are positioned and called to support and encourage each other as we go through difficult times. What my counselor, Stan, told me about my role with Danny is true for all of us. When someone we know is confronting difficult times, we have the opportunity and responsibility to reach out with care and concern. We can comfort those who are suffering. We can become advocates for victims of injustice. We can pray for God's presence and comfort for those in need. And we can embody the love of Christ that bears us up amid life's difficulties.
Reflect
How do you make sense of the difficulties of life?
How has God helped you in and through difficult times?
Are there people in your life with whom God is using you as they experience difficulties?
Act
Do something kind for someone who is going through a hard stretch right now.
Pray
Gracious God, in this broken world we will experience difficulties. Pain and suffering are to be expected. This is not good news. But it is truth we must take to heart.
The good news, Lord, is that you have not abandoned us in our struggles. You entered into our suffering in Christ. You are present with us at all times through the Spirit. You give us brothers and sisters to comfort and encourage us. Plus, you give us hope of a world renewed, a world in which you will wipe away every tear.
In the meanwhile, Lord, help us to be resilient when life is hard. And help us to reach out with care and concern to others. Give us compassion and wisdom as we stand with those in need. Amen.
Find all Life for Leaders devotions here. Explore what the Bible has to say about work at the High Calling archive, hosted at the unique website of our partners, the Theology of Work Project. Commentary on today's Life for Leaders theme can be found here: A Psalm for Danny

---
Subscribe to Life for Leaders
Sign up to receive a Life for Leaders devotional each day in your inbox. It's free to subscribe and you can unsubscribe at any time.
---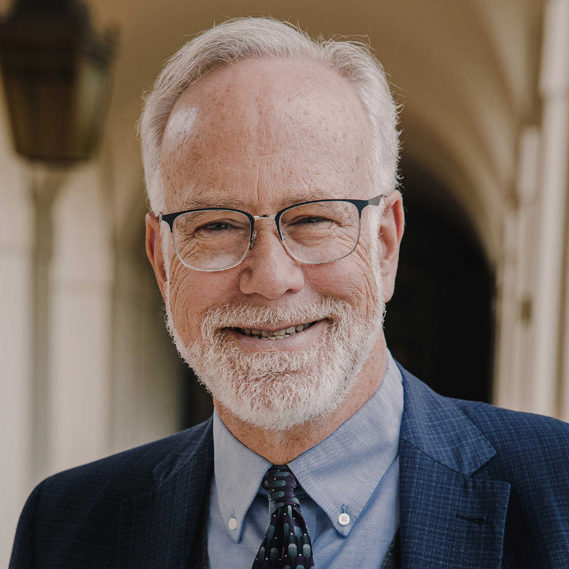 Dr. Mark D. Roberts is a Senior Strategist for Fuller's Max De Pree Center for Leadership, where he focuses on the spiritual development and thriving of leaders. He is the principal writer of the daily devotional, Life for Leaders, and the founder of the De Pree Center's Flourishing in the Third Third of Life Initiative. Previously, Mark was the Executive Director of the De Pree Center, the lead pastor of a church in Southern California, and the Senior Director of Laity Lodge in Texas. He has written eight books, dozens of articles, and over 2,500 devotions that help people discover the difference God makes in their daily life and leadership. With a Ph.D. in New Testament from Harvard, Mark teaches at Fuller Seminary, most recently in his D.Min. cohort on "Faith, Work, Economics, and Vocation." Mark is married to Linda, a marriage and family counselor, spiritual director, and executive coach. Their two grown children are educators on the high school and college level.