Therefore encourage one another with these words.
Focus
Do you need some encouragement today? It's quite likely that you do, especially given all of the discouraging aspects of life in 2022. Yet we don't want insubstantial happy-talk. That just won't do. We yearn for encouragement based on what's real, what's true. This is exactly what we find in one of the shorter books of the Bible, Paul's first letter to the Thessalonians. It helps us to be encouraged and to become encouragers of others.
Today's devotion is part of the series Encouragement from 1 Thessalonians.
Devotion
I was speaking recently with my colleague Meryl about our research into mentoring. The De Pree Center is engaged in this study so that we can equip people to get into mentoring, either as a mentor or a mentee. Meryl has been doing an excellent job identifying the elements of a successful mentoring relationship as well as factors that can limit its effectiveness. Now, we're beginning to think about how we can turn this research into resources for the people we serve through the De Pree Center, people like you.
As Meryl talked about potential resource materials, she said, "I wish we had some strong devotions related to mentoring." As you might expect, this piqued my attention. I am "all in" when it comes to devotional writing, as you know. But my enthusiasm for writing a series of devotions related to mentoring also came from another experience of my life, one you may not be so familiar with.
You see, I've been thinking about mentoring-type relationships for decades. This reflection began when I was in graduate school. My Ph.D. dissertation examined Paul's pastoral relationship with the Thessalonians as portrayed in the letter we know as 1 Thessalonians. Though that relationship was what one might call "pastoral" or "apostolic," it had much in common with what we today call mentoring. The way Paul nurtured and encouraged his Thessalonian converts was far more personal and relational than we might suppose. In many ways, Paul was a mentor to the Christians in Thessalonica. We can see this clearly in 1 Thessalonians.
After my conversation with Meryl, I read through 1 Thessalonians carefully. As I did, I identified several passages ripe with implications for mentoring. But I was reminded of how much the content of this brief epistle addresses many things beyond mentoring. It speaks incisively to where we are today in our personal lives, in our churches, in our communities, and in our world. So, I thought to myself, "After I finish doing Luke in Life for Leaders, I should do 1 Thessalonians." Further reflection and prayer confirmed this inclination. Beginning today, therefore, I'll be basing my daily devotions (from Monday through Thursday) on 1 Thessalonians. (Friday's devotions will continue to focus on the Psalms in relationship to our daily work.)
Now, I realize that a devotional study of 1 Thessalonians may not instantly get your heart pounding. I don't know anyone who claims this short letter as their favorite book of the Bible. (It may once have been mine, but I fear it has been surpassed by Ephesians.) You don't find in 1 Thessalonians anything like the Shepherd Psalm (Psalm 23), the Sermon on the Mount (Matthew 5-7), "For God so loved the world . . . (John 3:16), or the Love Chapter (1 Corinthians 13). But, having spent literally thousands of hours studying 1 Thessalonians, I can vouch for its exceptional and timely wisdom, not to mention the fact that it is inspired by the Holy Spirit and therefore worthy of our attention.
If you were to ask me, "Why 1 Thessalonians?" I'd point, first of all, to its relevance to the challenges we face in today's church and world. Second, I'd talk about encouragement. I am writing this devotional series to encourage you in your faith and, I should add, to equip you to encourage others. I'm basing this on the main reason Paul wrote 1 Thessalonians in the first place. In chapter 4, verse 18, he says, "Therefore encourage one another with these words." Paul is writing not only as an encourager but also as a catalyst of encouragement. He wants to help the Thessalonian believers become effective encouragers.
One of the distinctive features of 1 Thessalonians is how often the verb "to encourage," parakaleō in Greek, shows up. It appears 8 times in only 5 chapters. Tellingly, this means that the verb "to encourage" appears more frequently in 1 Thessalonians than in any other book in the New Testament. It wouldn't be an exaggeration to say that 1 Thessalonians is an outstanding letter of encouragement. It was written originally both to encourage Christians and to equip them to be encouragers. I believe it can have that same impact today.
So, let me ask you. Do you need some encouragement today? I'm pretty sure you do. Though I don't personally know most of those who read Life for Leaders – I'm always happy to hear from you, by the way, at markroberts@fuller.edu – it seems to me that just about everyone needs some encouragement these days. But we don't want insubstantial happy-talk. Rather, we yearn to be encouraged by things that are substantial and substantially true. This, I believe, we will find in 1 Thessalonians.
So, I do hope you are encouraged by the thought of a devotional study of 1 Thessalonians, no pun intended. Please join me in praying that God will speak to our Life for Leaders community in a way that brings comfort, courage, and confidence in the Lord.
Reflect
Without opening your Bible to look at 1 Thessalonians, what, if anything, is your impression of this book? Can you think of anything in this book that has made a difference in your life?
In what ways do you need encouragement these days?
Can you think of people in your life who are excellent encouragers? What do they do? Why?
Act
Keep your eyes and heart open today so that you might be an encourager to someone who needs encouragement in a special way.
Pray
Gracious God, you are the ultimate source of encouragement. The encouragement you give isn't flimsy or superficial. It's based on who you are and what you have done in Christ. Thank you for being such an encourager.
Lord, I know I need encouragement today. May I be open to receiving what you have for me.
Help me, I pray, to be an encourager of others. May I be attentive to their needs. May I offer them the truth they need to hear. Amen.
Find all Life for Leaders devotions here. Explore what the Bible has to say about work at the unique website of our partners, the Theology of Work Project. Commentary on today's Life for Leaders theme can be found here: Introduction 1 & 2 Thessalonians

---
Subscribe to Life for Leaders
Sign up to receive a Life for Leaders devotional each day in your inbox. It's free to subscribe and you can unsubscribe at any time.
---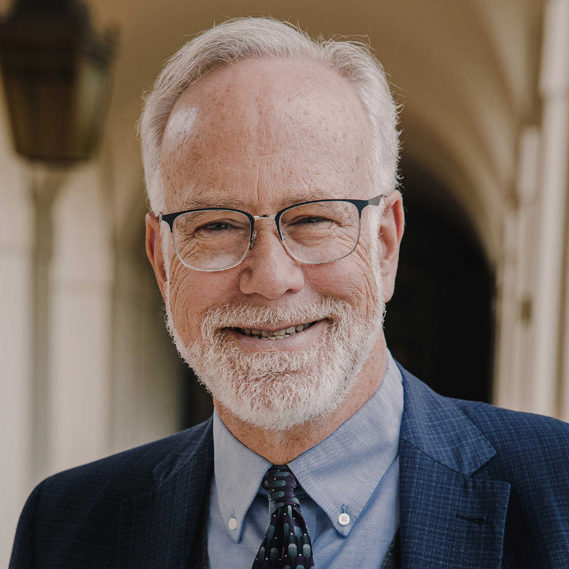 Dr. Mark D. Roberts is a Senior Strategist for Fuller's Max De Pree Center for Leadership, where he focuses on the spiritual development and thriving of leaders. He is the principal writer of the daily devotional, Life for Leaders, and the founder of the De Pree Center's Flourishing in the Third Third of Life Initiative. Previously, Mark was the Executive Director of the De Pree Center, the lead pastor of a church in Southern California, and the Senior Director of Laity Lodge in Texas. He has written eight books, dozens of articles, and over 2,500 devotions that help people discover the difference God makes in their daily life and leadership. With a Ph.D. in New Testament from Harvard, Mark teaches at Fuller Seminary, most recently in his D.Min. cohort on "Faith, Work, Economics, and Vocation." Mark is married to Linda, a marriage and family counselor, spiritual director, and executive coach. Their two grown children are educators on the high school and college level.