And Nehemiah, who was the governor, and Ezra the priest and scribe, and the Levites who taught the people said to all the people, "This day is holy to the LORD your God; do not mourn or weep." For all the people wept when they heard the words of the law. Then he said to them, "Go your way, eat the fat and drink sweet wine and send portions of them to those for whom nothing is prepared, for this day is holy to our LORD; and do not be grieved, for the joy of the LORD is your strength."
Focus
Today is Mardi Gras, which is translated as "Fat Tuesday." It's a time when people celebrate, in part by eating rich food. Scripture encourages us to enjoy the goodness of God, even by eating the fat and drinking the sweet. But it also reminds us to share what we have with those who are lacking. The celebration goes hand-in-hand with care for the poor.
Devotion
Today is Mardi Gras. That's French for "Fat Tuesday." Seems like a strange name for a day, doesn't it?
There's a reason people refer to this day as Mardi Gras or Fat Tuesday. This name comes from a centuries-old tradition in which Christians ate fatty foods, such as butter, on the Tuesday before Lent. Since many people fasted from such foods during Lent, the day before the beginning of Lent was a sensible time to use up all the fat in one's home (also sweeteners, such as sugar).
Some Christians refer to the Tuesday before Lent by the name of "Shrove Tuesday." "Shrove," according to the Oxford English Dictionary, is an obsolete noun that once meant "merrymaking," in association with the celebrations common to the day before Lent. (Some scholars try to derive "shrove" from the archaic verb "shrive," when meant "to impose penance upon." This is certainly not as fun as "merrymaking.")
No matter whether you call the day "Fat Tuesday" or "Shrove Tuesday" or just plain "Tuesday," it has served for centuries as a time for Christians to celebrate the last day before Lent by eating rich—indeed fatty—foods. Somewhere along the way, some ingenious folk realized that they could do this by eating pancakes with lots of butter. Quite a few churches have moved the pancake eating ritual from Fat Tuesday to the previous Sunday, calling it "Pancake Sunday." As a lover of pancakes, I'm all in, as they say.
But I can imagine some of my sterner brothers and sisters in Christ worrying that such frivolity at church is inappropriate, even outside of Lent. Shouldn't our worship be more serious?
To be sure, there are times when worship should be serious, even solemn. But it's also appropriate, even fully biblical, to worship with celebration, even with eating delightfully rich food.
Consider the case of Nehemiah 8, for example. The Jewish people gathered together to hear a reading of the Mosaic law, something that they had not done in a long time. This reading was accompanied with plenty of seriousness, including the people bowing their heads to the ground in worship. Moreover, when the people heard the words of the law, they wept, no doubt because, in part, they were convicted of their sin.
Now, you might suppose that the leaders of the people would have been pleased by this demonstration of repentance. But surprisingly, they were not. The leaders told the people not to mourn or weep. Moreover, they gave these instructions, "Go your way, eat the fat and drink sweet wine and send portions of them to those for whom nothing is prepared, for this day is holy to our LORD; and do not be grieved, for the joy of the LORD is your strength" (Nehemiah 8:10). Isn't that something! The people were to celebrate with rich food and fine drink because the day was "holy to our LORD." We often associate God's holiness with our somber repentance, as indeed we should. But there is also a time to enjoy the goodness of creation, the tastiness of food and drink, precisely because the day is holy to the Lord. So, thumbs up for Pancake Sunday!
Notice, however, something wonderful in this text. The leaders call the people not only to celebrate lavishly, but also to "send portions of them to those for whom nothing is prepared." Though the text does not explain why some had nothing to eat, it's likely that these people were poor or otherwise unable to make food for themselves. When we celebrate God's goodness to us, as we should, we must also remember those who, for whatever reason, are not able to celebrate without our help.
When I was pastor of Irvine Presbyterian Church, I had a wonderful young worship leader who helped me with our band-led worship service for young adults. Dale hadn't been a believer for a long time. He was the sort of person who read the Bible and tried to put it into practice immediately. When he read one of the many passages in the Old Testament that combine celebrative worship with care for the poor, Dale came to me with an idea: "I think we should make sandwiches in our service and take them to the local homeless shelter." I responded sensibly: "I like your heart, Dale. But we don't make sandwiches in worship. Let's do it after the service." Unconvinced, Dale showed me the biblical passage he had been reading. "We need to do this," he insisted. And he was right. And so we did.
At first, it felt strange to be making sandwiches while we were singing worship songs. But, in time, it felt more appropriate and more wonderful. As we worshiped God, we were serving the poor in his name. Sometimes I remembered what happened in Nehemiah 8. At other times, I heard echoes of Proverbs 19:17, "Whoever is kind to the poor lends to the LORD, and will be repaid in full."
So, by all means eat some pancakes today, if you wish. Use up your butter and syrup. But be sure to share some of your bounty with those who are lacking. If you can't do it in person, you can always make a contribution to a local charity or to World Vision. When you do, rejoice. Remember, "the joy of the LORD is your strength" (Neh 8:10).
P.S. Tomorrow, the season of Lent begins with Ash Wednesday. If you'd like to learn more about this holy day and/or the season of Lent, check out some resources you might find helpful: The Christian Year: An Introduction; What Is Ash Wednesday?; What is Lent?; Resources for Lent.
Reflect
Of all the good foods in the world, which are your favorites?
Can you remember a time when your church celebrated with good food? What was it like? How did you feel?
How can we enjoy the goodness of God's creation and, as we do, remember those who don't have access to such blessings? How can our celebration lead to generosity?
Act
There are a couple of obvious action steps today. You could quite literally eat pancakes. Perhaps you could invite others to share with you, maybe even folks who don't have financial resources. You could also make a gift to the poor, either through your church or a local charity, or through World Vision.
Pray
Gracious God, thanks for the good things you give us. Thanks especially for the goodness of food, which not only nourishes us, but also delights us. And, yes, Lord, thank you even for pancakes!
As we enjoy the goodness of your creation, may we celebrate with joy. And, dear Lord, may our hearts be open to those who lack good things. May our celebration open us to a new expression of generosity. Amen.
Find all Life for Leaders devotions here. Explore what the Bible has to say about work at the unique website of our partners, the High Calling archive, hosted by the Theology of Work Project. Reflection on today's Life for Leaders theme can be found here: Mardi Gras?

---
Subscribe to Life for Leaders
Sign up to receive a Life for Leaders devotional each day in your inbox. It's free to subscribe and you can unsubscribe at any time.
---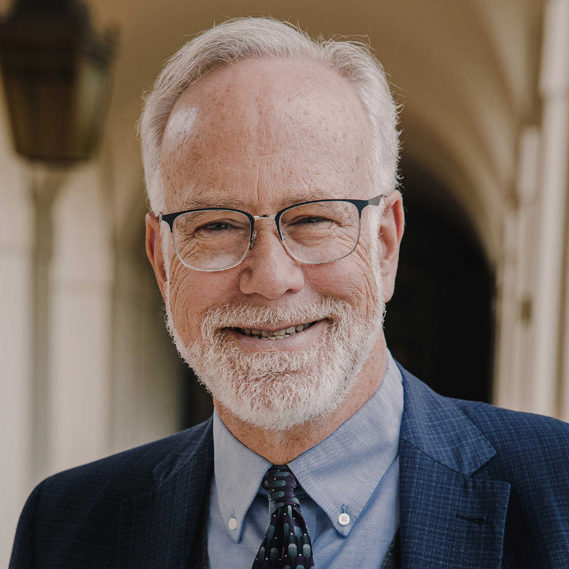 Dr. Mark D. Roberts is a Senior Strategist for Fuller's Max De Pree Center for Leadership, where he focuses on the spiritual development and thriving of leaders. He is the principal writer of the daily devotional, Life for Leaders, and the founder of the De Pree Center's Flourishing in the Third Third of Life Initiative. Previously, Mark was the Executive Director of the De Pree Center, the lead pastor of a church in Southern California, and the Senior Director of Laity Lodge in Texas. He has written eight books, dozens of articles, and over 2,500 devotions that help people discover the difference God makes in their daily life and leadership. With a Ph.D. in New Testament from Harvard, Mark teaches at Fuller Seminary, most recently in his D.Min. cohort on "Faith, Work, Economics, and Vocation." Mark is married to Linda, a marriage and family counselor, spiritual director, and executive coach. Their two grown children are educators on the high school and college level.