Out of the tribe of Benjamin, forcefully living under the empire of Babylon, there was a certain young woman. She was not your average person. She could have been written off as a statistic with low chances of success. She was an ethnic minority, an orphan, and a female in a male-dominant society. Her name was Hadassah, and she was beautiful.
With little advanced notice, Hadassah was one day ordered
to the palace and prepared to work as a concubine—with the prospect of becoming queen. But before she left home, her Uncle (and surrogate parent) Mordecai gave her "the talk." She shouldn't speak openly about her ethnic identity. She would need to master code-switching. And she would need to take a name that would
be a "better fit" for the dominant culture, a name like Esther.
After a long year of training, waiting, fearing, hoping, and taking risks, the unthinkable happened: Esther was promoted to the ranks of queen. It was the highest title a woman could hold in the land, and it was hers. She had beaten the odds. She had made it. She would not be a statistic. Her troubles consisted of caring for palaces and the pleasures of the king. But in the midst of her economic success, it was not just her cares that faded. Her identity as Hadassah faded too.
Though queen, she too had a glass ceiling to which she'd become accustomed. Attempting to break it would mean getting cut.
And then one day, an enemy of the Jews rose up and passed policy to legalize a mass genocide of the Jews. Queen Esther was oblivious to the matter. In fact, when she learned that her uncle Mordecai was in the middle of the city in sackcloth and ashes protesting the unjust law that would kill all Jewish people, she became upset, stressed out, and confused. She had it all; what need did Uncle Mordecai have to protest in such an undignified way—laying his body in the street? His public grief was embarrassing,
and she wanted
to deal with him
quietly to maintain
her dignity. But
Uncle Mordecai
refused to be quiet
about such a great
political injustice and implored the queen to wield her power and challenge the laws of the land: to go before the king and get the policy changed.
What can I do? My hands are tied! That's not my job! All the excuses that ran through Esther's mind that day were desperate attempts to protect the power that she had earned and that could be stripped away at a moment's notice by the king—like the queen before her. Though queen, she too had a glass ceiling to which she'd become accustomed. Attempting to break it would mean getting cut.
But her faith could not be separated from her work, especially in this hostile period for her people. She fell to her knees in prayer because the nation to which she belonged was set on killing her people. She called upon all the Jews to join her in prayer and to plead to God for mercy.
The day came for her to go to the king. She put on her best dress, that would remind the king of who she was and
 the dignity she held. She walked into the room. Her heart pounded. Faith and courage battled fear. If the king didn't extend his scepter to her, she would lose her life. Would he? In this moment, she did not approach him as his wife or his beloved. She came as the minority-queen-activist— Queen Hadassah-Esther: a Jewish woman of intellect and strategy, of position and power.
The king spared her life. So, with confidence, she requested that he dine with her and to also invite Haman—the enemy of her people. When the king came to dinner, he asked for her real request, for who risks her life to eat with her husband? But Queen Hadassah-Esther knew the temperament of the king. He was the kind of king who would make rash decisions with his power if drunk enough. So, she invited him to dinner again with Haman by his side. After two nights of eating and drinking, the king had enough wine in him for Queen Hadassah-Esther to appeal to
his emotions and get him to back with his power what she needed—the elimination of Haman, enemy of the Jews. She succeeded.
But the work of this minority-queen-activist was not complete, for the genocidal edict signed into law by Haman with the king's seal could not be undone. Her next course of action was to get Mordecai appointed in Haman's place. Subsequently, she sought permission from the king to write a law that would allow the Jews to fight back, to ensure their protection. Her requests were granted. With God's favor, Queen Hadassah-Esther accomplished everything she'd set out to do in an effort to dismantle systemic injustice through her work.
With God's favor, Queen Hadassah-Esther accomplished everything she'd set out to do in an effort to dismantle systemic injustice through her work.
Some of us are Queen Esther. We are burdened from all the code-switching, the efforts to take care of our families, and the work to keep the powers that be happy so we don't lose our jobs. But to only be Queen Esther in times filled with hostility and the threat of violence against our people is to not live fully into our call to work in places where we have or have access to power. We must live into our identity as Queen Hadassah-Esther, but how?
Retain a Mordecai. We need people in our lives who will unashamedly reorient us toward God's call to fight systemic injustice through our careers.
Remember our identity. We must not forget who we are and where our people come from.
Recognize the time. We must acknowledge that God has called us to places of power for a reason.
Resolve to act. We must not allow systemic injustices to kill our people as we rest easy in our power and promotions.
Like Queen Hadassah-Esther, we must allow the marginalized voices from Black Americans to Latinxs to Asian Americans to the Indigenous to the undocumented to the DACAmented to the immigrant to the female to the sexually violated to the voices we have yet to hear that are rising up to rock us to our core, move us to prayer in preparation for courageous action—even if it costs our very lives.
And though the weight of the mantle seems great, and the walk to the seat of power long, take heart. Who knows? Maybe we were called to our work for such a time as this.
---
This article was originally published in She Is…: Biblical Reflections on Vocation, which you can purchase here.
---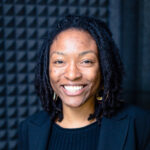 Jeanelle Austin, originally from Minneapolis, MN moved to Pasadena, CA in 2007 to attend Fuller Theological Seminary, where she earned an MA in Intercultural Studies and an MDiv in Christian Ethics. She, at the time of this piece's original publication, worked at Fuller Theological Seminary as the director of operations for the William E. Pannell Center for African American Church Studies. Her life- long ministry is deeply rooted in the fight against racism. She enjoys writing poetry, traveling, and just being present in the moment. Above all, Jeanelle loves Jesus, and Jesus has made a claim on her life.