As they came near the village to which they were going, he walked ahead as if he were going on. But they urged him strongly, saying, "Stay with us, because it is almost evening and the day is now nearly over." So he went in to stay with them. When he was at the table with them, he took bread, blessed and broke it, and gave it to them. Then their eyes were opened, and they recognized him; and he vanished from their sight. They said to each other, "Were not our hearts burning within us while he was talking to us on the road, while he was opening the scriptures to us?"
Focus
Like the two disciples of Jesus on the road to Emmaus, sometimes we are just plain slow. We have a hard time figuring out what's true about Jesus, about ourselves, and about how we are to live. But God with great mercy teaches us through Scripture, through wise teachers, and through the indwelling power of the Holy Spirit. When we know that God is teaching us, and when we learn new truths, our hearts move from slow to burning. We delight in what we've learned and are eager to share it with others.
Today's devotion is part of the series Following Jesus Today.
Devotion
Today we pick up our devotional study of Luke 24, which relates several events that happened after the resurrection of Jesus. Last week we were considering the story known as "The Road to Emmaus." This is the account of two disciples of Jesus who were walking from Jerusalem to their home in the village of Emmaus late on the first Easter Sunday. When Jesus appeared to them, they did not recognize him. They did, however, express their perplexity concerning Jesus's death and the stories of his possible resurrection. In response, Jesus said, "Oh, how foolish you are, and how slow of heart to believe all that the prophets have declared!" (Luke 24:25). "Slow of heart" in this case meant something like "dull" or "lacking understanding." The Message puts it this way, "So thick-headed! So slow-hearted! Why can't you simply believe all that the prophets said?" (24:25).
Jesus did not, however, leave his disciples in their slow-heartedness. Instead, he took them on a study tour of the Hebrew Scriptures, showing them many things about himself, things that explained the necessity of his death and resurrection.
When Jesus and his disciples arrived at Emmaus, they gathered around the table for dinner. Jesus broke bread and offered it to his companions. In that moment they recognized him, and Jesus mysteriously disappeared. The disciples remarked to each other, "Were not our hearts burning within us while he was talking to us on the road, while he was opening the scriptures to us?" (Luke 24:32). Because of their encounter with Jesus and as a result of his biblical exposition, the two from Emmaus moved from slow hearts to burning hearts, from dense dullness to impassioned insight.
Though the expression "burning hearts" is uncommon in the Bible, we get its sense intuitively. Burning hearts have been stirred up or inflamed into passion. They are excited and fully alive. They are eager and ready to go.
In Scripture, the presence and power of God is often represented by fire (burning bush, pillar of fire, Mt. Sinai, etc.). In the Book of Acts, the Holy Spirit is poured out on the disciples of Jesus, who are touched by tongues of fire. Though the Spirit may well have had something to do with the burning hearts of the two disciples from Emmaus, in this story what gets them inflamed is the teaching of Jesus based on the Bible. Their hearts burned as Jesus "was opening the scriptures to us" (Luke 24:32).
Have you ever experienced anything like this? I have on numerous occasions. I remember, for example, a time when I was a freshman in college. In that day, there were many debates about the Holy Spirit and spiritual gifts and I was unsure what to believe. This worried me because I wanted to be filled with the Spirit and I wanted to have solid biblical theology. You might say I was stuck in "slow heart" mode, although I was working hard to get up to speed.
One Sunday evening I went to Park Street Church in Boston to hear a lecture on the Holy Spirit. The lecturer was Dr. Gordon Fee, a professor of New Testament at Gordon-Conwell Theological Seminary and a Pentecostal preacher. Dr. Fee, as a Pentecostal, certainly believed in the presence and power of the Spirit. Yet his theology was solidly grounded in the New Testament, especially the teaching of Paul. That night, guided by Dr. Fee's wisdom, I understood for the first time how the Holy Spirit worked in the lives of Christians. I learned that as a believer in Jesus, I had received the gift of the Spirit (see Romans 8). But I also learned that the Holy Spirit had so much more to give me in terms of experiences and giftedness (see 1 Corinthians 12-14). As I listened to Dr. Fee, my heart burned within me, a combination of delight in learning, joy in the truth, and eagerness to experience even more to the Spirit's work in and through me.
Sometimes my "burning heart" moment comes when I'm alone, working on a particularly challenging passage of Scripture. Suppose I'm writing a Life for Leaders devotion based on a biblical text that I find puzzling. I'll work hard on the original language. I'll read commentaries. I'll pray a lot. I'll wait on God. And then it will all of a sudden become clear to me. I'll see what Scripture is saying. In those moments my heart burns—a combination of gratitude for God's help through the Spirit, joy in learning something new about God, and excitement over the chance to share what I've learned with you.
Now, I'm sure that in many ways my heart is still plenty slow. There's much in Scripture that I don't understand. And I expect there's plenty that I think I get when in fact I'm missing the point. But to whatever extent I have learned what's true, I give thanks to God for teaching me through Scripture, through wise interpreters, through thoughtful reflection, and through the gifts of the Spirit.
I expect you join me in this gratitude. Plus, I expect that, like me, you'd love the Lord to reveal even more to you, turning our slow hearts into burning hearts for God.
Reflect
Can you remember a time in your life when you had a "burning heart" because of something you learned in a sermon or Bible study? If so, what did you learn? What was your experience like?
Do you ever ask the Lord to reveal more truth to you through Scripture? If so, what has happened? If not, would you be willing to start asking?
Act
Be intentional about asking God to teach you from Scripture. Pay attention to when this happens.
Pray
Lord Jesus, as I read the story of the disciples on the road, my heart begins to burn—perhaps, at first, more with eagerness than anything else. I would like to learn more about you. I would like you to teach me. I am eager to grow in my understanding and in my relationship with you.
I do thank you, Lord, for all the times you have taught me. I thank you, in particular, for wise faithful teachers who have done for me what you once did for the two disciples from Emmaus.
I also thank you for those times when I'm studying alone, but I'm not really alone because your Spirit is with me. Thanks for helping me to see things I would miss on my own.
Dear Lord, today I ask for an eager, open heart. May I be ready to learn from you. May I be available and pliable. And as you teach me, may my heart burn with joy, gladness, and passion for your truth. Amen.
Find all Life for Leaders devotions here. Explore what the Bible has to say about work at the unique website of our partners, the High Calling archive, hosted by the Theology of Work Project. Reflection on today's Life for Leaders theme can be found here: Present at the Table

---
Subscribe to Life for Leaders
Sign up to receive a Life for Leaders devotional each day in your inbox. It's free to subscribe and you can unsubscribe at any time.
---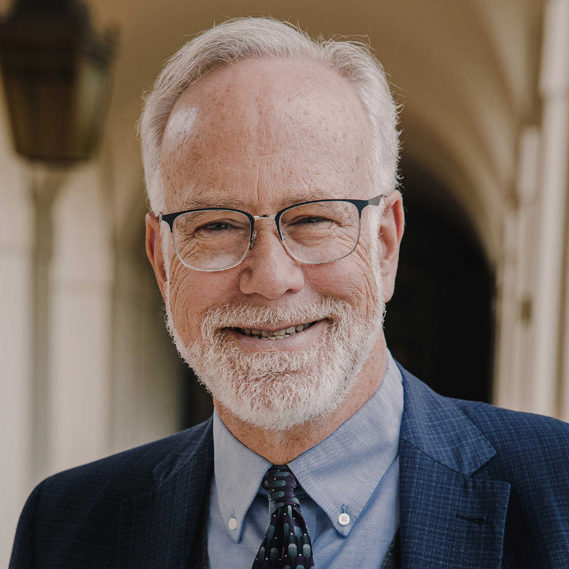 Dr. Mark D. Roberts is a Senior Strategist for Fuller's Max De Pree Center for Leadership, where he focuses on the spiritual development and thriving of leaders. He is the principal writer of the daily devotional, Life for Leaders, and the founder of the De Pree Center's Flourishing in the Third Third of Life Initiative. Previously, Mark was the Executive Director of the De Pree Center, the lead pastor of a church in Southern California, and the Senior Director of Laity Lodge in Texas. He has written eight books, dozens of articles, and over 2,500 devotions that help people discover the difference God makes in their daily life and leadership. With a Ph.D. in New Testament from Harvard, Mark teaches at Fuller Seminary, most recently in his D.Min. cohort on "Faith, Work, Economics, and Vocation." Mark is married to Linda, a marriage and family counselor, spiritual director, and executive coach. Their two grown children are educators on the high school and college level.