You are witnesses, and God also, how pure, upright, and blameless our conduct was toward you believers.
Focus
Trust in leaders is near or at an all-time low. Thus, we who lead need to earn people's trust by the way we live day to day, month to month, year to year. The example of the Apostle Paul and his colleagues encourages us to be the sort of people who deserve to be trusted. This doesn't mean we're perfect. But it does mean we own our mistakes and seek to make amends.
Today's devotion is part of the series Encouragement from 1 Thessalonians.
Devotion
A recent headline of an article in Forbes caught my eye: "Customers Don't Trust Businesses As Much As Executives Think They Should, PwC Study Finds." This article summarized the findings of a recent survey by PwC (AKA PricewaterhouseCoopers). This survey found that 87% of business leaders believe consumers highly trust their company. In fact, however, only 30% of consumers highly trust companies. Given how important trust is for businesses – PwC calls it the "new currency for business" – this 57% gap is striking and surely worrisome to business leaders (at least it should be).
Yet it's not all that surprising. According to the Pew Research Center, public trust in government is near an all-time low. Only 1-in-5 Americans trust the government to do what's right "just about always" (2%) or "most of the time" (19%). Pew also found that since the pandemic, public trust in educational leaders "has fallen sharply." Similarly, a few months ago Barna reported that "U.S. adults are unsure whether pastors in their local community can be trusted, are in touch with their community's needs and are reliable sources of wisdom and leadership." The broad lack of trust in leadership reflects the first point in the Edelman Trust Barometer 2022: "Distrust is now society's default emotion." According to Edelman, "Nearly 6 in 10 say their default tendency is to distrust something until they see evidence it is trustworthy."
That last phrase is worth noting carefully: "Nearly 6 in 10 say their default tendency is to distrust something until they see evidence it is trustworthy." People today begin from a place of distrust, but they can be led to a place of trust if those who lead are found to be trustworthy. I know this is true for me. My own trust in people and institutions is pretty low these days, but I do trust many people in my life—including my wife, children, and family members, my doctor and his staff, my boss, colleagues, and board members, and even the guy who works on our cars. In each case, those whom I trust have earned it. I have seen ample evidence that they are trustworthy.
The Apostle Paul and his church-planting colleagues in Thessalonica understood that they had to earn the trust of their converts. In a previous devotion ("How NOT to Lead") I explained that the first-century Roman world was full of self-anointed "philosophers" who traveled around peddling their metaphysical and ethical wares. Many if not most of these wandering philosophers sought their own advantage above all. They taught, often deceitfully, in order to receive glory and especially money from those they instructed. Thus, when Paul and Co. began preaching in a new city, they would have encountered a default tendency towards distrust. Then, of course, their announcement that a crucified Jewish man was the savior of the world would have increased the distrust of their audience. It was crucial for these apostolic church planters to act in a way that was "pure, upright, and blameless" (2:10).
It is crucial for us to do the same if we're going to earn the trust of our colleagues, subordinates, superiors, customers, partners, congregants, students, relatives, neighbors, and constituents. Wherever you are a leader, your effectiveness depends on your being trusted, and your trustworthiness depends on how you act, day in day out, week by week, month by month, year by year.
Now, I'd like to add a couple of comments about the phrase "pure, upright, and blameless." First, it's important to note that this is not a claim to freedom from all sin. Paul and his colleagues are not saying their hearts were 100% pure all the time. Rather, they are making a claim about their behavior. Second, I don't believe they are saying that they never did anything wrong. We all make mistakes. Being "upright" doesn't mean being perfect. It does mean doing the right thing after the wrong thing: admitting our error, asking for forgiveness (if needed), making restitution (if needed), learning from our mistakes, etc.
Nevertheless, 1 Thessalonians does set the bar high. If we're going to follow the example of Paul and his co-workers, then we will pay close attention to how we're actually living. We'll be open to feedback from others with respect to our shortcomings. We'll admit our errors and seek to make things right. We'll earn the trust of others by how we live and lead each day. This is a demanding challenge, to be sure. But it's one that's both fitting for a follower of Jesus and so desperately needed in our day.
Reflect
How do you relate to the "default tendency to distrust"? Does this describe you? If so, why? If not, why not?
Whom do you trust in your life? Why do you trust them?
To what extent are you leading in a way that builds trust?
Act
Take some time for personal reflection and prayer. Ask the Lord to show you how you might live and lead in a way that is more trustworthy. Decide to do (or not to do) at least one thing so as to increase your trustworthiness factor.
Pray
Gracious God, first of all I want to thank you for being utterly trustworthy. Proverbs 3:5 invites us to trust in you with all of our heart. We can do this because of who you are and how you have made yourself known to us. We can trust in you because we know you to be so very trustworthy.
Lord, help me to be more like you in this regard. I'll never reach your level of trustworthiness, of course. But, by your grace, I can live in such a way that I earn the trust of others. Help me to be someone people trust at work, at home, in church, and in the wider community. And when I mess up, give me the honesty and humility to admit my mistake and make things right.
I also want to pray for my leaders. Help them, Lord, to be trustworthy in all they do and say. Thank you for those people in my life whom I can trust because they have earned it. May they continue to live with integrity and faithfulness. Amen.
Find all Life for Leaders devotions here. Explore what the Bible has to say about work at the unique website of our partners, the Theology of Work Project. A video on today's Life for Leaders theme can be found here: Proverbs: God's Great Self-Help Book (Video)

---
Subscribe to Life for Leaders
Sign up to receive a Life for Leaders devotional each day in your inbox. It's free to subscribe and you can unsubscribe at any time.
---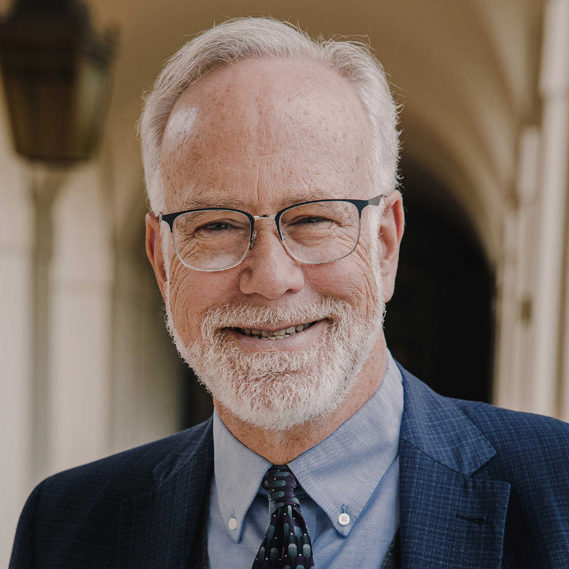 Dr. Mark D. Roberts is a Senior Strategist for Fuller's Max De Pree Center for Leadership, where he focuses on the spiritual development and thriving of leaders. He is the principal writer of the daily devotional, Life for Leaders, and the founder of the De Pree Center's Flourishing in the Third Third of Life Initiative. Previously, Mark was the Executive Director of the De Pree Center, the lead pastor of a church in Southern California, and the Senior Director of Laity Lodge in Texas. He has written eight books, dozens of articles, and over 2,500 devotions that help people discover the difference God makes in their daily life and leadership. With a Ph.D. in New Testament from Harvard, Mark teaches at Fuller Seminary, most recently in his D.Min. cohort on "Faith, Work, Economics, and Vocation." Mark is married to Linda, a marriage and family counselor, spiritual director, and executive coach. Their two grown children are educators on the high school and college level.