God is our refuge and strength,
a very present help in trouble.
Therefore we will not fear, though the earth should change,
though the mountains shake in the heart of the sea;
though its waters roar and foam,
though the mountains tremble with its tumult. Selah
I'm writing this on Thursday, March 12, 2020. Today, the Centers for Disease Control reported that 1,215 people in the U.S. have COVID-19 (AKA, the novel coronavirus). 36 people have died from this disease so far. By the time you read this on Monday, those numbers will surely be higher. We are just beginning to experience what the World Health Organization now identifies as a pandemic.
A few moments ago I received a text from my daughter who lives in the Bay Area. The high school in which she teaches tenth-grade history will be closed for at least two weeks because of fears of COVID-19. No doubt that was a weighty decision for the principal, balancing health concerns with learning goals and overall student wellbeing.
According to the latest news, the NCAA has cancelled March Madness. The NBA has suspended its season. Major League Baseball has ended spring training and delayed opening day for at least two weeks. Across the United States, conferences have been cancelled, businesses closed, and major universities emptied of students. Church leaders have decided to have worship services only online. All of these decisions must have been painful for the leaders responsible for them, given the huge disruption they will cause and the clash of deeply held values.
Closer to home, I cancelled my speaking trip to Seattle on the advice of a trusted Northwest friend. Fuller Seminary, where I work, now prohibits gatherings of more than 50 people at a time. All classes will be held online. I've encouraged my staff to work from home if they can. Plus, my newsfeed just reported that the city where I live, Pasadena, California, has its first case of the novel coronavirus. The school district has cancelled all non-essential gatherings, but not its classes—at least not yet. No doubt the school board is struggling with how best to care for its students and staff.
Across our country and, indeed, throughout the world, leaders in all settings are dealing with some of the hardest decisions they've ever faced, whether they are responsible for millions of citizens, thousands of students, hundreds of workers, or their own two children. Exercising wise leadership is never easy. Leading in a crisis can be excruciating, especially when there are so many unknowns, so many risks, and so many fears.
I had already been wondering about whether I should change course and write a series of devotions related to the COVID-19 crisis when I received an email from a thoughtful Life for Leaders reader encouraging me to do so. I was grateful for his counsel and have followed it. Note: One way God makes a difference for leaders in a crisis is by giving us wise brothers and sisters to help us. In the Lord we are not alone. So, in today's Life for Leaders devotion, and in several more to come, I want to reflect with you, not on the facts of the COVID-19 crisis, but rather on the difference God can make for those of us who are leading in this crisis. No matter the context of your leadership, I expect you feel the heaviness of the responsibility entrusted to you. You want to lead well, to make right decisions, to care wisely for the people and organizations entrusted to your care. You long for God's help. You understand, now more than ever, just how much you need the Lord's wisdom, strength, and peace if you're going to lead well, not to mention live well.
Once I decided to reflect on leadership in a time of crisis, I began to think and pray about where I might begin. Scripture is full of excellent places to start. Before long, Psalm 46 came to mind. As I began to read it, my heart responded intensely. "God is our refuge and strength." O God, we need you as our refuge and strength right now! "A very present help in trouble." We are in trouble, Lord. We need your presence, your very present help at this time! "Therefore we will not fear." O, Lord, help us not to be afraid. Help me to fear not. Yet, at the same time, help me to be wise about the genuine threat we face, and to lead out of that wisdom.
I believe that we who lead need the truth, the promise, and the invitation of Psalm 46 today. I also believe that those whom we lead need us to lead from a place of deep trust in God. They need us to remind them through our words and our deeds that God is a very present help in trouble. When we make difficult decisions that upset people's lives, and when we communicate difficult truths, we must do so in a way that also reflects God's presence and care.
This devotion is already on the long side, so I won't continue on in Psalm 46. I'll get back to it tomorrow. For now, let me encourage you to read this psalm and let it percolate in your mind and heart. Know that God is your refuge, your strength, and your very present help in trouble, right now.
Something to Think About:
How are you feeling about all that is going on in relationship to the coronavirus?
If you feel fear, what are your afraid of?
How do you need God to be your refuge and strength today?
Something to Do:
Read Psalm 46:1-11. Pay attention to what in this psalm strikes your heart. What is God saying to you today through this psalm?
Prayer:
Gracious God, today I am profoundly aware of how much I need you. And I am profoundly grateful for the fact that you are there for me. You are not just available, but very present, a very present help in trouble. Thank you!
Fear seems to be everywhere right now, Lord: fear of disease, fear of death, fear of other people, fear of disruption, fear of economic ruin, fear of the loss of life as we know it. Without you, fear may well make sense. But if you are our refuge and strength, if you are our very present help, then we will not let fear overwhelm us. O Lord, may the truth of who you are keep our hearts from fear.
Today, Lord, we pray for leaders in business and government, in schools and churches, in families and neighborhoods. May they turn to you for strength and wisdom. May they have the courage to make difficult decisions for the sake of those they serve.
I pray especially for those who will read this devotion, that you might make yourself known to them right now. May they be reassured that you are their refuge and strength, that you are with them in this time of crisis, and forever. Guide them in their decisions. Help them to see what they need to see and bless them with your peace. Amen.
Free Subscription to Life for Leaders
If you would like to receive a Life for Leaders devotional like this one, each day, in your inbox, without cost, please subscribe to Life for Leaders. You can unsubscribe at any time.
Learn More About Life for Leaders
You can access all of our Life for Leaders devotions HERE. You can also learn more about the De Pree Center and its resources HERE.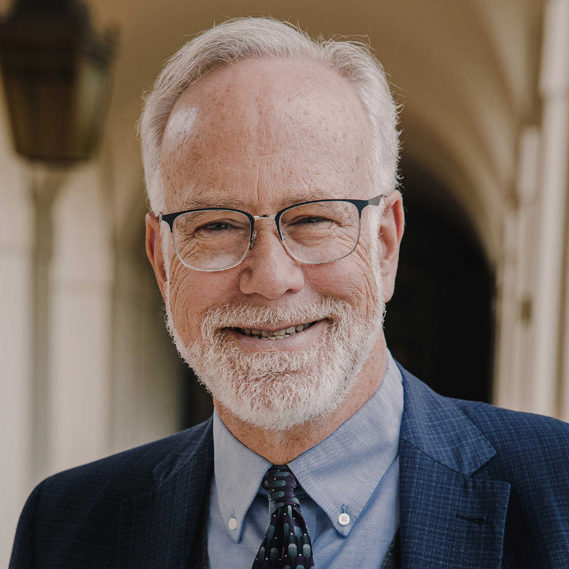 Dr. Mark D. Roberts is a Senior Strategist for Fuller's Max De Pree Center for Leadership, where he focuses on the spiritual development and thriving of leaders. He is the principal writer of the daily devotional, Life for Leaders, and the founder of the De Pree Center's Flourishing in the Third Third of Life Initiative. Previously, Mark was the Executive Director of the De Pree Center, the lead pastor of a church in Southern California, and the Senior Director of Laity Lodge in Texas. He has written eight books, dozens of articles, and over 2,500 devotions that help people discover the difference God makes in their daily life and leadership. With a Ph.D. in New Testament from Harvard, Mark teaches at Fuller Seminary, most recently in his D.Min. cohort on "Faith, Work, Economics, and Vocation." Mark is married to Linda, a marriage and family counselor, spiritual director, and executive coach. Their two grown children are educators on the high school and college level.