The words of Nehemiah son of Hacaliah. In the month of Chislev, in the twentieth year, while I was in Susa the capital, one of my brothers, Hanani, came with certain men from Judah; and I asked them about the Jews that survived, those who had escaped the captivity, and about Jerusalem. They replied, "The survivors there in the province who escaped captivity are in great trouble and shame; the wall of Jerusalem is broken down, and its gates have been destroyed by fire." When I heard these words I sat down and wept, and mourned for days, fasting and praying before the God of heaven.
In the wake of the COVID-19 crisis, last week I began a series of Life for Leaders devotions I'm calling: Leading in a Crisis: The Difference God Makes. (You can find the first devotions in this series here.)
So, an unexpected crisis hits and you're a leader. What should you do? Where should you start? The Old Testament example of Nehemiah provides a striking answer to these questions.
Nehemiah, a Jewish man, was the cupbearer to the Persian king, Artaxerxes, in the fifth-century B.C. He lived in Susa, a city where the Persian kings spent the winter (modern day Shush, near the Iran/Iraq border, about 1,000 miles from Jerusalem). Nehemiah was one of many Jews who had been scattered throughout the Ancient Near East as a result of Babylon's conquering of Jerusalem in 587 B.C.
One day Nehemiah received a report from some visitors from Judah about the dire situation of Jerusalem and the people who were still living in that region. They were suffering "great trouble and shame" because "the wall of Jerusalem is broken down, and its gates have been destroyed by fire" (Nehemiah 1:3). For Nehemiah, as well as for Jews throughout the Ancient Near East, this was a major crisis. It meant that the ancestral home of the Jewish people was on the verge of extinction, with no hope of restoration. The fact that Nehemiah felt this to be a crisis is obvious from his strong emotional and behavioral response to this alarming news.
If you look ahead in the book of Nehemiah, you'll see that he exercised extraordinary leadership in the midst of this crisis, with extraordinary results. I'll have more to say about that in future devotions. For now, however, I want to focus on Nehemiah's first response to the crisis. Where did he begin in his leadership?
We see this beginning in verse 4 of Nehemiah 1: "When I heard these words I sat down and wept, and mourned for days, fasting and praying before the God of heaven." What a striking verse! Here is the cupbearer to the king, a person of prominence and influence, whose heart is moved by the desperate situation of the people and places he loves. He not only feels deeply, but also shares this in his account he writes for others. Nehemiah is a man with a big heart, a person with strong feelings, a leader who is not afraid both to feel and to share his feelings with others.
Where does Nehemiah start in his response to a crisis? He starts by being fully human. He starts by feeling emotions and acknowledging them. This is both normal and healthy. Sometimes we have an image of leaders as people of steely will and steel-clad hearts. They think and decide but do not feel, or at least they do not express their feelings. To be sure, there are times when leaders need both strong will and guarded hearts. But godly leaders are not emotionally stunted. Rather, they are people whose hearts are open both to God and to others. They are touched by human suffering. They feel longings and losses. They are not afraid to reveal their big-heartedness to others. (For another stunning example of this, see 2 Corinthians 1:3-11. Of course we also have the example of Jesus in Gethsemane in Mark 14:32-42.)
Leaders mustn't be governed by emotions, of course. They need to exercise all of their human faculties when they lead, especially in times of crisis. But Nehemiah's example encourages us not to ignore or mask our true feelings. When it comes to your leadership in the COVID-19 crisis, I expect you have many feelings: fear, compassion, frustration, anxiety, confusion, distraction, hope, hopelessness, sadness, anger, love, and gratitude. I'm sure you could add to this list. My point here is that you will be a leader of integrity if you allow yourself to feel, acknowledging your feelings to yourself and others—and, as we'll see tomorrow, also to God.
Why are feelings so important for leading in a crisis? In part, emotions are an integral part of being human and leaders are human. Those who forget this will not be healthy, wise leaders. Moreover, if we deny our feelings we may very well end up being dominated by them in ways that are unhelpful. On the flip side, if we pay attention to our feelings, if we nurture feelings of compassion and concern, we can harness the energy of our emotions for the strong leadership needed in a crisis. Plus, as leaders in a crisis we will need to help others deal with their feelings, and we can only do this well if we are in touch with and managing well our own feelings. (I'll have more to say about this in Wednesday's Life for Leaders devotion.)
Yesterday, I had a virtual meeting (are there other kinds now?) with a leader of an organization which, like most others, has been greatly impacted by the COVID-19 crisis. As we began our conversation, I said something like, "Wow! These are crazy times. I find myself pretty distracted and discombobulated some of the time. I'm sure you feel similarly." He shook his head and responded quickly, "No, I'm doing just fine. My team is working from home and everything is in order here." I said, "Wow! That's great. I'm glad for you." But as our call continued it was obvious that my colleague was not himself. Understandably, he was showing signs of the disruption he was feeling. I did not point this out to him. But I did wish that he had more freedom to know himself, to be honest, to acknowledge his humanness. It would help him as a leader and I'm sure it would help his team as they work with him. (Note to self: I need to be sure my team knows that I'm feeling more than ordinary anxiety these days, and that this might very well seep into my thinking and acting.)
So, as you lead in these challenging times, let Nehemiah's example instruct and encourage you. Be fully human as you lead. Acknowledge that you have feelings and also the content of these feelings. Don't deny what's true about yourself. Don't pretend to be the leader who is above it all. Reflect on your feelings and see what you can learn from them. Discover what God might be saying to you through your emotions. Let them give you strength for the leadership challenges you face. Share them with others, as is appropriate. And, be sure to bring your feelings to the Lord. More about this tomorrow. Stay tuned!
Something to Think About:
As you think about your leadership, what feelings are common for you? What do you do with these feelings?
What are you feeling these days in light of the COVID-19 pandemic? Consider the variety of feelings you might have, in addition to obvious ones like "fear" or "confusion." At the same time, be sure to acknowledge fear or confusion if you have them.
Do you have safe places in your life where you can express your feelings openly? If so, what are these? If not, can you imagine a context in which you could be more open about your feelings, such as with a close friend or pastor or small group or spouse or . . . ?
Something to Do:
If you haven't done so, set aside some time to reflect on what you're feeling these days as a leader in a time of crisis. What might you learn from your feelings? Talk with God about this.
Prayer:
Gracious God, thank you for the example of Nehemiah. Thank you for his big heart and for his ability to share this heart with others.
Help me, Lord, in my life and leadership, to be a whole person. May I pay attention to what I'm feeling. As I do, I ask you to enlarge my heart. Give me greater compassion and courage. May my feelings be in service to my leadership, such that your will is done through me. Amen.
Free Subscription to Life for Leaders
If you would like to receive a Life for Leaders devotional like this one, each day, in your inbox, without cost, please subscribe to Life for Leaders. You can unsubscribe at any time.
Learn More About Life for Leaders
You can access all of our Life for Leaders devotions HERE. You can also learn more about the De Pree Center and its resources HERE.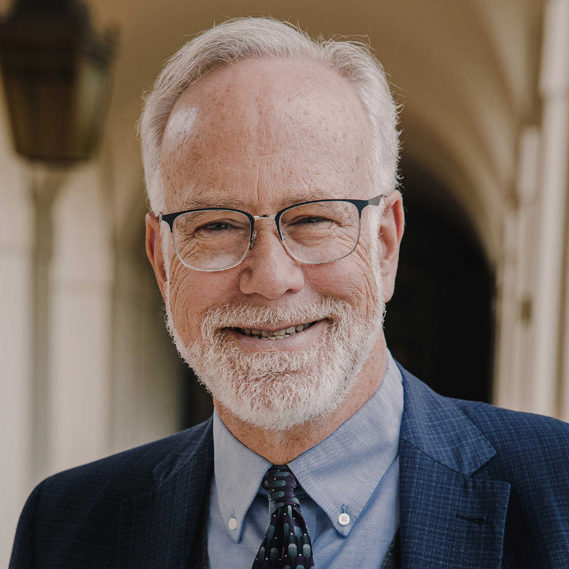 Dr. Mark D. Roberts is a Senior Strategist for Fuller's Max De Pree Center for Leadership, where he focuses on the spiritual development and thriving of leaders. He is the principal writer of the daily devotional, Life for Leaders, and the founder of the De Pree Center's Flourishing in the Third Third of Life Initiative. Previously, Mark was the Executive Director of the De Pree Center, the lead pastor of a church in Southern California, and the Senior Director of Laity Lodge in Texas. He has written eight books, dozens of articles, and over 2,500 devotions that help people discover the difference God makes in their daily life and leadership. With a Ph.D. in New Testament from Harvard, Mark teaches at Fuller Seminary, most recently in his D.Min. cohort on "Faith, Work, Economics, and Vocation." Mark is married to Linda, a marriage and family counselor, spiritual director, and executive coach. Their two grown children are educators on the high school and college level.