Now may our God and Father himself and our Lord Jesus direct our way to you. And may the Lord make you increase and abound in love for one another and for all, just as we abound in love for you. And may he so strengthen your hearts in holiness that you may be blameless before our God and Father at the coming of our Lord Jesus with all his saints.
Focus
God teaches us how to love in various ways. One of the main ones is through the example and inspiration of others. As we see people loving actively, even sacrificially, we will be led to imitate their actions. At the same time, when we act in love toward people, we will model love for others as well.
Devotion
In yesterday's Life for Leaders devotion I began reflecting on the first part of a wish prayer that appears in 1 Thessalonians 3:12: "And may the Lord make you increase and abound in love for one another and for all, just as we abound in love for you." I talked about how God helps us to grow in love, often by guiding us to love certain people in certain ways.
Today I want to think with you about the last phrase of verse 12: "just as we abound in love for you." Paul and his fellow pastors want the Thessalonians to be exceedingly loving, just like themselves. In effect, the letter writers are saying, "May God help you to imitate us when it comes to loving others."
When it comes to growing in love, one way God helps us is by giving us examples to follow. We watch as others love, both learning from them how to do and being inspired by them to do it.
Therefore, if you want to grow in love, you should hang out with loving people.
As I work on this devotion, I've been thinking about people in my life who have taught me how to love by the way they live their lives. I remember people I have known in different stages of life and how their loving actions impressed and shaped me. I've wondered if there is one person whose loving way had the greatest impact on my life. I'm quite sure there is: my mother.
To be sure, I experienced my mother's love from the earliest days of my life. I don't remember these days, however. But I do remember some ways my mom loved me when I was a boy. I think of how she would rock me to sleep if I were to wake in the middle of the night after having a terrifying dream. Or I remember the little notes she would put in my lunch when I was in first grade. Given that my mom and I shared 59 years of life together, I could go on and on talking about how she loved me.
But my mom's love wasn't limited to members of her family. She actively loved others, such as the girls in her Girl Scout troop, the people she'd invited to our home for Christmas dinner, and, most of all, the children and families that were part of the Sunday School at the First Presbyterian Church of Hollywood. My mom was the children and family ministries director there for 17 years, during which time she was esteemed for her loving way with hundreds of people, spanning the spectrum from an Emmy-winning mom to children and parents living without homes.
Now, you could say that my mom's love for the kids and parents at church was admirable, but also a part of her job. She was expected to love this way. That's true, but when my mom retired, she didn't stop loving, even sacrificially. For example, after my mom retired, she still went on family ministry camping trips, sleeping in a tent on the ground, serving meals, supporting parents, and hugging children. This was not her job. It was her opportunity to love by serving others. (I've shared this photo of my mom before. It's one of my favorites. It was taken at Yosemite on one of those family ministry trips. As you can see, my tent-camping 70-year-old-plus mom was delighted by the opportunity to give of herself by loving others.)
I have dear friends whose parents did not model love for them. Sometimes what they received at home was anything but loving. Yet they have experienced love from the Lord communicated through sisters and brothers in the faith. Such love can be comforting, healing, transforming, and empowering. This fact reminds us that we are not only to learn to love from others. We are also to love in such a way that others learn from us. Especially as we become mature in faith, we are called to be for others what Paul, Silvanus, and Timothy were for the Thessalonians.
This truth leads me to ask myself: Am I living in such a way that people see authentic love in me? Would anyone be taught to love by my example? Would anyone be inspired to love because of me? Perhaps you'll want to noodle on these questions for yourself. You can do so by using the questions below if you wish.
Reflect
Who in your life has taught you how to love? What did you learn from this person (or these people)?
Are you living in such a way that people see authentic love in you? Are you teaching and/or inspiring others to love by your example?
Act
Ask the Lord to guide you to someone who needs love today. Reach out to that person as the Spirit leads.
Pray
Gracious God, you are indeed a loving God. You are the source of all love. You are, indeed, Love. How I praise and thank you for your love! How I praise and thank you for loving me!
Thank you, dear Lord, for the people I have known who have taught me how to love. Thank you for their wisdom, kindness, and sacrifice. Thank you for how their example both instructs and inspires me.
Help me, I pray, to love others in such a way that I am that kind of example and inspiration. May my love be authentic, costly, and serving. Help me to love in wise ways. Direct me, Lord, to those whom I should love. May this happen even today!
All praise be to you, loving, gracious God! Amen.
Find all Life for Leaders devotions here. Explore what the Bible has to say about work at the unique website of our partners, the Theology of Work Project. Commentary on today's Life for Leaders theme can be found here: The Great Commandment is a Great Framework (Matthew 22:34-40)

---
Subscribe to Life for Leaders
Sign up to receive a Life for Leaders devotional each day in your inbox. It's free to subscribe and you can unsubscribe at any time.
---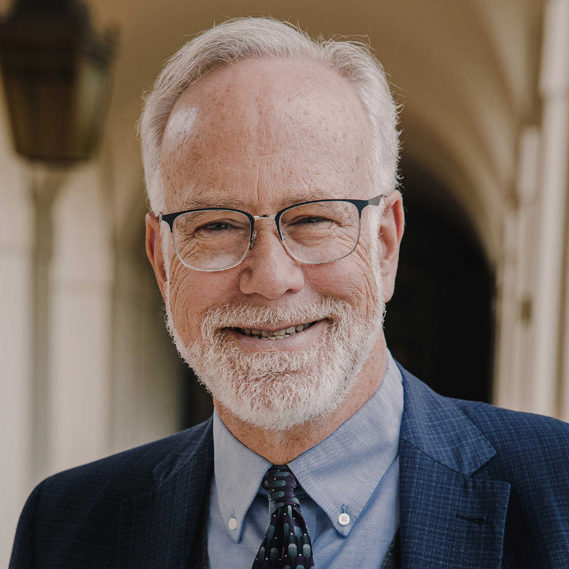 Dr. Mark D. Roberts is a Senior Strategist for Fuller's Max De Pree Center for Leadership, where he focuses on the spiritual development and thriving of leaders. He is the principal writer of the daily devotional, Life for Leaders, and the founder of the De Pree Center's Flourishing in the Third Third of Life Initiative. Previously, Mark was the Executive Director of the De Pree Center, the lead pastor of a church in Southern California, and the Senior Director of Laity Lodge in Texas. He has written eight books, dozens of articles, and over 2,500 devotions that help people discover the difference God makes in their daily life and leadership. With a Ph.D. in New Testament from Harvard, Mark teaches at Fuller Seminary, most recently in his D.Min. cohort on "Faith, Work, Economics, and Vocation." Mark is married to Linda, a marriage and family counselor, spiritual director, and executive coach. Their two grown children are educators on the high school and college level.