FAITH-WORK INTEGRATION: NEW LEARNING FOR A NEW DAY
Monday, Jun 26, 2023 at 7:30PM – 9:00 PM
Regent College, Vancouver, Canada
Lecture by Rev. Mark D. Roberts, Ph.D.
Senior Strategist for the Max De Pree Center for Leadership, Fuller Seminary

.
De Pree Center Newsletters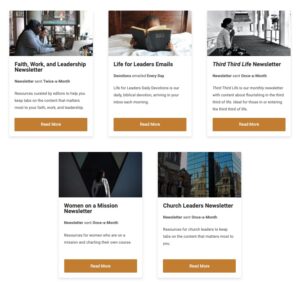 The De Pree Center offers the following free email newsletters:
Faith, Work, and Leadership
Life for Leaders Daily Devotions
Third Third Life
Women on a Mission
Church Leadership Institute
To sign up for one or more of these newsletters, click here.
Note: There is no charge to subscribe to any of our newsletters and you can unsubscribe at any time.
---
Lecture Outline and Links
A. Introduction
Miller, David. God at Work: The History and Promise of the Faith at Work Movement
Stevens, R. Paul. The Other Six Days: Vocation, Work, and Ministry in Biblical Perspective.
Clip from "Annie Hall" with Marshall McLuhan
B. Foundational Truths of the Faith-Work Era:
1. Your work matters to God.
Sherman, Doug, and Henricks, William. Your Work Matters to God.
Nelson, Tom. Work Matters: Connecting Sunday Worship to Monday Work.
2. Your work is a primary place for you to live out your calling as a disciple of Jesus.
O'Donnell, Michaela. Make Work Matter: Your Guide to Meaningful Work in a Changing World.
3. Work is a context for evangelism (expression) . . . and for ethics, experience, and enrichment. 
Miller, David. "The Integration Box (TIB): An Individual and Institutional Faith, Religion, and Spirituality at Work Assessment Tool."
4. The sacred/secular divide is mistaken and unsupported by Scripture and Christian theology. The God who created all things cares about all things, is Sovereign over all things, and will one day renew all things in Christ (Eph 1:10; Rev 21:5).
Stevens, R. Paul (from Theology of Work). Sacred-Secular Dualism – Worst Heresy of the Christian Church Worldwide.
C. New Learning for a New Day
1. New Collaborations
Lausanne Global Workplace Forum, June 2019, Manila, Philippines
Theology of Work diversifying its leadership.
2. New Concerns
Theology of Work articles on "Justice."
3. New Challenges
Friedman, Thomas L. Thank You for Being Late.
4. New Communities
Johnson, Megan, Hacker, Amber, Hill, Michael, and Patel, Eboo. "Where Religious Identity Fits into Your DEI Strategy," Harvard Business Review, June 2023.
Theology of Work and partners, How to Start a Faith-Based Employee Resource Group (ERG)
5. New Concepts
London Institute for Contemporary Christianity (Jolley, Matt). "What is a whole-life disciple?"
Guder, Darrel and Hunsberger, Gordon. Missional Church: A Vision for the Sending of the Church in North America.
Kaemingk, Matthew, and Willson, Cory. Work and Worship: Reconnecting Our Labor and Liturgy.
6. New Cultivation
Daniels, Denise, and Vandewarker, Shannon. Working in the Presence of God: Spiritual Practices for Everyday Work
Life for Leaders, daily digital devotional of the De Pree Center.
52 Workday Prayers: Learn from the Psalms How to Pray Through Your Work, by Mark Roberts
7. New Constituency
Third Third Initiative of the Max De Pree Center for Leadership, Fuller Seminary
Wright, Walter. The Third Third of Life: Preparing for Your Future.
Stevens, R. Paul. Aging Matters: Finding Your Calling for the Rest of Your Life.
Houston, James and Parker, Michael. A Vision for the Aging Church: Renewing Ministry for and by Seniors.
Houston, James. Blog Posts & Letters.
Conclusion
New Collaborations
New Concerns
New Challenges
New Communities
New Concepts
New Cultivation
New Constituency
---