What is Life for Leaders?
Life for Leaders is a daily devotional produced by the De Pree Center and emailed to over 7,500 subscribers each morning. It helps Christians make connections between their faith, work, leadership, and God. Based on Scripture, each Life for Leaders devotion includes a brief exposition of a biblical text, questions for reflection, and a model prayer that guides and, I hope, inspires your own prayers.
You can check out some recent devotions here. You'll see that sometimes Life for Leaders is built on passage-by-passage exposition of a book of the Bible. At other times my fellow writers and I explore particular themes relevant to your daily work. On Fridays, I offer what I call Prayers for Workers. These prayers, based on the biblical psalms, help you to pray specifically about the challenges, disappointments, and opportunities presented in your work.
Life for Leaders isn't only for those who are paid to work. All of us have work to do, whether we are compensated for it or not. Life for Leaders speaks to those whose work include parenting, volunteering, and otherwise making a difference in our world without being paid for it. Similarly, we write for all kinds of leaders, not just business leaders or church leaders. Your leadership might be in your family, your neighborhood, your kid's soccer team, or your church. We keep you in mind as we write.
Why do we produce Life for Leaders?
Why do we produce Life for Leaders? We have done this day in day out, for almost five years. That's more than 1,700 devotions. Why have we written these?
I can speak to this as the usual weekday writer. On the weekends we have a team of gifted people who write from their unique perspectives. In a nutshell, we produce Life for Leaders to help you discover God's presence in and care for your daily work. We write so that you might be a disciple of Jesus in every part of life. Underlying this "why" is our conviction that the words of Jesus, and the words of God throughout Scripture, are "full of the Spirit and life" (John 6:63). They're not only for private life, family life, and church life, but also for every facet of life, including our daily work. We want you to experience the abundant life offered by Jesus in every moment. And we want you to serve him in and through the work you do every day.
Life for Leaders is a devotional, not merely a collection of essays. Yes, we hope to instruct and encourage you through our biblical exposition. But Life for Leaders is meant to help you engage in the regular practices of biblical reflection and prayer in relationship to your daily work. These practices will form you for whole life discipleship.
How can you receive Life for Leaders?
It's really quite simple. All you have to do is subscribe. You can do so by clicking here and giving us your email address. When you do, you'll begin receiving one devotion in your email inbox early each morning. That's all there is to it. You'll keep on getting Life for Leaders this way unless you choose to unsubscribe (which can be done easily, by the way).
We are pleased to make Life for Leaders available without charge. The cost of writing and producing this devotional service is covered by donors who choose to support our work financially. If you subscribe, don't worry. We won't be hounding you for money. A few times each year we'll remind our readers of the chance to support us financially, but we avoid arm-twisting. It's our joy to be able to offer Life for Leaders to all who wish to receive it.
A Personal Word
Let me close with a personal word. Though I do not know most of our Life for Leaders subscribers, I am grateful to serve all of them. Over the years, I have heard from hundreds of readers who have shared with me how this devotional has made a difference in their lives. Their encouragement keeps our team and me going. It also helps us focus on the real life issues and needs of our subscribers. If you choose to receive Life for Leaders, feel free to contact me through the buttons at the bottom of each edition. You can send me a personal email or add a comment that will appear on our website. No pressure to do this! But I do want to invite you communicate with me if you feel so inclined.
Free Subscription to Life for Leaders
If you would like to receive a Life for Leaders devotional like this one, each day, in your inbox, without cost, please subscribe to Life for Leaders. You can unsubscribe at any time.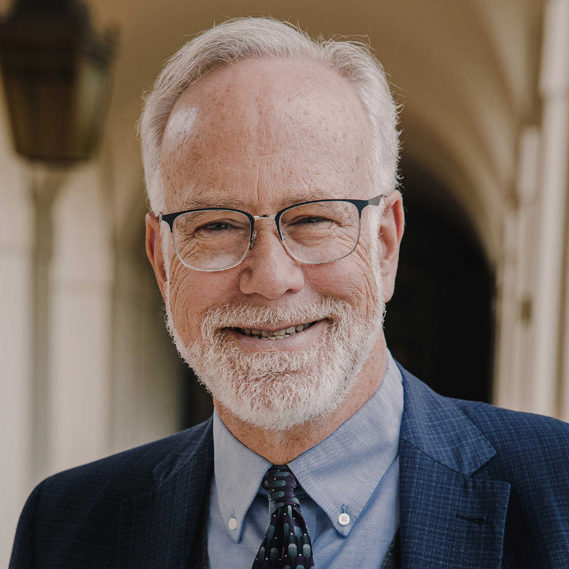 Dr. Mark D. Roberts is a Senior Strategist for Fuller's Max De Pree Center for Leadership, where he focuses on the spiritual development and thriving of leaders. He is the principal writer of the daily devotional, Life for Leaders, and the founder of the De Pree Center's Flourishing in the Third Third of Life Initiative. Previously, Mark was the Executive Director of the De Pree Center, the lead pastor of a church in Southern California, and the Senior Director of Laity Lodge in Texas. He has written eight books, dozens of articles, and over 2,500 devotions that help people discover the difference God makes in their daily life and leadership. With a Ph.D. in New Testament from Harvard, Mark teaches at Fuller Seminary, most recently in his D.Min. cohort on "Faith, Work, Economics, and Vocation." Mark is married to Linda, a marriage and family counselor, spiritual director, and executive coach. Their two grown children are educators on the high school and college level.