So Moses did as the LORD commanded him. He took Joshua and had him stand before Eleazar the priest and the whole congregation; he laid his hands on him and commissioned him—as the LORD had directed through Moses.
Focus
As Moses came to the end of his life, he wanted to be sure that the Israelites would be well-led when he died. So he asked the Lord for help. God instructed Moses to choose Joshua as his successor, publicly endorsing the younger man. The example of Moses reminds us that part of not "doing it alone" is recognizing that we won't always be doing what we are doing now in our work, both paid and unpaid. Like Moses, we can be intentional about seeing that our work continues on after we are no longer doing it.
Today's devotion is part of the Life for Leaders series: Can't Do It Alone.
Devotion
In Exodus 3, when Moses encountered the Lord at the burning bush, the Lord said, "I have come down to deliver [my people] from the Egyptians, and to bring them up out of that land to a good and broad land, a land flowing with milk and honey" (Exodus 3:8). The Lord chose Moses, along with his siblings Aaron and Miriam, to lead the Israelites out of Egypt and, ultimately, into the promised land.
Moses faithfully led God's people out of Egypt, with plenty of miraculous help from God. Moses was also essential to God's making a covenant with Israel and guiding them into covenant life through the Law. But Moses wasn't a perfect leader. After one particularly egregious moment of disobeying God so as to glorify himself, Moses learned that he would not, after all, lead the people into the promised land (Numbers 20:1-12). Instead, he would lead the Israelites to the edge of the land, where he would die (27:13-14).
As a responsible leader of his people, Moses was concerned for how they would do after his death. So he asked the Lord to "appoint someone over the congregation who shall go out before them, who shall lead them out and bring them in, so that the congregation of the LORD may not be like sheep without a shepherd" (Numbers 27:16-17). The Lord heeded this request, telling Moses to "Take Joshua son of Nun, a man in whom is the spirit, and lay your hand upon him; have him stand before Eleazar the priest and all the congregation, and commission him in their sight" (27:18-19). While he was still alive, Moses was told to share some of his authority with Joshua in preparation for what was to come (27:20-21).
Moses acted in obedience to God's directive: "[He] did as the LORD commanded him. He took Joshua and had him stand before Eleazar the priest and the whole congregation; he laid his hands on him and commissioned him" (27:22-23). Thus, when Moses died on Mt. Nebo while gazing upon the promised land, Joshua began leading the Israelites in Moses's place. They obeyed their new leader "because Moses had laid his hands on him" (Deuteronomy 34:1-9). The leadership succession was quite smooth.
This story illustrates yet another way in which Moses didn't do it alone. Knowing that his leadership – indeed, his time on earth – would come to an end, Moses worked out a succession plan with the Lord. God chose the person who would follow Moses as the national leader and instructed Moses to publicly endorse his replacement. Thus, both Joshua and the people were ready to carry on when Moses died. Joshua was the one who would lead the Israelites into the promised land.
The example of Moses suggests various ways in which we can't do it alone in life and leadership. For one thing, we will all die (assuming Christ doesn't return during our lifetimes). If we want our work to continue beyond our death, we need to consider how this might happen. Moreover, most of us will experience a variety of work- and life-related transitions before our final transition to eternal life. If we want our work to flourish beyond our individual efforts, we need to consider who might carry on after us and how.
Depending on your role as a leader, whether in work, church, family, school, or community, you may have considerable influence on who follows you or relatively little influence. I've experienced both options in my professional life. A couple of years ago, I had a major role in promoting Michaela O'Donnell as my successor as Executive Director of the De Pree Center. Yet, sixteen years ago when I left Irvine Presbyterian Church, I had almost nothing to do with the choice of my successor. In fact, I was explicitly instructed by Presbyterian officials to back off entirely.
Yet, even in that instance, I was able to support my successor in various ways. Before I left the church, I encouraged the congregation to support whoever their new pastor would be. Then, when Scott came to the church, I reached out to him personally. He and I became good friends. We would get together for a meal if I was in town. Scott invited me to preach sometimes. When I did, I'd be sure to share with the congregation my appreciation for Scott.
If you want the work of your life to have an impact beyond what you do yourself, then it's good to think about who might follow you and how you might support them. This pertains, not just to paid work, but to everything we do as fruit-bearing creatures. For example, when my mom was getting older, she began to think about how her care for our family might continue after she died. In addition to having a clear will drawn up, she added to it a moving preface, stressing her values for our family and urging us to love each other after she died. (I expect you know that sometimes families break apart over things like wills.) My mom also designated one of my sisters as executor, which was a wise move on her part. I wouldn't say my mom had a succession plan. But she did think carefully about how the work of her life would continue after she was gone.
Often we can pass on the work of our lives, not in the narrow sense of choosing our successor, but in a broader way. We can mentor younger people, helping them to become the leaders God has created them to be. We can pass on, not our specific responsibilities so much as our way of being, thinking, feeling, and acting. We can support those who will carry on after we're gone in what is perhaps the most important work of life: living as a faithful, fruitful disciple of Jesus Christ.
Reflect
Do you ever think of how your work will carry on when you're no longer doing it? If so, why? If not, why not?
How might you work differently if you took seriously the fact that, at some time, you will transition out of this work?
What might you do as a leader to ensure that those entrusted to your care will flourish when you are gone?
What are your thoughts about mentoring younger people? Are you doing it? Would you be interested in doing it?
Act
Our team at the De Pree Center is in the process of developing resources to equip mentors and mentees. You'll learn about this later in the year. At this point, we would love to hear from you, to learn about your experiences, questions, worries, hopes, etc. concerning mentoring. If you have something to share with us, please write me at markroberts@fuller.edu.
Pray
Gracious God, thank you for Moses's long years of leading and caring for his people. Thank you for his concern that they be well-led after his death. Thank you for raising up Joshua and for helping Moses know how best to endorse Joshua as Israel's future leader.
No matter what work I'm doing in life, help me to think about where it might go beyond me. Give me wisdom about my role in succession planning. Show me if there is someone in my life for whom I might be a mentor. And if I'm mentoring someone now, give me wisdom as I walk alongside my mentee. Amen.
Banner image by Anton Mislawsky on Unsplash.
Find all Life for Leaders devotions here. Explore what the Bible has to say about work at the unique website of our partners, the Theology of Work Project's online commentary. Reflection on today's Life for Leaders theme can be found here: Succession Planning (Numbers 27:12-23).
---
Subscribe to Life for Leaders
Sign up to receive a Life for Leaders devotional each day in your inbox. It's free to subscribe and you can unsubscribe at any time.
---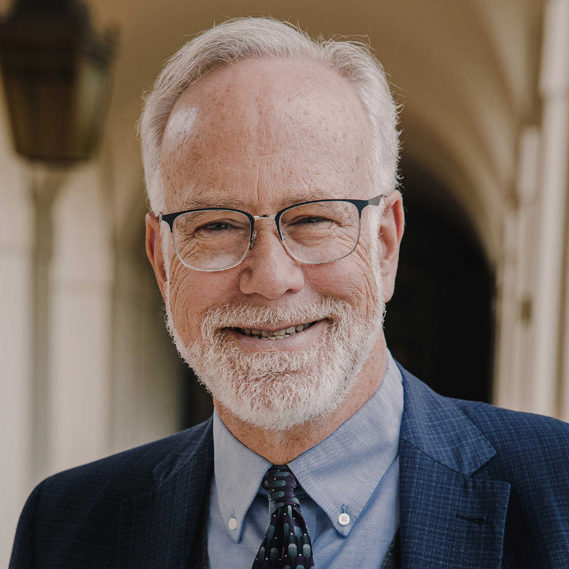 Dr. Mark D. Roberts is a Senior Strategist for Fuller's Max De Pree Center for Leadership, where he focuses on the spiritual development and thriving of leaders. He is the principal writer of the daily devotional, Life for Leaders, and the founder of the De Pree Center's Flourishing in the Third Third of Life Initiative. Previously, Mark was the Executive Director of the De Pree Center, the lead pastor of a church in Southern California, and the Senior Director of Laity Lodge in Texas. He has written eight books, dozens of articles, and over 2,500 devotions that help people discover the difference God makes in their daily life and leadership. With a Ph.D. in New Testament from Harvard, Mark teaches at Fuller Seminary, most recently in his D.Min. cohort on "Faith, Work, Economics, and Vocation." Mark is married to Linda, a marriage and family counselor, spiritual director, and executive coach. Their two grown children are educators on the high school and college level.