Two are better than one, because they have a good reward for their toil. For if they fall, one will lift up the other; but woe to one who is alone and falls and does not have another to help. Again, if two lie together, they keep warm; but how can one keep warm alone? And though one might prevail against another, two will withstand one. A threefold cord is not quickly broken.
Focus
Ecclesiastes 4:9 is popular at weddings. It begins: "Two are better than one." But the truth of this biblical passage relates to more than just marriage. No matter what we're going through in life, we need other people. And we need Christ woven into all of our relationships, all of our activities, all of our defeats, all of our victories.
Today's devotion is part of the Life for Leaders series: Can't Do It Alone.
Devotion
I've done dozens and dozens of weddings during my 35 years as a pastor. In every wedding I do, I read a portion of Scripture chosen by the bride and groom. Prior to the ceremony, we have talked about various options. I encourage the couple to choose a passage that reflects the biblical truth that speaks to them personally.
They almost always choose one of three passages. 1 Corinthians 13, "The Love Chapter," is a favorite, especially for those who want a more traditional ambiance in their wedding. Colossians 3:12-17 is a frequent choice because of its practical exhortations and affirmation that love "binds everything together in perfect harmony" (Colossians 3:14). But the most popular biblical passage for weddings in which I officiate is Ecclesiastes 4:9-12.
Brides and grooms understandably love the opening affirmation of this passage: "Two are better than one" (Ecclesiastes 4:9). In a nutshell, this explains one main reason they're getting married. They believe their lives will be better together. Moreover, they like the thought that "if they fall, one will lift up the other," because they know that difficult times will come (4:10). Brides and grooms are especially fond of this affirmation: "If two lie together, they keep warm; but how can one keep warm alone?" (4:11) I'm not sure, however, that keeping warm is what they're looking forward to most of all.
Christian couples see in the final line of Ecclesiastes 4:9-12 a veiled reference to the role of Christ in a marriage: "A threefold cord is not quickly broken" (4:12). The original saying referred to the simple fact that you need at least three braided strands to make a rope. Such a triple-strand cord will, of course, be much stronger than a single strand. So, though the author of Ecclesiastes was not thinking specifically about Christ in a marriage, the application of this imagery to Christian marriage works quite well. Couples for whom Christ is essential and welcome will have strong marriages, marriages that can sustain the challenges and hardships that husbands and wives routinely face.
Yet, we should understand that Ecclesiastes 4:9-12 is relevant not only to marriage relationships, but also to a wide variety of relationships, including relationships among friends, co-workers, roommates, neighbors, small group members, siblings, relatives, and so forth. Though you would be advised to reserve the lying together part for family life, the other benefits of relationships in this passage are more widely relevant. I think, for example, what my family and I experienced in the early 1970s. A substantial economic downturn led to my dad's being laid off from his job. He was unemployed for more than two years. This was, of course, devastating to my dad's sense of self. Yet his brothers in Christ from the church hung in there with him. When our family finances were pretty much nil, folks brought food, clothing, and even some pretty amazing Christmas presents. One brother in Christ helped my dad redo his resumé, which finally helped my dad get a job. If my family had attempted to go through this time of life alone, it would have been so much worse than what we actually experienced.
No matter where you are in life, no matter what you're going through right now, whether you're in a time of plenty or a time of want, whether you're rejoicing or sorrowing, remember this: Two are better than one. If you want to thrive, or even just to survive, you need other people.
And, yes, you also need the "third strand" in your life, in every part of life, not just in marriage. Christ is with you at all times, to strengthen you, guide you, protect you, heal you, and encourage you. The more you live each day in relationship with Christ and his people, the more you will never have to do it alone.
Reflect
As you look back on your life, when have you experienced the benefits of relationships in an especially powerful way? What happened? How did others being in your life make a difference?
Would you say that your life right now is characterized by the "two are better than one" principle? Who are the people with whom you share the things that matter most in life?
To what extent is Christ part of your whole life? Your work? Family? Marriage? Dating? Friendships? Education? Volunteering? Finances? Charitable giving? Citizenship? Church participation?
Act
Take time today or tomorrow to reach out to someone who is one of the "strands" in your cord. Check in with each other and discover how you might support each other in this season of life.
Pray
Gracious God, thank you for the wisdom of Ecclesiastes. Thank you for the truth that two are better than one. Thank you for creating us to be in relationship with others. Thank you for being in relationship with us.
Help me, Lord, to avoid trying to do life alone. May I nurture strong, deep, lasting relationships with the core people in my life. And may I be there for others, helping them not to do life alone.
Most of all, may I learn to do everything with you, by your wisdom and strength and for your glory. Amen.
Banner image by Onder Ortel on Unsplash.
Find all Life for Leaders devotions here. Explore what the Bible has to say about work at the unique website of our partners, the Theology of Work Project's online commentary. Reflection on today's Life for Leaders theme can be found here: Friendship (Eccl 4:7-4:16).
---
Subscribe to Life for Leaders
Sign up to receive a Life for Leaders devotional each day in your inbox. It's free to subscribe and you can unsubscribe at any time.
---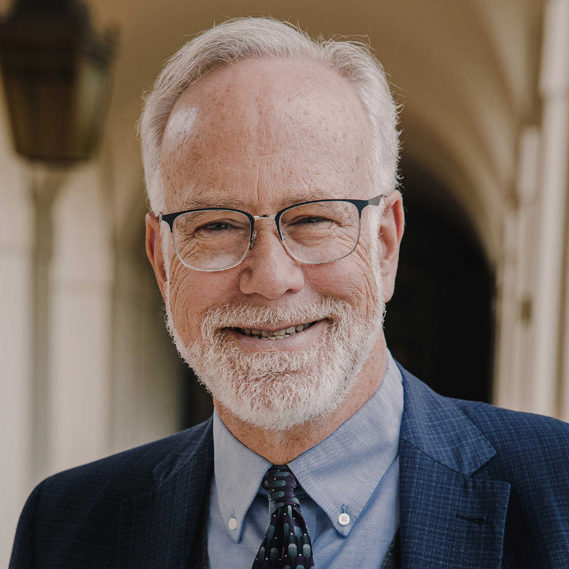 Dr. Mark D. Roberts is a Senior Strategist for Fuller's Max De Pree Center for Leadership, where he focuses on the spiritual development and thriving of leaders. He is the principal writer of the daily devotional, Life for Leaders, and the founder of the De Pree Center's Flourishing in the Third Third of Life Initiative. Previously, Mark was the Executive Director of the De Pree Center, the lead pastor of a church in Southern California, and the Senior Director of Laity Lodge in Texas. He has written eight books, dozens of articles, and over 2,500 devotions that help people discover the difference God makes in their daily life and leadership. With a Ph.D. in New Testament from Harvard, Mark teaches at Fuller Seminary, most recently in his D.Min. cohort on "Faith, Work, Economics, and Vocation." Mark is married to Linda, a marriage and family counselor, spiritual director, and executive coach. Their two grown children are educators on the high school and college level.