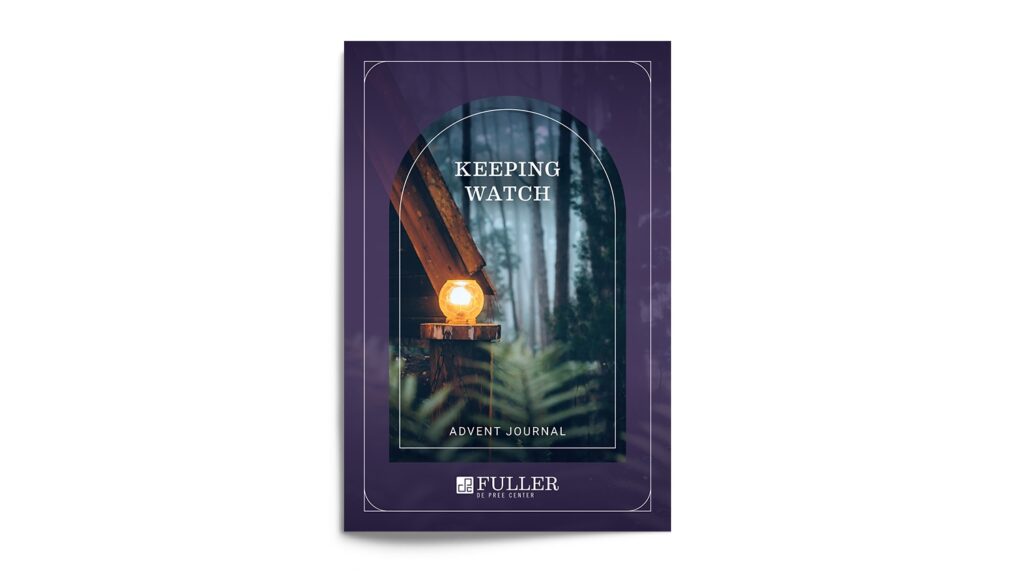 Keeping Watch: Advent Journal
In many of the Scripture passages we read during the season of Advent, Jesus calls us to keep watch. How can we train our attention and focus our senses on Christ so that we can anticipate not only his return but also his coming near to us in our daily lives? Our 2023 Advent journal invites you to reflect on thoughtful essays, engage in the ancient practices of Lectio and Visio Divina, and participate in activities that will help you learn to keep watch in your life, work, and leadership.
This product comes in two versions: as a digital PDF workbook, which can be downloaded for free; or as a printed paperback workbook, which can be purchased via our Amazon.com store.
- Easily printable format (6″x9″ portrait)
- 4 essays (divided up to be used across the 4 weeks of Advent) containing scripture, reflections, prayers, and activities like Lectio and Visio Divina.
This devotional can be used in a variety of ways:
- By yourself: Use the devotional five times a week during the four weeks of Advent (including Christmas Day).
- In a group: Go through the guide, one week at a time, with a small group.
This product comes in two versions: as a digital PDF workbook, which can be downloaded for free; or as a printed paperback workbook, which can be purchased via our Amazon.com store.
Price: Free!
The digital version of the workbook is our gift to you. Fill out the download form below to receive your free digital copy!
Price: $16.99
The printed, paperback version of the workbook can be purchased on the De Pree Center's Amazon.com storefront.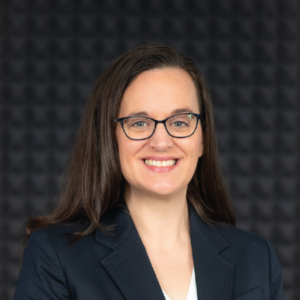 Dr. Meryl Herr is the Director of Research and Resources at the Max De Pree Center for Leadership where she designs and conducts research studies that add to the understanding of what helps marketplace leaders flourish. She also oversees the conversion of research findings into resources that will serve leaders across industries and seasons of life.
Meryl earned a BS from Vanderbilt University and an MDiv and PhD (Educational Studies) from Trinity Evangelical Divinity School. Her doctoral research focused on the role of imagining the future in vocational discipleship. After completing her doctorate, Meryl pursued additional training by completing a graduate certificate in Educational Research Methods through the University of Illinois at Chicago.
Hope is Born: An Advent Journal for Waiting & Working
Advent Journal, in partnership with the Dwell App
Free Download
Through an adaptation of the ancient practice of Lectio Divina, this Advent journal guides you to read or listen to passages of Scripture, reflect on them, ask God for wisdom and understanding, and respond to God's invitation.
Advent Devotions: Working Well in a Season of Waiting
Devotional Guide written by Meryl Herr
Free Download
This devotional invite us to focus anew on what it means to live faithfully in the time between Christ's first and second comings and to consider how Christ's first and second comings make a difference in our work.
Devotions for Christmas
A Devotional Guide by Mark Roberts
Price: $6.99
Christmas is about the birth of Christ and his coming into the world, taking on human flesh. In this season, we remember God becoming incarnate, embodied.
Stations of the Cross
A Devotional Guide for Lent and Holy Week by Mark D. Roberts
Price: $7.99
This guide helps us reflect with more intensity and emotion the events and meaning of Jesus's death. It invites us to draw near to the Lord in anticipation of Good Friday and Easter.
Welcome to Advent
Article by Mark D. Roberts
This article explains the meaning and celebrations of Advent.
Responding to the Wonder of Christmas
Devotional Series by Mark Roberts
If God is doing something unexpected in your life, if you're sensing the call of God to something that makes you afraid, don't be ashamed of your fearful response to God.