For the people of those regions report about us what kind of welcome we had among you, and how you turned to God from idols, to serve a living and true God, and to wait for his Son from heaven, whom he raised from the dead—Jesus, who rescues us from the wrath that is coming.
Focus
1 Thessalonians reveals that Jesus rescues us. He rescues us in the grand, cosmic sense by saving us – and all creation – from the ravages of sin and death. Jesus also rescues us in a deeply personal and present way, healing our brokenness and working for good in all things. Remembering that Jesus rescues us in both future and present ways encourages us to live with energy and purpose today.
Today's devotion is part of the series Encouragement from 1 Thessalonians.
Devotion
When I was around 12 years old, people talked a lot about "the second coming of Christ." Inspired by Hal Lindsay's Late Great Planet Earth, which sold over 28 million copies, my church friends and I spent hours in Bible studies trying to figure out exactly when and how Jesus was coming back to earth.
My very first rock music album, Upon This Rock, was by a Christian artist named Larry Norman. His signature song, "I Wish We'd All Been Ready," began with these somber words:
Life was filled with guns and war
And everyone got trampled on the floor
I wish we'd all been ready

Children died the days grew cold
A piece of bread could buy a bag of gold
I wish we'd all been ready

There's no time to change your mind
The Son has come and you've been left behind
As I listened to that plaintive song, one thing I knew for sure: I did not want to be left behind when Jesus returned!
I wonder if my 12-year-old self was encouraged by 1 Thessalonians 1:10. I should have been, because this verse offers the reassuring news that Jesus "rescues us from the wrath that is coming." Wrath, in this instance, isn't so much a matter of God being angry as it is God's judgment upon sin. Because we have been saved by Christ's death and resurrection, we don't have to fear that our sin will drag us down forever.
Today, I don't worry about the timing of Christ's return. Nor am I afraid of being left behind. But I do find the good news of 1 Thessalonians 1:10 encouraging in at least two ways. First, I am reminded that Jesus rescues us from far more than the coming wrath. We begin to experience the rescuing grace of God through Christ in this life, even as we wait for deliverance in the life to come. I can remember many ways in which Jesus has rescued me from difficult things I have experienced, mostly owing to my own poor choices.
Second, though my personal rescue in the age to come certainly matters to me, I am more drawn these days to the promise of God restoring and renewing, not just me, but everything. The vision of God's future in Revelation 21 inspires my hope:
See, the home of God is among mortals.
He will dwell with them as their God;
they will be his peoples,
and God himself will be with them;
he will wipe every tear from their eyes.
Death will be no more;
mourning and crying and pain will be no more,
for the first things have passed away.
And the one who was seated on the throne said,
"See, I am making all things new" (Revelation 21:1-5).
In a world so filled with suffering, injustice, violence, and sorrow, we yearn for the day when God makes all things new.
In the meanwhile, our confident hope in God's future encourages us to keep on going today. It reassures us that what we do now can actually matter for eternity (John 15:16). In Paul's first letter to the Corinthians, he spends most of a chapter reassuring them about God's future salvation. He wraps up in discussion by linking the future to the present: "Therefore, my beloved, be steadfast, immovable, always excelling in the work of the Lord, because you know that in the Lord your labor is not in vain" (1 Corinthians 15:58). In light of the personal and cosmic rescue that is coming, we are inspired to live now for God and God's purposes.
Reflect
Have you ever been in a Christian community that was preoccupied with the second coming of Christ? If so, what was that like?
Have you ever experienced Jesus rescuing you from something? If so, what happened? How did you respond?
These days, do you think often think about God's future? If so, why? If not, why not?
Act
At a time in the future God will restore all things, bringing justice, prosperity, and peace. Take some time to reflect upon this truth. As you do, think about which areas of life you are most eager for God to redeem and restore. Where do you feel the need for God's healing grace?
Pray
Gracious God, thank you for the reassurance that we will be rescued from the coming judgment. Because of Christ, our sin is forgiven and removed from us. Thank you for your grace and mercy!
We don't know when in the future you will completely establish your kingdom. We don't know when Christ will return and reign. But we do know that these things are in your hands. Trusting you, O God, with the future allows us to live fully in the moment. Thank you that our labor is not in vain!
Though we don't know the details of your timing, God, we rejoice in the fact that your kingdom will come, your justice and peace will prevail. We look forward to the day when you will wipe away every tear, when we will dwell fully with you. With this hope we live today with joy. Amen.
Find all Life for Leaders devotions here. Explore what the Bible has to say about work at the unique website of our partners, the Theology of Work Project. Commentary on today's Life for Leaders theme can be found here: Our Work Is Not in Vain (1 Corinthians 15:58)

---
Subscribe to Life for Leaders
Sign up to receive a Life for Leaders devotional each day in your inbox. It's free to subscribe and you can unsubscribe at any time.
---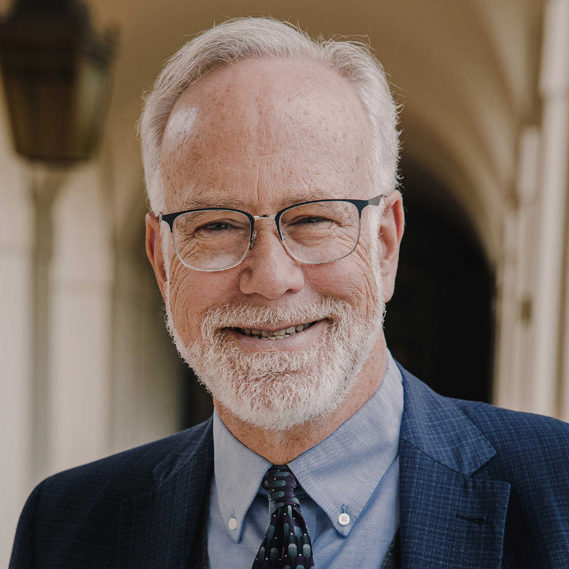 Dr. Mark D. Roberts is a Senior Strategist for Fuller's Max De Pree Center for Leadership, where he focuses on the spiritual development and thriving of leaders. He is the principal writer of the daily devotional, Life for Leaders, and the founder of the De Pree Center's Flourishing in the Third Third of Life Initiative. Previously, Mark was the Executive Director of the De Pree Center, the lead pastor of a church in Southern California, and the Senior Director of Laity Lodge in Texas. He has written eight books, dozens of articles, and over 2,500 devotions that help people discover the difference God makes in their daily life and leadership. With a Ph.D. in New Testament from Harvard, Mark teaches at Fuller Seminary, most recently in his D.Min. cohort on "Faith, Work, Economics, and Vocation." Mark is married to Linda, a marriage and family counselor, spiritual director, and executive coach. Their two grown children are educators on the high school and college level.