Yes, people wander around like shadows;
     yes, they hustle and bustle,
     but pointlessly;
          they don't even know who will get
          the wealth they've amassed.
So now, Lord, what should I be waiting for?
     My hope is set on you.
Focus
Christmastime is often so filled with activities that we hardly have a spare moment. We can easily miss the true meaning of Christmas, the celebration of the birth of our Savior. Advent, a season in the Christian year leading up to Christmas, gives us the opportunity to slow down, to reflect, and to prepare our hearts for a joyous and full celebration of God coming among us in Jesus.
This devotion is part of the series: Advent in the Psalms.
Devotion
Advent Greetings!
Today, as you may well know, is the first Monday in the Christian season of Advent, a time of preparation for the celebration of the birth of our Savior at Christmas.
For the first half of my life, Advent meant little to me. I heard the word at church and used it in reference to a fancy paper calendar that helped me count down the days until Christmas. But I had no idea that Advent was a season of the Christian Year. Of course, I didn't realize there was such a thing as the Christian Year, either. (If you'd like to learn more about the Christian Year, also called the Liturgical Year or the Church Year, I've written a brief article on this topic.)
When I became the senior pastor of Irvine Presbyterian Church, I began learning about Advent and ways it could enrich both our corporate worship and our relationship with God. I also discovered that Advent helped me solve one of the perplexing riddles of Christmastime, what I call "The Riddle of Bustling Christmas." That riddle goes something like this.
As Christmas approaches, it would be good for me to reflect on the true meaning of Christmas, to prepare my heart to celebrate the birth of Jesus the Savior. But the weeks before Christmas are filled with activities: decorating, shopping, wrapping, partying, traveling, planning, cooking, eating, and, if you're a pastor, being super busy at church. It's hard to find time to reflect on the true meaning of the season when the season is so filled with activities . . . activities I love, by the way. So, how in the world can I get my heart ready for welcoming Jesus at Christmas when in Christmastime I am bustling about rather than finding time for reflection and prayer? 
In the first half of my life, I would try to make my pre-Christmas experience more "spiritual." But The Riddle of Bustling Christmas seemed to have no solution. Then, by God's grace through some friends in the Irvine church, I began to learn about Advent. Rather than trying to cut back on pre-Christmas festivities and force myself to be more "spiritual," I started to infuse the weeks before Christmas with Advent-themed Scripture readings, reflections, music, colors, worship, traditions, and prayers. I went from ignorance of Advent to a love of Advent. In fact, I coined the word, "Adventophile," which means "Lover of Advent." I even got quoted in the Los Angeles Times because of that word! It hasn't yet made it into the Oxford English Dictionary, however.
With my new experience of Advent and Christmas, I found a passage in the Psalms that speaks to me about the challenges and opportunities of this time of year. Psalm 39:6-7 says in the Common English Bible translation, "Yes, people wander around like shadows; yes, they hustle and bustle, but pointlessly; they don't even know who will get the wealth they've amassed. So now, Lord, what should I be waiting for? My hope is set on you."
Christmastime can be a time filled with "hustle and bustle." Not all of it is pointless, I would add. But the psalmist's example invites us to ask in prayer, "So now, Lord, what should I be waiting for? My hope is set on you."
Here are two of Advent's major themes: waiting and hope. Rather than focusing on the bustling of others, rather than trying to out-bustle them, rather than fretting over their accumulation of wealth, the psalm writer opens his heart to God. "What should I be waiting for?" he asks. Not wealth or stuff or status or power. Rather, he should be waiting for the Lord because that's where he has set his hope.
As we move into the holiday season, I expect you'll have reason to bustle at times. Later in this series of Advent devotions, I'll suggest some ways you can infuse even your busy times with Advent reality. But, as the season of Advent begins, let me encourage you to ask yourself the psalm writer's question: "So now, Lord, what should I be waiting for?" By God's grace, may you answer that question truthfully in this way: "I am waiting for you, Lord. My hope is set on you!"
Reflect
When you think about the time of year before Christmas, what comes to mind? What thoughts? Feelings? Memories? Longings? Hopes?
Do you sometimes wrestle with The Riddle of Bustling Christmastime? That is, do you find that you can be so busy celebrating Christmas that you scarcely have time to reflect on its true meaning?
What does Advent mean to you?
Act
If you have certain Advent traditions, by all means practice them. If Advent is rather unfamiliar to you, you might find helpful a piece I wrote called: Welcome to Advent.
Also, if you haven't done so yet, let me encourage you to download this year's De Pree Center Advent devotional guide: Hope is Born.
Pray
Gracious God, thank you for the season of Advent. Thank you for a time to prepare our hearts for Christmas. Thank you for stirring up our hope as we renew our waiting for you.
Thank you for Psalm 39 and its example of turning away from bustle to focus on you, waiting for you as we put our hope in you. Help us, Lord, to make time in this season for you. May our hope in you be reignited and our love for you rekindled. Amen.
Find all Life for Leaders devotions here. Explore what the Bible has to say about work at the High Calling archive, hosted by the unique website of our partners, the Theology of Work Project. Reflection on today's Life for Leaders theme can be found here: Your Fleeting Life.
---
Subscribe to Life for Leaders
Sign up to receive a Life for Leaders devotional each day in your inbox. It's free to subscribe and you can unsubscribe at any time.
---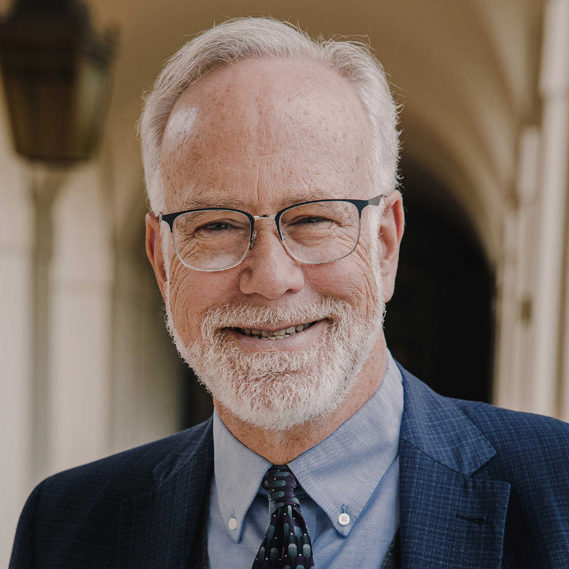 Dr. Mark D. Roberts is a Senior Strategist for Fuller's Max De Pree Center for Leadership, where he focuses on the spiritual development and thriving of leaders. He is the principal writer of the daily devotional, Life for Leaders, and the founder of the De Pree Center's Flourishing in the Third Third of Life Initiative. Previously, Mark was the Executive Director of the De Pree Center, the lead pastor of a church in Southern California, and the Senior Director of Laity Lodge in Texas. He has written eight books, dozens of articles, and over 2,500 devotions that help people discover the difference God makes in their daily life and leadership. With a Ph.D. in New Testament from Harvard, Mark teaches at Fuller Seminary, most recently in his D.Min. cohort on "Faith, Work, Economics, and Vocation." Mark is married to Linda, a marriage and family counselor, spiritual director, and executive coach. Their two grown children are educators on the high school and college level.