How very good and pleasant it is
    when kindred live together in unity!
It is like the precious oil on the head,
    running down upon the beard,
on the beard of Aaron,
    running down over the collar of his robes.
It is like the dew of Hermon,
    which falls on the mountains of Zion.
For there the Lord ordained his blessing,
    life forevermore.
Focus
Though our relationships can be a source of pain and frustration, when we are living and working together in unity, this can be "very good and pleasant." That's what we learn from Psalm 133. Working, leading, and sharing life with others can be a generous and delightful gift of God.
Today's devotion is part of the Life for Leaders series: Can't Do It Alone.
Devotion
In yesterday's Life for Leaders devotion, we acknowledged along with Psalm 55 that sometimes relationships can be difficult and painful. Conflict, especially among close friends or family members, is particularly unpleasant. Psalm 55, in sync with so many other passages in the Bible, looks upon relationships through a realistic lens. Scripture doesn't pretend that it's always easy or delightful to live and lead along with others.
But the Bible also recognizes how good it can be when we get along with people, especially those to who we are close. Psalm 133, for example, begins: "How very good and pleasant it is when kindred live together in unity!" (133:1). Sharing life and work with others can lead to greater productivity, but that's not the whole story. It can also stir up feelings of joy and delight.
I think of times in my professional life when I have been on teams marked by unity. We not only worked well together and were, therefore, highly productive, but also we shared life together, supporting and encouraging each other in all of life. Last week, for example, several members of the De Pree Center team were in town for the inauguration of Fuller's new president, Dr. David Goatley. On the morning before the inauguration we met for breakfast. It wasn't a business meeting, though we touched base on a couple of work-related things. Mainly, we caught up on life and learned more about each other. It was a special time to meet in person with some of my workmates. I would say without question that it was "very good and pleasant."
Psalm 133 illustrates the goodness and pleasantness of unity by using a couple of similes: "It is like the precious oil on the head, running down upon the beard, on the beard of Aaron, running down over the collar of his robes. It is like the dew of Hermon, which falls on the mountains of Zion. For there the LORD ordained his blessing, life forevermore" (133:2-3). I expect the original audience for Psalm 133 resonated with these similes. We may require a little explanation to get the point, however.
Honestly, the thought of someone pouring so much oil on my head that it runs down onto my beard is not a particularly pleasant one. I'm not used to the cultural tradition of anointing the foreheads of guests with fragrant oil as a gesture of welcome. Moreover, when folks in my church ordain someone into an important leadership role, we lay our hands on people and pray for them. We don't pour oil on them. But the writer of Psalm 133 remembers the anointing of Aaron as high priest of Israel (Leviticus 8:1-12). The oil used to anoint Aaron was wonderfully pungent, made of several aromatic spices. You might liken its smell to that of baking cinnamon buns (Exodus 30:22-30). Moreover, the free flow of the oil conveyed the generosity of God's blessing. Unity is wonderful, in the way of the best things of life.
The second simile in Psalm 133 speaks of the dew that falls on Mt. Hermon. This mountain, at 9,232 feet tall, was once in the northern part of Israel. Today it lies on the border of Lebanon and Syria. Because it is the tallest mountain in the region, Mt. Hermon receives an unusually great amount of precipitation, including snow in the winter months. Thus, the "dew" falling on this mountain is not only beautiful to the eyes but also useful for sustaining life. Much of the water used in the surrounding region comes from Mt. Hermon, which is also the first source of the Jordan River. So, like the oil poured generously on the head of Aaron, water is poured generously upon Mt. Herman for the good of God's people.
From the perspective of Psalm 133, not "doing it alone," that is, living and leading in community with others, has benefits that are more than pragmatic. Doing it with others can be delightful as well as fruitful.
Reflect
When in your life have you enjoyed the delights of unity with others? What was this like for you?
What contributed to this unity? What made it possible?
Are you the sort of person who instills and supports unity? If so, why? If not, why not?
Act
Consider where in your life you are experiencing unity. This could be in your family, workplace, church, community, or some other setting. Pay attention to your feelings about this experience of unity. Talk to God about it.
Prayer
Gracious God, thank you for the reminder of Psalm 133. Indeed, it is very good and pleasant to experience unity in our relationships. Such unity is a gift from you, pouring down like oil on Aaron's head or precipitation on Mt. Hermon.
Help me, Lord, to be grateful for this gift, to enjoy it, and to thank you for it. Forgive me when I take it for granted.
Help me also, I pray, to be someone who is a unifier rather than a divider. With my colleagues, family, friends, neighbors, and church community, may I seek and support unity based on mutual respect and love. Amen.
Find all Life for Leaders devotions here. Explore what the Bible has to say about work at the High Calling archive, hosted by the unique website of our partners, the Theology of Work Project. Reflection on today's Life for Leaders theme can be found here: A Pleasure We Need Today.
---
Subscribe to Life for Leaders
Sign up to receive a Life for Leaders devotional each day in your inbox. It's free to subscribe and you can unsubscribe at any time.
---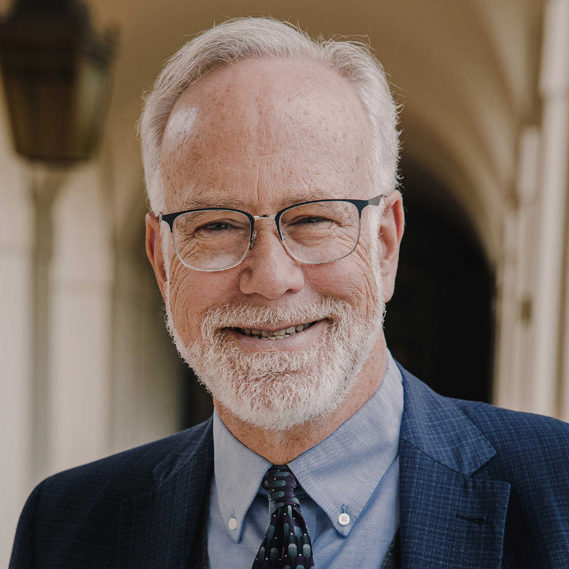 Dr. Mark D. Roberts is a Senior Strategist for Fuller's Max De Pree Center for Leadership, where he focuses on the spiritual development and thriving of leaders. He is the principal writer of the daily devotional, Life for Leaders, and the founder of the De Pree Center's Flourishing in the Third Third of Life Initiative. Previously, Mark was the Executive Director of the De Pree Center, the lead pastor of a church in Southern California, and the Senior Director of Laity Lodge in Texas. He has written eight books, dozens of articles, and over 2,500 devotions that help people discover the difference God makes in their daily life and leadership. With a Ph.D. in New Testament from Harvard, Mark teaches at Fuller Seminary, most recently in his D.Min. cohort on "Faith, Work, Economics, and Vocation." Mark is married to Linda, a marriage and family counselor, spiritual director, and executive coach. Their two grown children are educators on the high school and college level.