So when the woman saw that the tree was good for food, and that it was a delight to the eyes, and that the tree was to be desired to make one wise, she took of its fruit and ate; and she also gave some to her husband, who was with her, and he ate. Then the eyes of both were opened, and they knew that they were naked; and they sewed fig leaves together and made loincloths for themselves. They heard the sound of the LORD God walking in the garden at the time of the evening breeze, and the man and his wife hid themselves from the presence of the LORD God among the trees of the garden.
Focus
God intended human beings to live in genuine, loving, collaborative community with each other. But sin messed up God's beautiful creation. Because of sin, we hide from each other, blame each other, wound each other, and abandon each other. Yet God has not abandoned us in our aloneness. Rather, God has extended grace to us through Christ so that we might live and work in community with God and people.
This devotion is part of the Life for Leaders series: Can't Do It Alone.
Devotion
Yesterday's Life for Leaders devotion presented evidence for an epidemic of loneliness in the United States. Dozens of recent studies demonstrate the prevalence of loneliness among people of all ages. Loneliness was growing even before the COVID-19 pandemic, which, of course, exacerbated the problem, both in the U.S. and throughout the world.
But yesterday's devotion didn't stop with this bad news. Rather, we heard the good news that God does not intend for us to be alone. God created us in relationship with each other and intends for us to live and work in community. From God's point of view, it's not good for us to be alone (see Genesis 2:18, for example).
If this is God's intention for us, we may wonder why so many of us are experiencing persistent loneliness. There are many ways to answer this question, of course. We might point to a variety of psychological and sociological factors that explain why so many people are lonely. But today, I would like to consider why we are lonely from a theological perspective.
You won't be surprised when I return to Genesis for this perspective. Whereas Genesis 1 and 2 reveal that we were created in and for relationships, Genesis 3 shows how our relationships became so messed up. The fundamental problem, as you would expect, is sin. As soon as the first human beings rejected God's gracious guidance, choosing to disobey God, the key relationships of human life became distorted and disheveled.
Notice what happens immediately after the first man and woman disobeyed God by eating the forbidden fruit: "Then the eyes of both were opened, and they knew that they were naked; and they sewed fig leaves together and made loincloths for themselves" (Genesis 3:7). Though God had created the man and the woman so that they might enjoy the freedom of full openness with each other, sin wrecks this freedom. The man and the woman no longer feel free to be fully and completely who they are with each other. Rather, because of sin, they must hide their bodies and, implicitly, their souls. From this point onward, human beings will not experience relationships in the way God had intended. When we hide our true selves from each other, loneliness and isolation become all too common.
As the sad story of Genesis 3 continues, we observe another dimension of relational breakdown. When God comes to the garden, the man and the woman hide from God. Their sin and the shame it has engendered keep them from the freedom and intimacy they once had experienced with God. Now the first humans must hide their nakedness from the Lord. They don't want God to see their bodies or their souls.
The ongoing story of Genesis chronicles other dimensions of relational dysfunctionality as well. For example, in chapter 3, neither the man nor the woman takes responsibility for their actions, choosing to place the blame elsewhere. When God explains the implications of their sin, we learn that the relationship between man and woman will change from one of collaboration to one of domination. In Genesis 4, a man kills his own brother because of envy. Thus begins a long, sad narrative illustrating the brokenness of human relationships.
We learn from Genesis, and indeed, from all of Scripture, that sin inhibits and corrupts our relationships. Because of sin, we hide from each other, wrong each other, abandon each other, blame each other, and even kill each other. Because of sin, we end up doing life alone, whether by our own choice or the choices of others.
If you are experiencing loneliness right now, please understand I'm not necessarily blaming you. I'm not saying your loneliness is a direct result only of your own, personal sin. Indeed, the problem of sin is so much bigger than this. Loneliness is one result of living in a sin-drenched world, a world in which everything has been tarnished and twisted by sin. I think, for example, of a friend of mine who has a very difficult time relating to other people. My friend is often quite lonely and would like to be more connected to people. But he feels trapped by how he is wired internally. I expect that my friend's choices have contributed to his situation. But the root was not something he planted. Rather, he bears on his soul the scars of an abusive upbringing. His loneliness has everything to do with the sin of which he was the victim when he was young.
The human story does not end in Genesis 3, however. Thanks be to God! Rather, the presence of sin and the damage it does to our relationships are a preface to a much longer story, the story of God's grace and love at work in human life. Ultimately, God will overcome the problem of sin. When this happens, relational healing and wholeness become possible. First of all, we can enjoy an intimate, loving relationship with God. Second, we can begin to experience healthy relationships with other people through the reconciliation that Christ has forged for us (see Ephesians 2:11-22).
Of course, everything on earth doesn't become instantly better because of what God has done in Christ. The fullness of salvation lies in the future. Even on this side of the cross our relationships are often quite messy and hurtful. But, through God's grace, we can begin to experience in part what God had intended for us from the beginning. The rest of this devotional series, Can't Do It Alone, will examine what Scripture teaches about our relationships so that we might live and work, not alone, but in genuine community with others.
Reflect
In what ways have you experienced loneliness or other sorts of relational brokenness because of sin?
Why does sin lead to isolation and loneliness?
How has God's grace in Christ made a difference in your relationships?
Act
If you are aware of how your sin may have damaged a relationship, talk to God about this. As God leads you, reach out to a person you have wronged in order to reconcile.
Pray
Gracious God, what you intended for us was wonderful. We were to live and work in community with you and with people. We were to enjoy the richness of creation even as we contributed to the flourishing of the earth.
Yet, O God, human beings chose a different way, rejecting your guidance and preferring our own wisdom. Our sin affected all of our relationships, including our relationship with you.
Thank you for not abandoning us. Thank you for reaching out to us in love. Thank you for dealing with the problem of our sin through Christ. Thank you that your salvation affects, not only our relationship with you, but also our relationships with other people.
Help us, dear Lord, to begin to experience in this age what you intended for us from the beginning. Teach us how to live and work together with kindness and patience. Help us to forgive when others wrong us. Show us how to collaborate in the work you have given to us so that we might be fruitful in a way that glorifies you. Amen.
Find all Life for Leaders devotions here. Explore what the Bible has to say about work at the unique website of our partners, the Theology of Work Project's online commentary. Reflection on today's Life for Leaders theme can be found here: People Fall into Sin in Work (Genesis 3:1-24).
---
Subscribe to Life for Leaders
Sign up to receive a Life for Leaders devotional each day in your inbox. It's free to subscribe and you can unsubscribe at any time.
---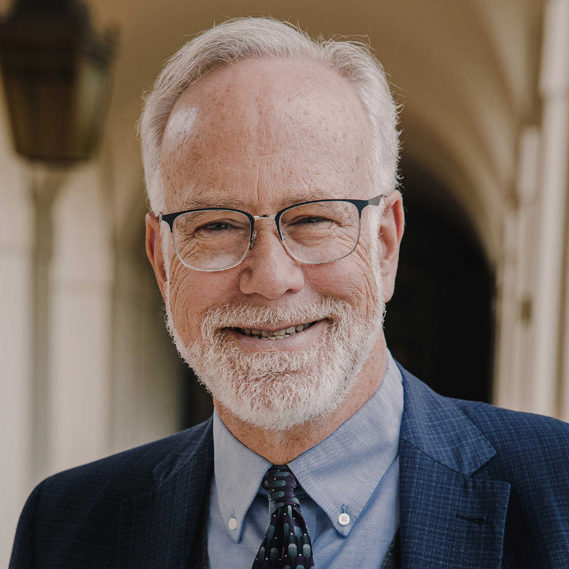 Dr. Mark D. Roberts is a Senior Strategist for Fuller's Max De Pree Center for Leadership, where he focuses on the spiritual development and thriving of leaders. He is the principal writer of the daily devotional, Life for Leaders, and the founder of the De Pree Center's Flourishing in the Third Third of Life Initiative. Previously, Mark was the Executive Director of the De Pree Center, the lead pastor of a church in Southern California, and the Senior Director of Laity Lodge in Texas. He has written eight books, dozens of articles, and over 2,500 devotions that help people discover the difference God makes in their daily life and leadership. With a Ph.D. in New Testament from Harvard, Mark teaches at Fuller Seminary, most recently in his D.Min. cohort on "Faith, Work, Economics, and Vocation." Mark is married to Linda, a marriage and family counselor, spiritual director, and executive coach. Their two grown children are educators on the high school and college level.