But the wisdom from above is first pure, then peaceable, gentle, willing to yield, full of mercy and good fruits, without a trace of partiality or hypocrisy. And a harvest of righteousness is sown in peace for those who make peace.
Focus
As you face the complexities of life, know that you're not on your own to figure out what's best. There is "wisdom from above" available to you. In fact, the "only wise God" is able and eager to share divine wisdom with you, to help you live well in every part of life, at home and at work, among friends and neighbors, in your private life and your public life. That is good news, indeed.
Today's devotion is part of the series Wisdom from Above.
Devotion
Do you ever feel as if you aren't quite sure what to do next? It could happen in the context of your work, where you've got a tricky personnel issue, a boss who's overly demanding, or a client whose preferences aren't obvious. We often feel perplexed about relationships with family and friends. Perhaps you're wanting to be a good parent to a teenager or a good friend to someone whose hurting, but you're just not sure how to act.
There was a time when, if we found ourselves in situations like these, people would tell us we need wisdom. These days, however, we don't talk about wisdom nearly as much as we used to. We're more apt to want to "fix things," to look for "solutions," or to look to Google for "the right answer." We're less likely to think, "I really need wisdom here."
But wisdom is what we need, now more than ever as the world becomes more complex, more uncertain, and more volatile. We need wisdom at work and at home, in our neighborhoods and churches, and in a world filled with unprecedented and unruly problems. Wisdom isn't the same as knowledge. Wisdom is judging what's best or having good sense. It's knowing how to live well and choosing to do so.
Yes, we do need wisdom, but not just any kind of wisdom. There are versions of wisdom that are neither truthful or helpful. The Letter of James in the New Testament labels such wisdom as "earthly, spiritual, devilish" (James 3:15). James doesn't mean that all practical wisdom, such as what you get from years of experience in a job, is necessarily wrong. But he does recognize that what the world regards as wise can sometimes lead us astray.
In addition to common wisdom that comes from living attentively, we need wisdom of a special sort. James calls it "wisdom from above" (James 3:17). This is, of course, an understated way of saying we need wisdom from God, who dwells in Heaven above. Wisdom from above is godly wisdom, divine wisdom, supernaturally uncommon wisdom. It excels all over other kinds of wisdom because of its source. It comes from the "only wise God" (Rom 16:27).
Sometimes we might assume that such wisdom is only relevant to "spiritual things." It matters only to how we pray, read the Bible, worship, and share our faith with others. But, in fact, wisdom from above touches every part of life. James writes, "Show by your good life that your works are done with gentleness born of wisdom" (James 3:13). Wisdom has everything to do with living well in all segments of life, including our work, personal finances, citizenship, and neighborliness.
Now you may already be convinced that God's wisdom is relevant to all of life. You may regularly seek "wisdom from above" throughout each day. If so, that's great, though most Christians recognize that they'd like to be more attentive to God's guidance. Alternatively, you may not seek divine wisdom for the practical, everyday matters at work, home, and beyond. You may see that you need to learn to receive "wisdom from above" for the challenges and opportunities you face each day.
This week's Life for Leaders devotions will work on the question, "How can I receive wisdom from above?" We'll look at several passages from Scripture that help to answer this question. Plus, this week's devotions will introduce you to a discernment process called attunement. It's one way that helps us pay closer attention to God. The Attune website explains, "Spiritual attunement means hearing God's guidance and aligning our response with it. It means thinking, acting and feeling in ways that resonate with the tone, tenor and direction of his calling." To use the language of James, attunement is one way to open your mind and heart to receive "wisdom from above."
As you face the complexities of life, know that you're not on your own to figure out what's best. There is "wisdom from above" available to you. In fact, the "only wise God" is able and eager to share divine wisdom with you, to help you live well in every part of life. That is good news, indeed.
Reflect
When you think of wisdom, what comes to mind? What ideas? What feelings? What experiences?
If you know someone you think of as wise, what is it about this person that reveals his or her wisdom? How did this person become wise?
In what parts of your life do you need wisdom from above right now?
Act
I want to introduce you to a wonderful exercise that might help you to be open in new ways to receiving "wisdom from above." It's called attunement, or spiritual attunement. It's the work of a ministry called, appropriately enough, Attune. Attune is led by two dear friends of mine, people of deep faith and abundant wisdom. If you explore the Attune website, you'll discover that I'm on Attune's steering committee. By making you aware of Attune, I'm not trying to sell you anything. Yes, Attune does have programs that organizations can purchase. But those of us associated with Attune are eager to help you experience spiritual attunement without cost.
The folks at Attune have built a webpage for this devotional series. It features a 10-minute audio exercise that guides you through a spiritual attunement practice. (There's nothing weird about this. It's mainly a matter of quieting your heart so as to be more aware of God's presence and guidance.) I've been led in this process by Attune's staff dozens of times, both personally and with teams. That's part of why I'm excited to share it with you.
If you are able, it would be great for you to do the attunement exercise via the website every day this week. Once again, here's the link. I realize, however, that many of us would have a hard time finding ten free minutes in a day. So I would encourage you to do this as much as you can. I'd love to hear from you about your experience of Attune.
Pray
Gracious God, you are wise beyond anything I can imagine. Your wisdom brought the universe into existence. It stretches across space and time. Nothing hides from your wisdom.
Thank you, dear Lord, for being willing to share your wisdom with me. I do need "wisdom from above." I confess that sometimes I act as if I have all the wisdom I need. But then, Lord, I confront situations that show me the truth. My wisdom is inadequate at best, worldly and sinful, at worst. In these times I realize the truth. I need your wisdom, Lord. I need it each day, in each situation, in each relationship.
As I begin this week of reflection on wisdom, I begin with a simple request: Give me your wisdom, Lord. Help me to grow in my ability to attend to your guidance. Help me to live my life attuned to you. May your wisdom lead me no matter where I am, whether at work or home, whether in church or in the community. Teach me, dear Lord, to be wise. Amen.
Find all Life for Leaders devotions here. Explore what the Bible has to say about work at the unique website of our partners, the Theology of Work Project. Commentary on today's Life for Leaders theme can be found here: Perseverance, Wisdom, and Spiritual Growth (James 1:1–5)

---
Subscribe to Life for Leaders
Sign up to receive a Life for Leaders devotional each day in your inbox. It's free to subscribe and you can unsubscribe at any time.
---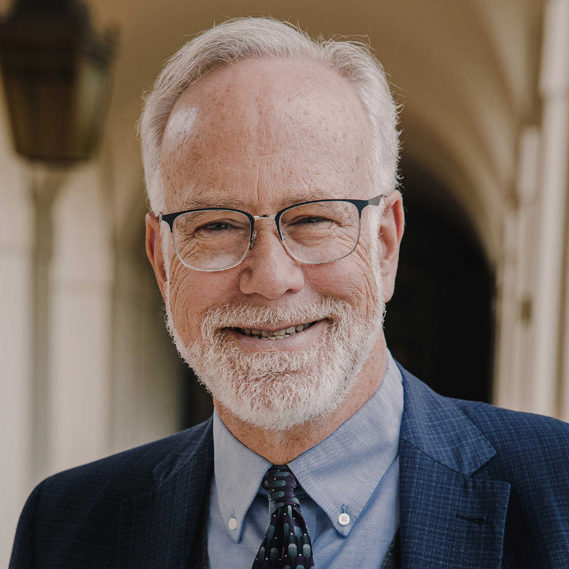 Dr. Mark D. Roberts is a Senior Strategist for Fuller's Max De Pree Center for Leadership, where he focuses on the spiritual development and thriving of leaders. He is the principal writer of the daily devotional, Life for Leaders, and the founder of the De Pree Center's Flourishing in the Third Third of Life Initiative. Previously, Mark was the Executive Director of the De Pree Center, the lead pastor of a church in Southern California, and the Senior Director of Laity Lodge in Texas. He has written eight books, dozens of articles, and over 2,500 devotions that help people discover the difference God makes in their daily life and leadership. With a Ph.D. in New Testament from Harvard, Mark teaches at Fuller Seminary, most recently in his D.Min. cohort on "Faith, Work, Economics, and Vocation." Mark is married to Linda, a marriage and family counselor, spiritual director, and executive coach. Their two grown children are educators on the high school and college level.